When you purchase through links on this site, we may earn an affiliate commission. Here's how it works.
Advertisement

Bond Lifestyle Forum closed
The Bond Lifestyle Forum has been shut down due to Spam attacks, technical issues and inactivity.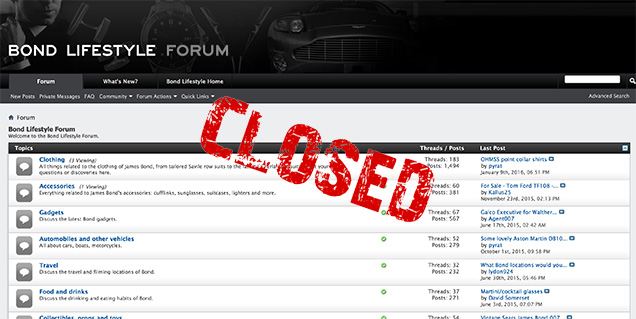 I want to thank the members for their support and Allen (pyrat) for moderating.
Recommended James Bond Forums
If you are looking for the best Bond forum online, I want to recommend to you Absolutely James Bond ajb007.co.uk, and specifically the James Bond Memorabilia, Collecting & Clothing part of that forum.
Oher good forums are Being James Bond, CommanderBond or MI6.
Social Media
Another place to connect with other Bond fans are the Bond Lifestyle Facebook page (more than 150,000 followers), Twitter page (7,000 followers) or Instagram (20,000 followers).