Ultimate Guide to Bond 25 Products and Locations
The ever changing guide to clothing, gadgets, accessories, vehicles and locations spotted in early released photos and videos from BOND 25.

Spoiler Alert: this article might reveal parts of the BOND 25 plot and other elements from this upcoming Bond movie.
Please note that although Bond Lifestyle tries to be as accurate as possible about identifying products, nothing can be guaranteed about the exact details of the products, or about the appearance of these products in the movie. Read the disclaimer at the end of this article.
If you have identified a product or have other suggestions, please contact Bond Lifestyle.
Last update: 8 April 2019: Bollinger; Matera location details update. Other recent updates: First Bond 25 product identified, and Bond 25 will be the first Bond film shot in IMAX format.
QUICKLINKS
Locations
Norway
Matera, Italy
Jamaica
London
Products
Marks & Spencer coat
Omega watches
Aston Martin
Bollinger

Bond 25 will be released on 14 February 2020 update: 8 April 2020. Principal shooting will start in April 2019, but some footage has already been shot in Norway by the second unit starting March 25th 2019.
Title: Shatterhand? Eclipse?
Two working titles for Bond 25 have appeared, but are not confirmed: Shatterhand and Eclipse. 
Movie industry publication Production Weekly included a listing in its 21 February newsletter for "Bond 25 w/t Shatterhand", with shooting due to start at Pinewood studios on 6 April. The name Shatterhand is an alias used by villain Ernst Stavro Blofeld in the 1964 Ian Fleming novel You Only Live Twice.
More recently a job website for the creative industry mentioned Eclipse as a working title for B25 Productions.
Director: Cary Fukunaga. Producers: Barbara Broccoli, Michael G. Wilson
EON Productions, United Artists Releasing (MGM, Annapurna)
Confirmed cast:
Daniel Craig (James Bond)
Ralph Fiennes (M)
Ben Whishaw (Q)
Naomie Harris (Eve Moneypenny)
Léa Seydoux (Madeleine Swann)
Script: Danny Boyle, Ian Fleming, Paul Haggis, John Hodge, Neal Purvis and Robert Wade
Bond 25 will probably be the first Bond film to be released in IMAX format.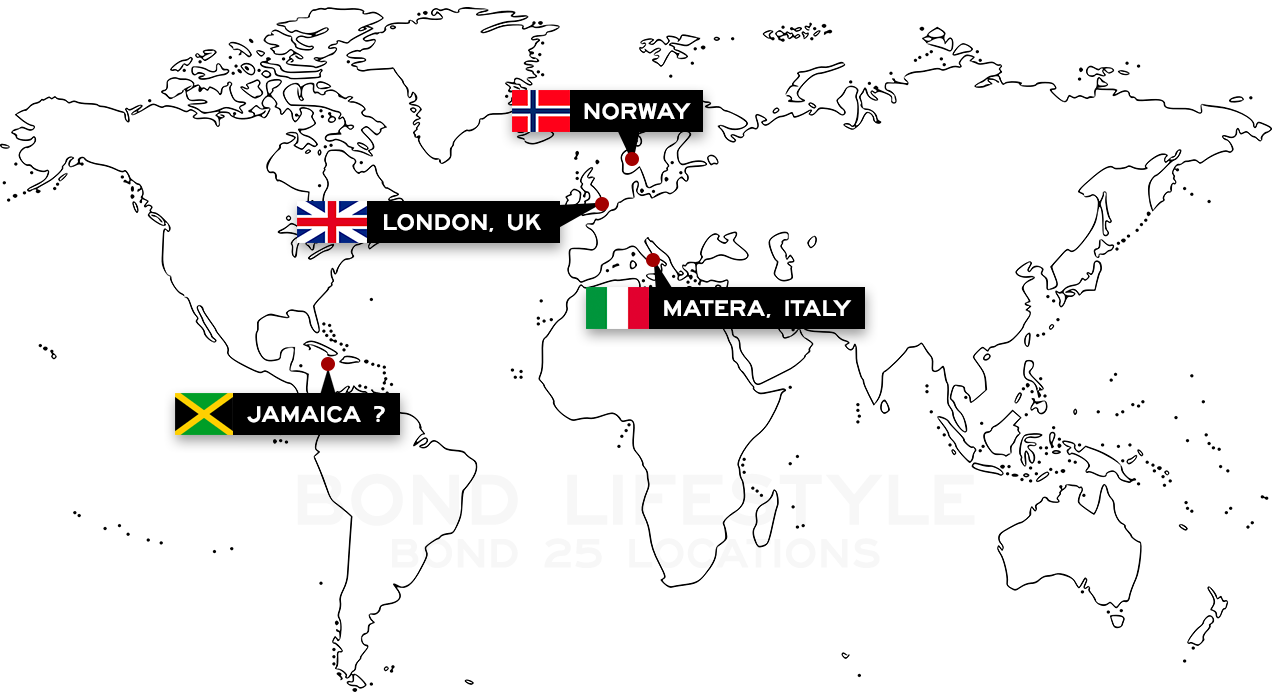 Norway
Parts of Bond 25 will be filmed in Norway. The Norwegian Film Institute (NFI) will pay over NOK 47 million NOK (approximately $5.5m / €4.8m / £4.2m) to get James Bond 25 to be filmed in Norway, through the state incentive scheme (read the statement). It is the largest award for an international production ever, writes NRK.
"We are pleased that the filming of the James Bond 25, could be done in Norway. The grant offered for the filming, NOK 47 million, is the largest in the incentive scheme's history", according to department director Stine Helgeland for international relations in the Norwegian Film Institute.
The first photos and footage of a set being built and actual scenes of Bond 25 being shot in Norway were released in March 2019, see below for the first product to be identified from that footage. That location is in Nittedal, just north of Norway's capital Oslo.
Sources: NFI, JB Magasinet, FSWL
Matera, Italy
Sassilive.it reports that Bond 25 will film in and near the city of Matera in Southern Italy. According to the website shooting will begin Saturday, April 6, 2019. But new reports say that production will arrive in Matera on 12 August and filming will take place between 17 August - 23 September in Sassi di Matera and the beach of Marina di Pisticci, south of Matera. Places of interest in the area are ​​the historic center (Cathedral, Piazza del Sedile, Via Ridola, Piazza San Francesco), views of the Sassi and the area of ​​the Murgia. Among the set locations also scouted are accommodation facilities Palazzo Gattini in Piazza Duomo, Casa Diva in Via Giumella, the popular hotel Sextantio in the Sasso Barisano and the Beach Restaurant Riva dei Ginepri, in Marina di Pisticci.
It's rumoured that the scenes in Matera will be the pre-credits scenes of the film, but of course this is not confirmed yet.
Source: Sassilive.it
Jamaica
Jamaica is also said to be a Bond 25 filming location. Jamaica is a Caribbean island where Ian Fleming had his GoldeneEye home and wrote many of his James Bond novels. Iconic scenes featuring Sean Connery and Ursula Andress for the first James Bond film Dr No were filmed in Jamaica, and scenes on the fictional island of San Monique in Live and Let Die were also filmed in Jamaica. 
London
It is very likely that Bond will be in London again. The only Bond film that didn't feature London as a location at all was You Only Live Twice in 1967. Some 007 movies have no outdoor scenes actually filmed in London, but only feature interior scenes (mostly at MI6 headquarters)' that are supposed to be in London, but were filmed at Pinewood.

The first product has been identified!
Spoiler alert: in footage from the Bond 25 set in Norway that appeared on 29 March 2018 we can see a young girl running away from a creepy bad guy. The video and spy photos are from actual Bond 25 filming in snowy Norway. In the video the girl runs on the snow and ice while being chased by a gunman with a machine gun who wears a large white parka, white pants, black boots and gloves and has a white mask over his face.
Marks & Spencer Ombre Padded Coat with Stormwear
The girl in the footage shot in Nittedal in Norway is wearing a rainbow colour hoody jacket, which seems to be coming from Marks & Spencer: the Marks & Spencer Ombre Padded Coat with Stormwear™ (3-16 Years).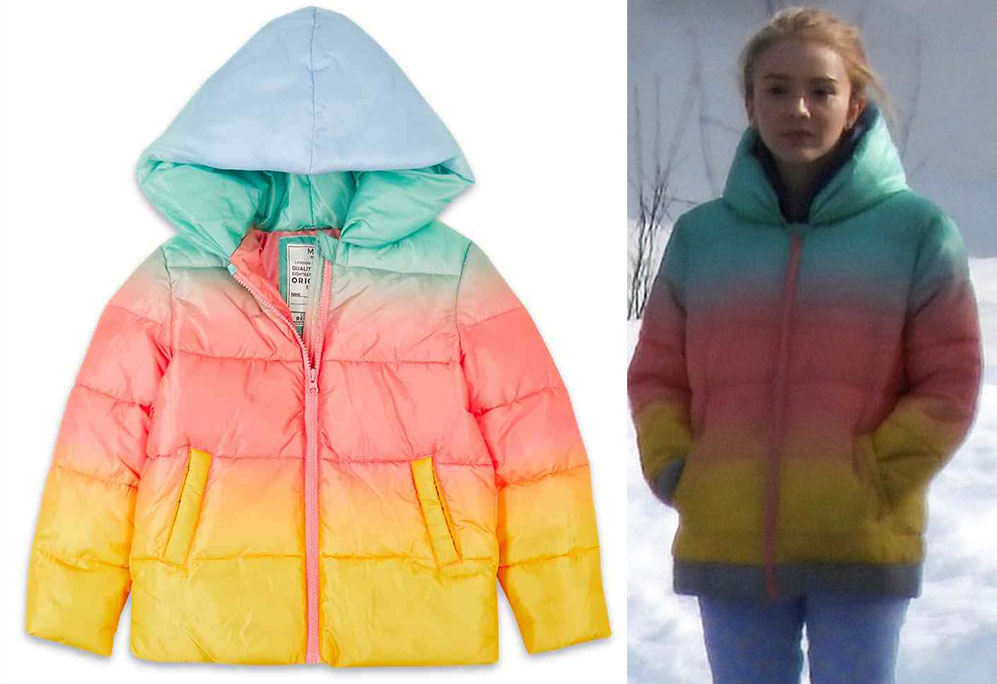 The jacket has the exact same colours and zipper and hood, but it does have extra grey parts at the cuffs and bottom of the jacket, which might have been added by the costume department.
If this jacket will be actually seen in the final film is of course not certain until we see an official trailer, photo or the final film. The girl might be a young Madeleine Swann (the Bond girl who appeared in SPECTRE and will probably return in Bond 25), but this is also not confirmed.
The white parka with fur hood or other clothes worn by the villain have not been identified yet.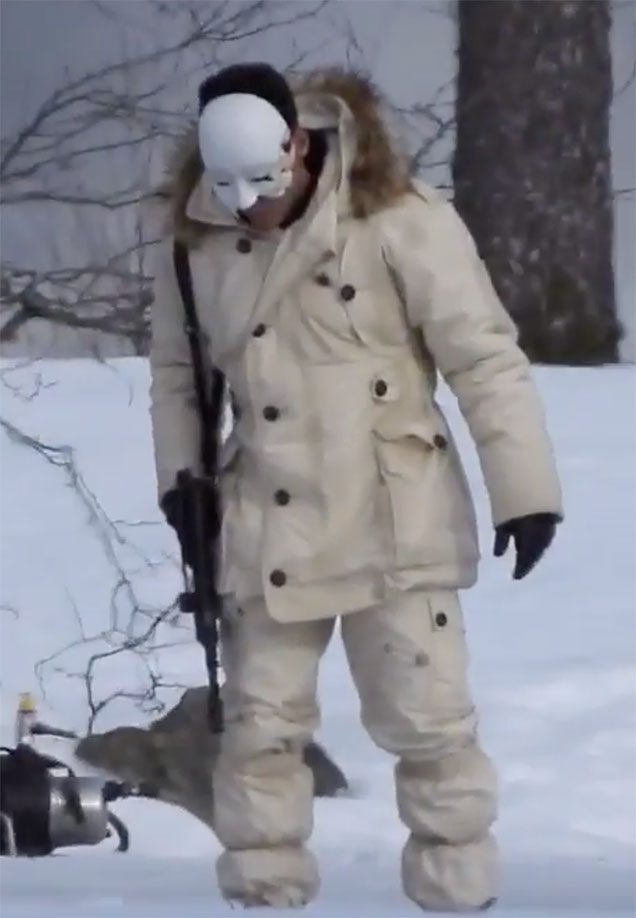 Thanks to whatsdanielwearing for the ID
Brands we can expect to return in Bond 25
Omega
Ever since Pierce Brosnan took over the part of James Bond, 007 has been wearing Omega watches and we can be fairly certain that Daniel Craig will sport an Omega in his last outing as Bond.
In SPECTRE, Bond wore three different Omega watches: the Omega Seamaster 300 SPECTRE watch, an Omega Seamaster Aqua Terra 150M, and at the end of the film, a vintage Omega Chronograph.
For Bond 25, it's likely that Bond once again wears multiple Omega watches, including another Aqua Terra 150m, Seamaster 300 and Seamaster Diver 300m. He could wear the newly released, redesigned Seamaster Diver 300m, which was already promoted by Omega brand ambassador Daniel Craig in 2018. He probably won't wear a gold version of the Seamaster, so here's the current Omega Seamaster Diver 300m range without the gold versions: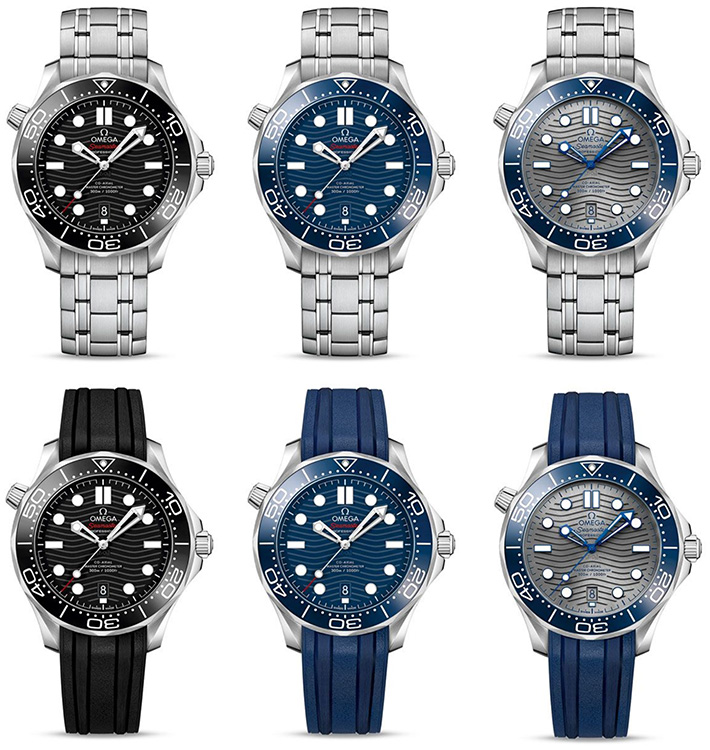 Aston Martin
It's likely that we will see an Aston Martin again in Bond 25. He might once again drive his beloved Aston Martin DB5, and possibly another current model, for example the New Vantage (which is based on the DB10 seen in SPECTRE), DB11, DBS Superleggera, Rapide S, the electric Rapide E, the still to launch Aston Martin DBX Crossover SUV, or once again a Vanquish.
Aston Martin Rapide E in Bond 25?
An article on The Sun suggests that the film makers are looking at an Aston Martin Rapide E for Bond 25. If this will be Bond's car, or someone else's car, or if it will just show up in Q's garage, or if this rumour is actually true is all not confirmed.
Aston Martin confirmed it was manufacturing a limited edition of 155 models of the Rapide E, but refused to say whether 007 would be driving one in the film.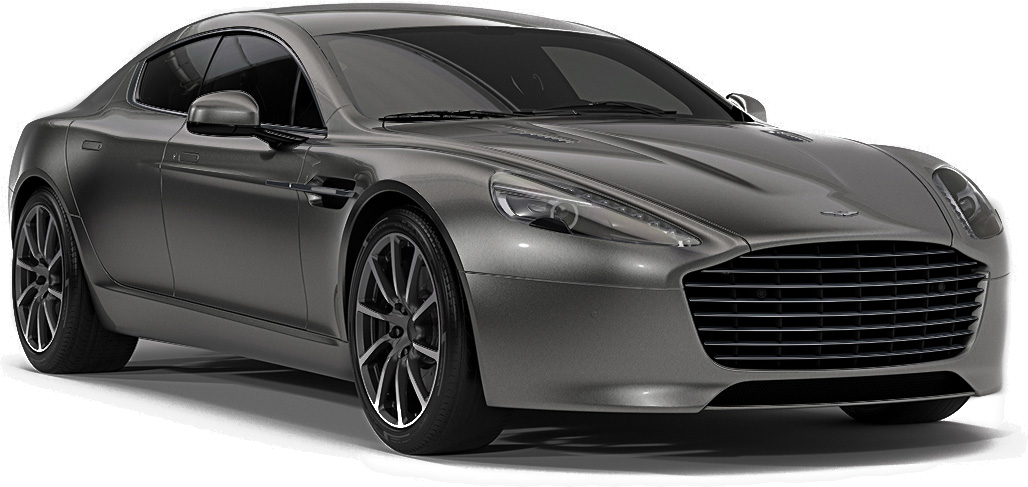 Aston Martin Rapide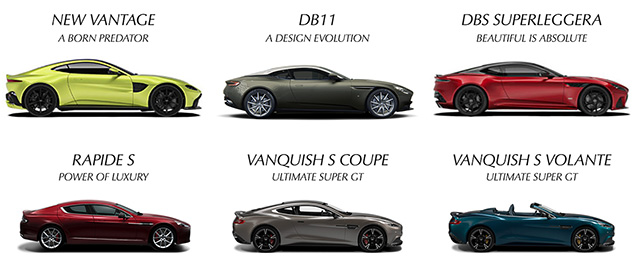 Bollinger
It's likely that we will once more see Bollinger in Bond 25. The brand celebrates 40 years of partnership between James Bond and Bollinger this year and a special Cuvee will be released. Although Bollinger was spotted already in Live And Let Die (1973), apparently the first official appearance of the champagne was in Moonraker in 1979.
Champagne Bollinger's commercial director Guy de Rivoire revealed in an interview with The Advertiser on April 4th that Bollinger will continue its partnership with James Bond. He told the magazine: "The second thing is we are releasing a new James Bond-related Cuvee later this year. There's a new Bond movie coming up and we want to celebrate 40 years of partnership between James Bond and Bollinger."
---

See all products and locations from Bond 24 (SPECTRE)
 
---
Disclaimer: The information contained in this website is for general information purposes only. The information is provided by Bond Lifestyle and while we endeavour to keep the information up to date and correct, we make no representations or warranties of any kind, express or implied, about the completeness, accuracy, reliability, suitability or availability with respect to the website or the information, products, services, or related graphics contained on the website for any purpose. Any reliance you place on such information is therefore strictly at your own risk.
In no event will we be liable for any loss or damage including without limitation, indirect or consequential loss or damage, or any loss or damage whatsoever arising from loss of data or profits arising out of, or in connection with, the use of this website.
Through this website you are able to link to other websites which are not under the control of Bond Lifestyle. We have no control over the nature, content and availability of those sites. The inclusion of any links does not necessarily imply a recommendation or endorse the views expressed within them.