When you purchase through links on this site, we may earn an affiliate commission. Here's how it works.
Advertisement

Parker Jotter
Bond receives the Parker Jotter from Q in GoldenEye.
photo © Danjaq LLC, MGM, United Artists
At the time of the film, the Parker Jotter was available in a special box.
photo © J. Newton
The Parker Jotter gets a good close-up in the film when Boris Grishenko holds the pen.
photo © Danjaq LLC, MGM, United Artists
Before using the Parker Jotter Pen, Boris Grishenko holds a blue Bic Cristal pen.
photo © Danjaq LLC, MGM, United Artists
Omega Seamaster 300m 2451.80, Parker Jotter and Bic Cristal
photo © Bond Lifestyle
In Goldeneye (1995) Q-Branch supplies James Bond (Pierce Brosnan) with a Parker Jotter pen that is a C4 grenade.
A classic pen, still widely available.
Maybe the most useful and affordable James Bond gadget around! The Jotter has a stainless steel cap, barrel and button with chrome coloured trim. At the time of the movie, a special edition of this Parker Jotter was available in a unique 007 gift box, see the photo on the left.
Bond gets the pen from Q, who presents it to Bond: "A pen. This is a class-4 grenade. Three clicks arms the four second fuse, another three disarms it."
James Bond carries the pen with him during the raid on Alec Trevelyan's satellite dish lair at the Arecibo Observatory, Puerto Rico.
Boris Grishenko (Alan Cumming) is first fidgeting with a blue Bic Cristal pen, an iconic pen since the 1950s, and the best-selling pen in the world (also still widely available in the exact same shape).
When Bond is captured, Alec Trevelyan (Sean Bean) finds Bond's Parker Jotter pen. The pen falls on the ground when Natalya Simonova (Izabella Scorupco) attacks Boris Grishenko, who then by accident picks up the Parker pen and starts fiddling with it and clicking the button. Bond is keeping track of the amount of clicks, so he knows when the pen will explode. When it explodes, it gives Bond a chance to escape.
The Parker Jotter can still be easily found, for example on Amazon or eBay.

Update 2021: Parker seems to have updated the 'arrow' design on the pen clip recently. Make sure to get the most accurate version which has the arrow with more lines (pictured on the left below).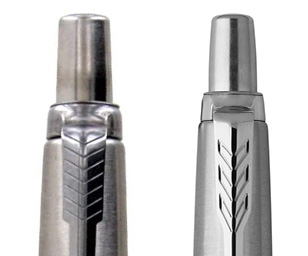 The more screen accurate version is the one pictured on the left.
In SkyFall (2012) other Parker pens are used by M (Judi Dench).
---