Dennis Keogh - James Bond Lookalike
Need some class for your next event? Invite Bond himself to your party! Dennis Keogh, a professional look-a-like, has the look, the voice, and the fashion to bring Sean Connery to your event.
Dennis is a lifelong fan of Sean Connery. His command of even the smallest detail of Sir Sean's storied career will have you completely suspending disbelief that Dennis is not Sir Sean Connery.
He honors the undisputed 007 master with his spot-on impersonation in authentic Scottish Brogue, extraordinary resemblance, dress and delivery of Sir Sean's famous James Bond wit and presence.
Read a recent interview with Dennis on The Bahamas Weekly website.
Find out more about Dennis, watch videos and request a booking on his website denniskeogh007.com.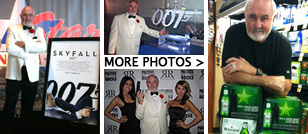 ---