When you purchase through links on this site, we may earn an affiliate commission. Here's how it works.
Advertisement

Christian Louboutin So Kate
The red sole of the Christian Louboutin So Kate can just be spotted on this publicity photo
photo © 2015 MGM, Danjaq, LLC and Columbia Pictures
Christian Louboutin So Kate
photo © Christian Louboutin
Christian Louboutin So Kate, material Kid (matte) on the left and Patent (shiny) on the right
photo © Christian Louboutin
Monica Bellucci, as Lucia Sciarra, wears a pair of black Christian Louboutin So Kate stiletto shoes in the Rome funeral scene in SPECTRE (2015).
The black leather, 120mm high heel pumps with distinctive red sole were introduced by Christian Louboutin in the Autunm Winter 2013 season. The So Kate is named after English model Kate Moss, who is a fan of the Louboutin brand.
The material is either Patent (shiny) black, reference number 3130694BK01, or Kid (matte) black, 3130693BK01. The same model is available in many different colors, although always with the same red sole.
Interestingly enough, in some of the spy photos of the set in Rome, Monica Bellucci was wearing black suede Christian Louboutin Bianca high heel boots, but in the final film and official publicity photo she wears the So Kate shoes.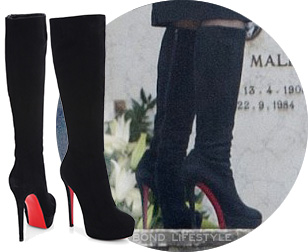 Bellucci wearing Bianca boots on set
but not in the film
---