Sir Sean Connery back behind the wheel of an Aston Martin DB5 in Sir Billi
17 August, 2013
Sir Sean Connery will be back on the big screen as Sir Billi, a Scottish animation film, featuring the voice and likeness of Sir Sean Connery as the character Sir Billi. Sir Billi will be released in cinemas on 13 September 2013 and on DVD (pre-order here) on 16 September 2013.
In the film, produced by Glasgow Animation Ltd, we can expect several nods to James Bond, including the silver grey car that Sir Billi drives which is the famous Aston Martin DB5, which "still handles like it used to...".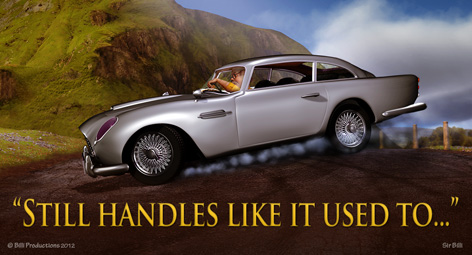 The themesong is performed by Bond music legend Dame Shirley Bassey. This is the first time since Connery's Bond films that they have been reunited in a film.
Watch this great behind the scenes video with an interview with Connery and parts of Bassey's themesong.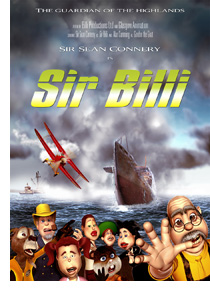 Voiced by Sir Sean Connery, everyone wants a grandpa like Sir Billi, the Guardian of the Highlands! An ageing, skateboarding veterinarian Sir Billi goes above and beyond the call of duty fighting villainous policemen and powerful lairds in a battle to save an illegal fugitive - Bessie Boo the beaver! A heart-warming and action packed family movie where thrilling car chases, heroic skydiving and daring stunts from this octogenarian, fuelled with encounters with a hostile submarine, will keep you on the edge of your seat!
With a star-studded cast including Alan Cumming (Spy Kids, The Smurfs 2, X-Men 2) Miriam Margolyes (Harry Potter, Mulan), Kieron Elliot (How to Train Your Dragon) and title track performed by Dame Shirley Bassey. Original score by Oscar nominee Patrick Doyle.
Watch the official trailer:
Visit the official website on sirbilli.com and get the latest updates via the Sir Billi Facebook page.
Subscribe to the Bond Lifestyle EYES ONLY newsletter