James Bond's You Only Live Twice suit and other rare items at Prop Store Entertainment Memorabilia Live Auction
12 October, 2021
Prop Store will hold its annual live auction of film and TV memorabilia for the eighth consecutive year this November 2021, with the items on offer expected to fetch in excess of £5.5 million ($7.6 million).
Over 1,000 rare and iconic lots, includes more than 45 James Bond lots, will be sold during Prop Store's unique Entertainment Memorabilia Live Auction over three days from Tuesday 9th to Thursday 11th November 2021 from 3:00pm GMT.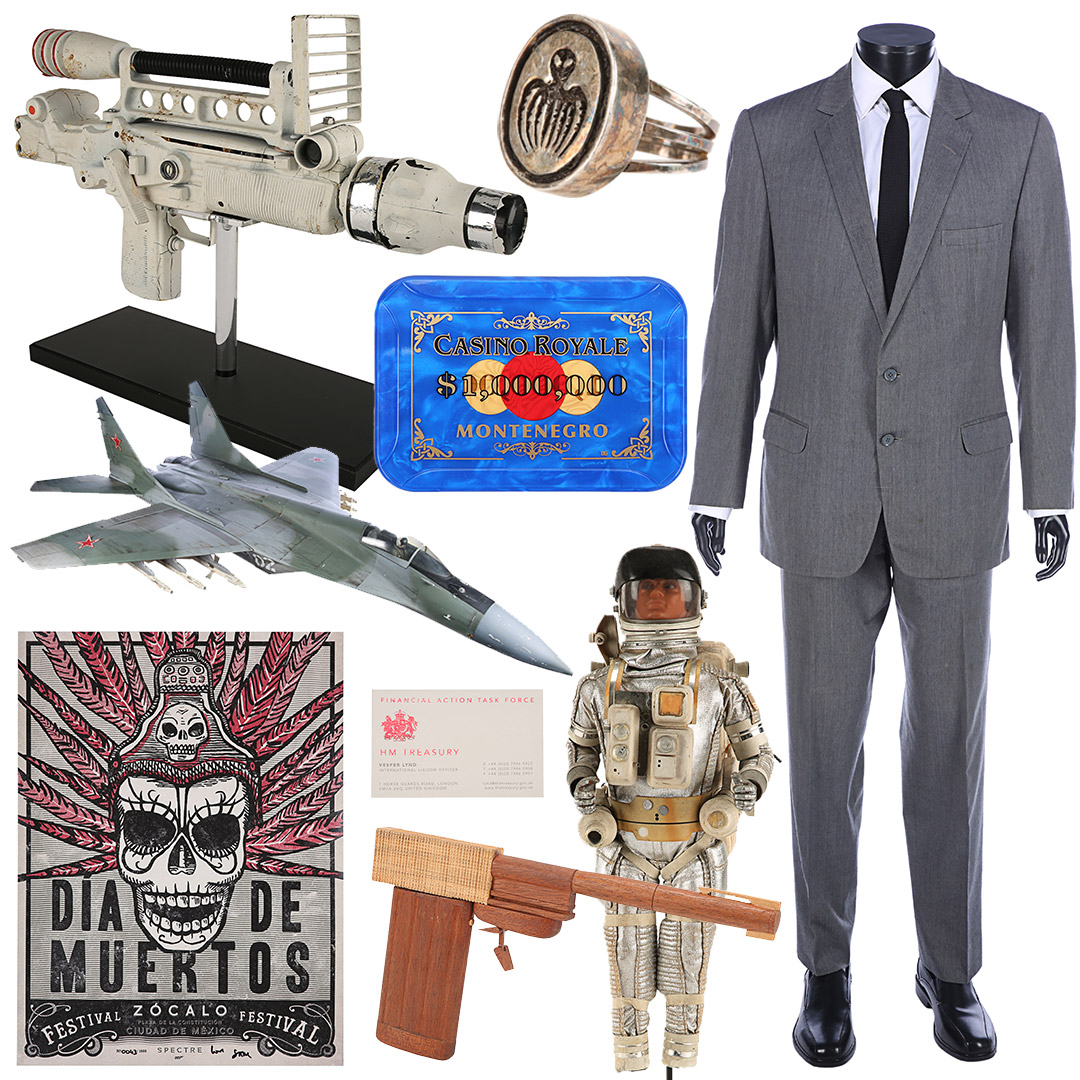 Registration is now open at www.propstore.com/liveauction. Online proxy bids can be submitted from Tuesday 12th October 2021. The auction will be live streamed online for fans to track the action and participate in bidding themselves.
Several auction lots, are being sold to raise money for a number of fantastic charities, including an Artist's Proof "Shield" Sculpture by the artist, Schoony, which is estimated to sell between £5,000 - 7,000 ($6,900 - 9,660) with all hammer price proceeds to be donated to the NSPCC. In addition, a Lindy Hemming Hand-painted Costume Design for Wonder Woman's (Gal Gadot) Schloss Party Dress from Wonder Woman (2017) is expected to sell between £3,000 – 5,000 ($4,140 - 6,900) with all hammer price proceeds to be donated to BAFTA, and a percentage of the proceeds from the sale of a collection of Harry Potter and the Deathly Hallows: Part 2 (2011) lots are to be donated to the Starlight Children's Foundation.
Prop Store will hold a preview exhibition at their office facility in Hertfordshire, UK, between 12th October - 11th November 2021. The exhibition will feature over 120 lots, giving fans the opportunity to see props and costumes from the auction up close and ask questions of the specialists. The exhibition can be viewed by appointment only, please email auction@propstore.com for more details.
Prop Store's auction is suitable for Bond fans with a variety of budgets. Some of the least expensive James Bond lots in the auction include a Vesper Lynd's (Eva Green) International Liaison Officer HM Treasury Business Cards estimated at £200 ($278), and Octopussy Girl's (Carolyn Seaward) Arabian Costume estimated at £400 ($556).
Some James Bond lot highlights:
Astronaut Laser Rifle
Moonraker (1979)
Estimate: £8,000 - £12,000
An astronaut laser rifle from Lewis Gilbert's Bond movie Moonraker. Laser rifles were wielded by the US space marines and Drax's (Michael Lonsdale) space station guards during the climactic battle in space. A rifle was also one of the gadgets tested at the Q-Branch workshop located in a Brazilian monastery.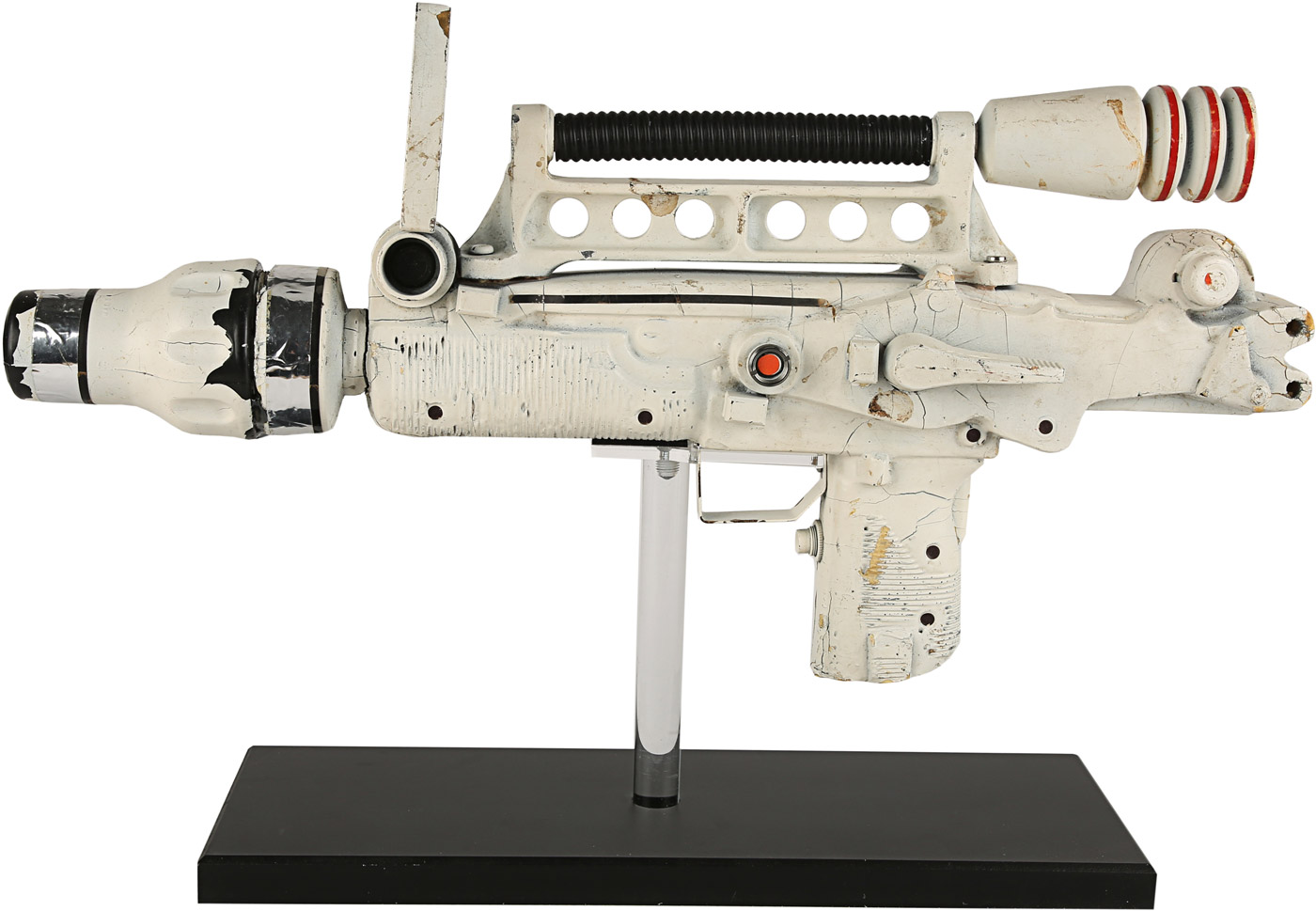 $1,000,000 Poker Chip
Casino Royale (2006)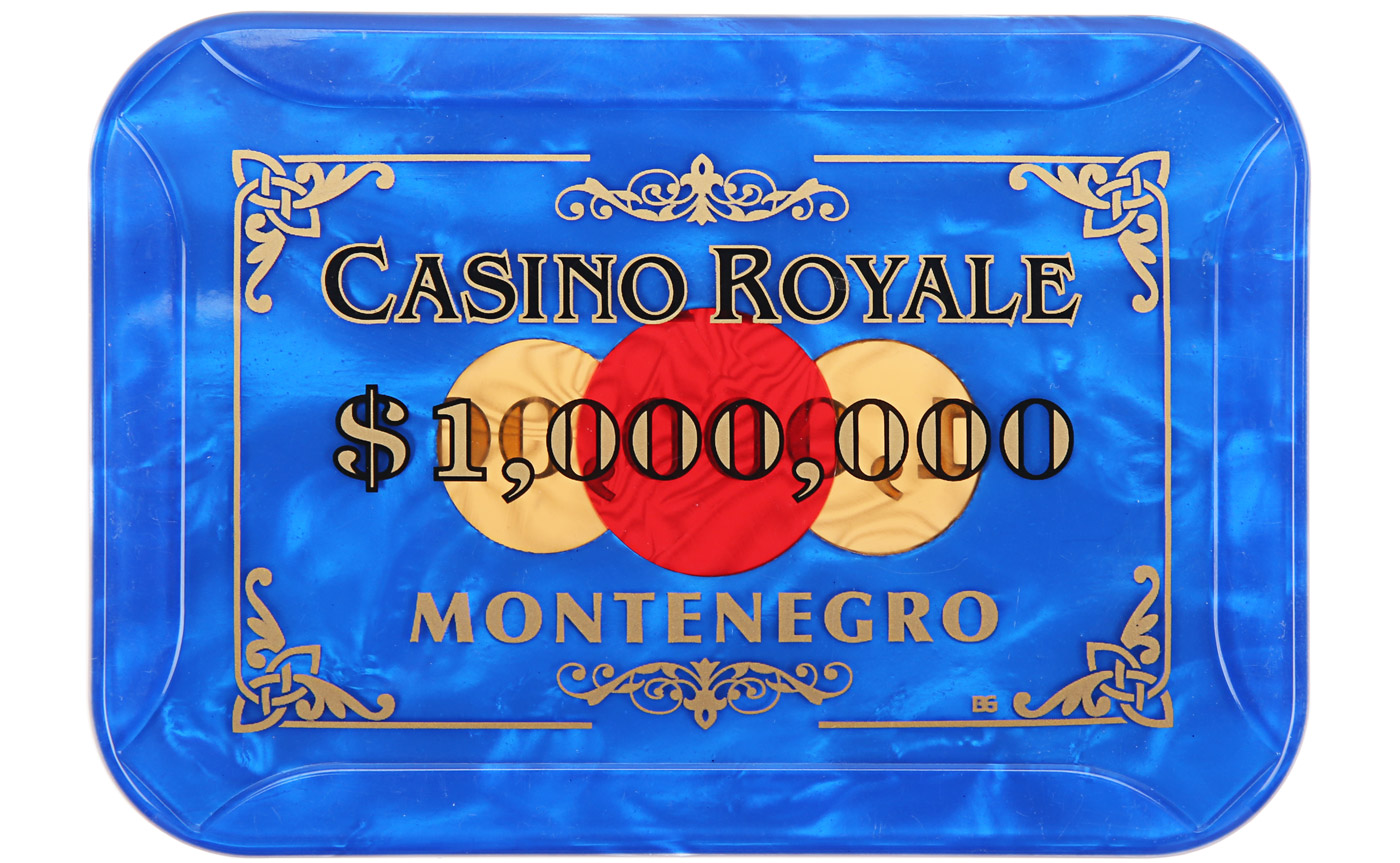 Colibri-made Wooden Golden Gun Master Model
The Man With The Golden Gun (1974)
Estimate: £4,000 - £6,000
The Colibri-made wooden master model of Scaramanga's titular Golden Gun from the production of Guy Hamilton's Bond film The Man with the Golden Gun. Francisco Scaramanga (Christopher Lee) used his golden gun - constructed from innocuous, everyday items - to assassinate his victims.
This wooden model was made by Colibri, a company which primarily manufactures cigarette lighters and jewellery. Colibri is credited with making the iconic gun seen in the film, although there are different stories from the production regarding its origins. One states that special effects expert John Stears made the gun from parts manufactured by both Colibri and pen manufacturer Waterman.
Another, told by the film's art director Peter Lamont, states that he designed and made an alternative wooden template as the finished gun Colibri constructed was rushed and tended to fall apart while being handled. Lamont then hired a London silversmith to make the three screen-used props. According to Lamont, although Colibri made a number of high-quality golden guns for promotional purposes, no Colibri-made weapon was featured in the final film. However, Stears' story and Colibri's official credit on the production disputes this.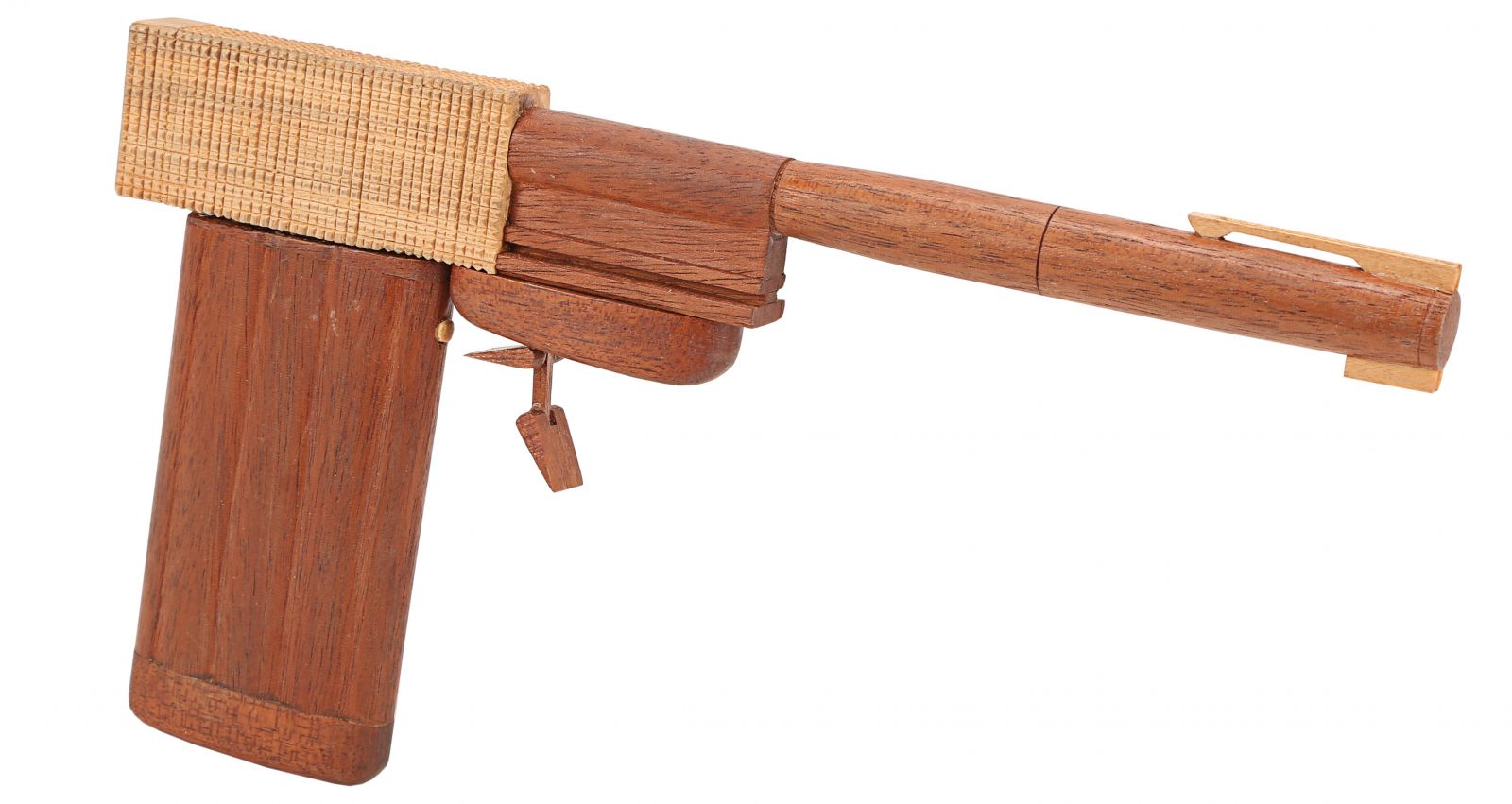 This model was used as Colibri's master template for the iconic weapon, which featured heavily in the promotional campaign for the film, and has since become one of the most famous weapons in cinematic history.
After the production, it was gifted to the set designer of Scaramanga's kitchen.
Sean Connery's Screen-matched Suit Anthony Sinclair
You Only Live Twice (1967)
Estimate: £50,000 - 70,000 ($69,000 - 96,600)
James Bond's (Sean Connery) screen-matched suit from Lewis Gilbert's Bond movie You Only Live Twice. Bond wore his suit in multiple scenes, from his arrival in Tokyo and his encounter with secret service agent Aki (Akiko Wakabayashi), up until Tiger Tanaka (Tetsuro Tamba) welcomed him into his home. A distinctive pinch in the jacket's left shoulder screen matches to the moment Bond met sumo wrestler Sadanoyama Shinmatsu.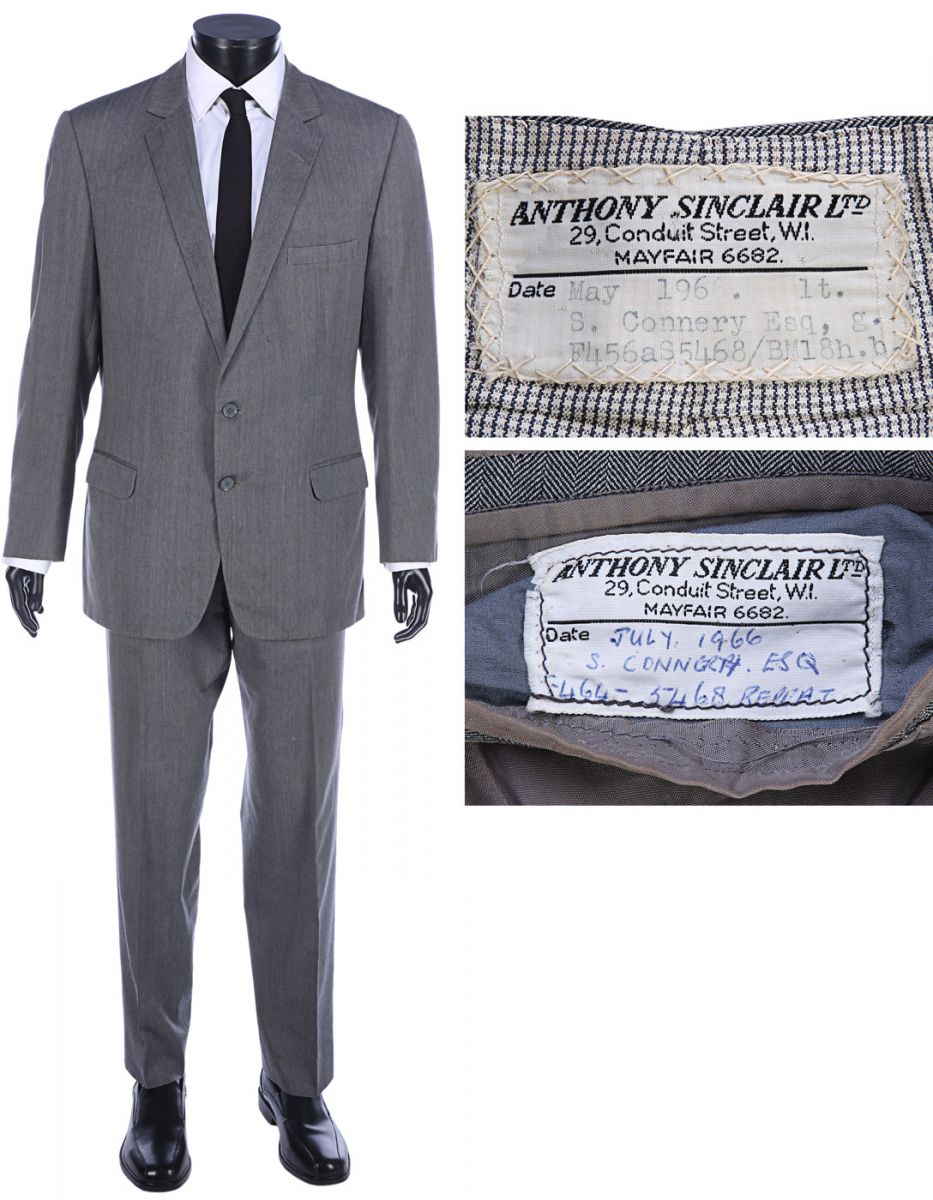 It is rare for examples of Sean Connery suits to come up for auction, as many were taken from the set by the actor after producer Albert "Cubby" Broccoli stated he could keep any of the costumes he requested. This lot was initially obtained by a crew member, to whom it was likely offered for sale when production wrapped.
The grey herringbone woollen two-piece suit was custom-made by tailor Anthony Sinclair, who created clothing for all of Sean Connery's appearances as 007.
MiG-29 Fighter Jet Model Miniature
GoldenEye (1995)
Estimate: £7,000 - £10,000
A MiG-29 fighter jet model miniature from Martin Campbell's Bond film GoldenEye. MiGs were scrambled after the attack on the Siberian radar facility, but were brought down by a surprise EMP attack from the titular superweapon. Built by Academy Award®-nominee Derek Meddings and his team, the model miniature is made predominantly of lightweight wood covered with a camouflage skin and Russian military decals.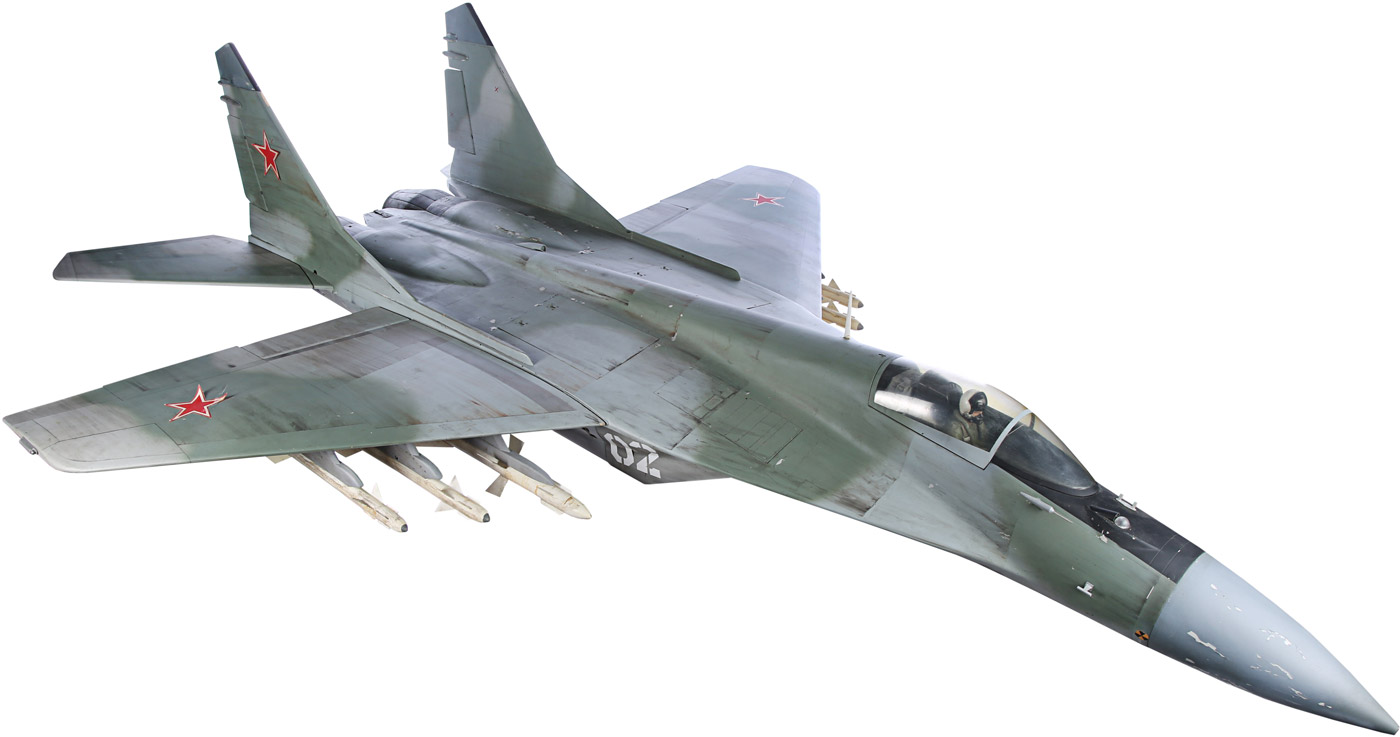 Model Unit Clapperboard
Octopussy (1983)
Estimate: £4,000 - £6,000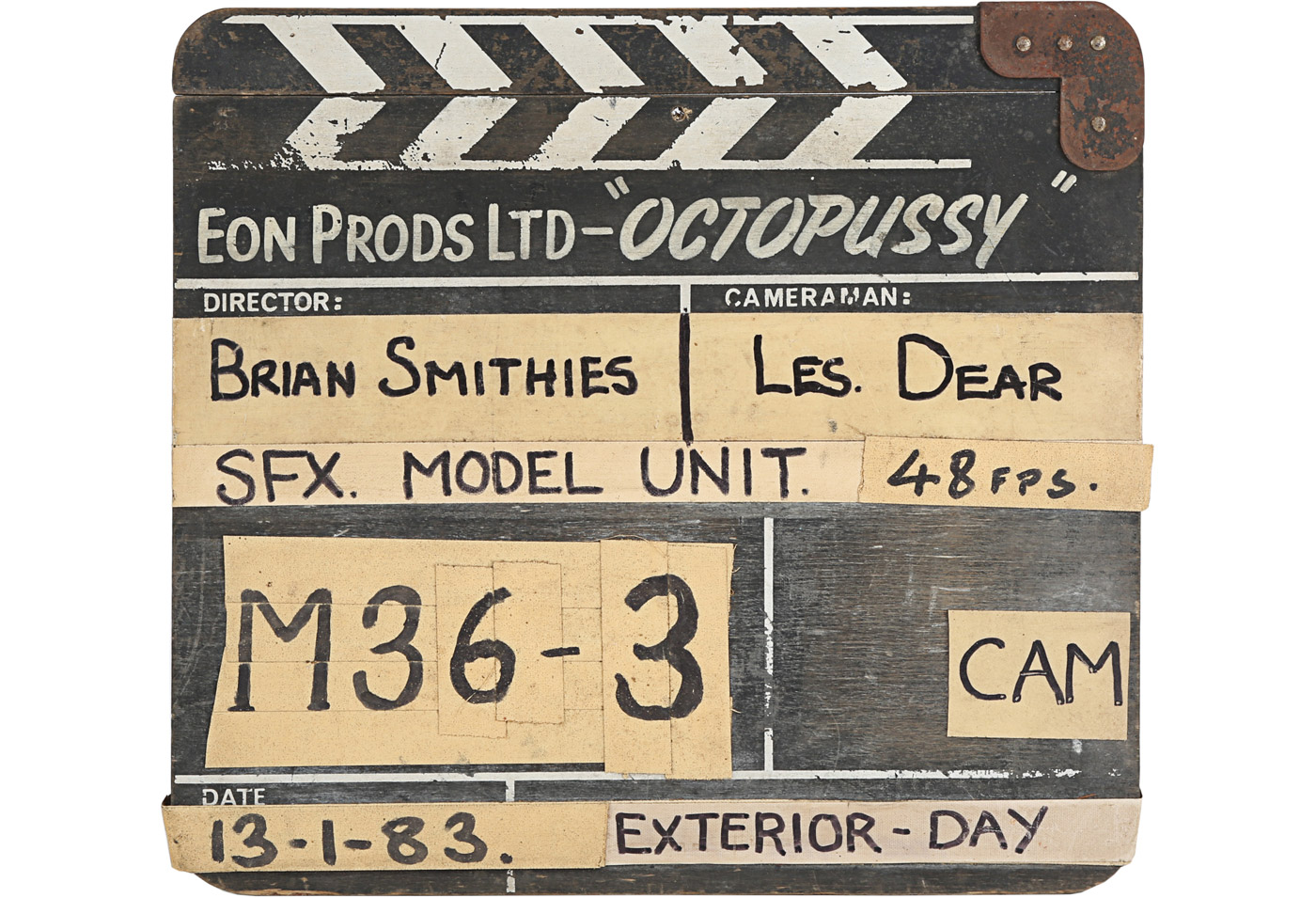 Sam Mendes-autographed Day of The Dead Crew Poster
SPECTRE (2015)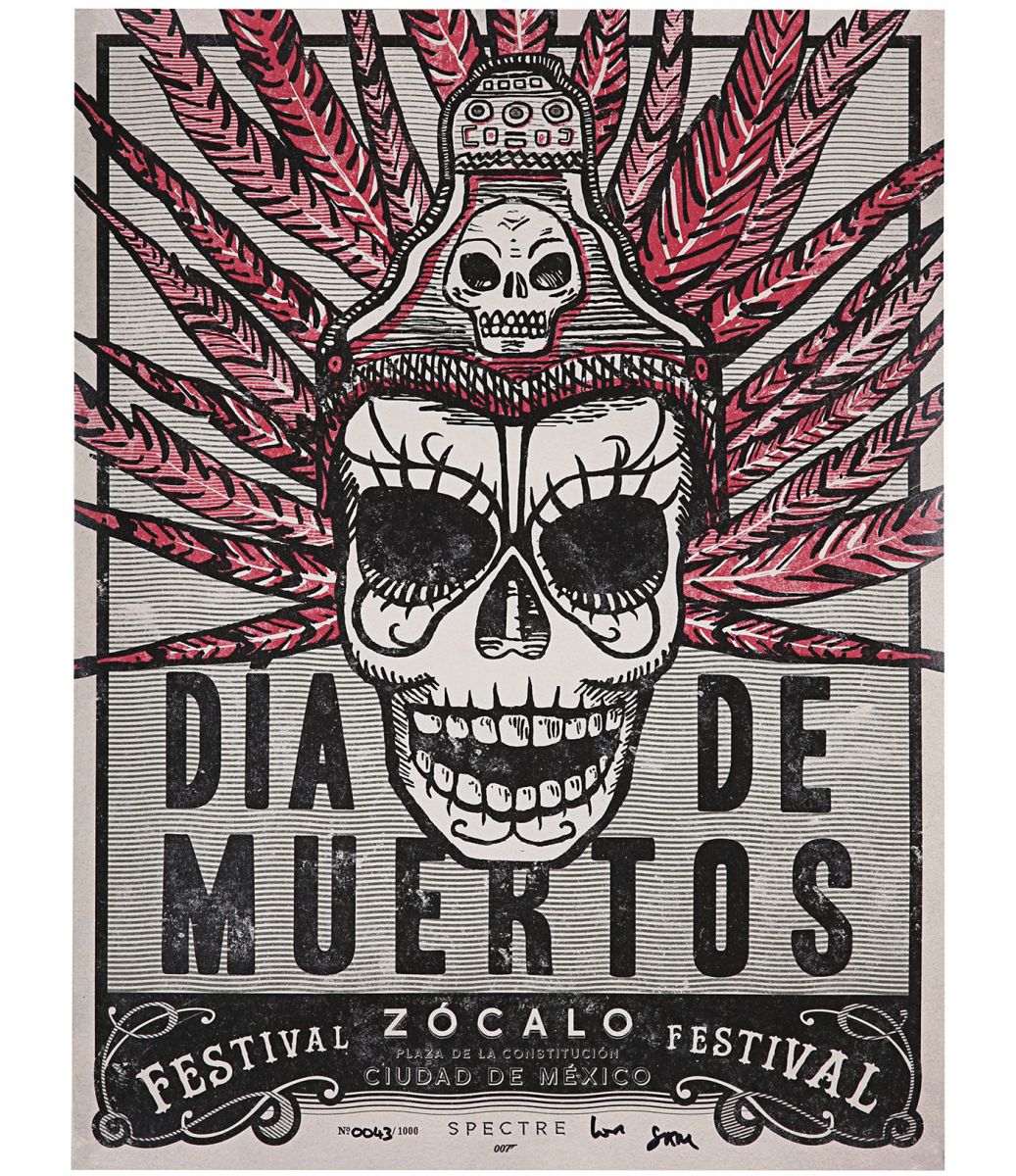 SPECTRE Ring
Thunderball (1965)
Estimate: £10,000 - £15,000
A SPECTRE ring from Terence Young's Bond movie Thunderball. SPECTRE agents, including Emilio Largo (Adolfo Celi), wore their rings throughout the film as the shadowy organisation attempted to steal two atomic bombs. This ring comes from the personal collection of renowned special effects technician Bert Luxford.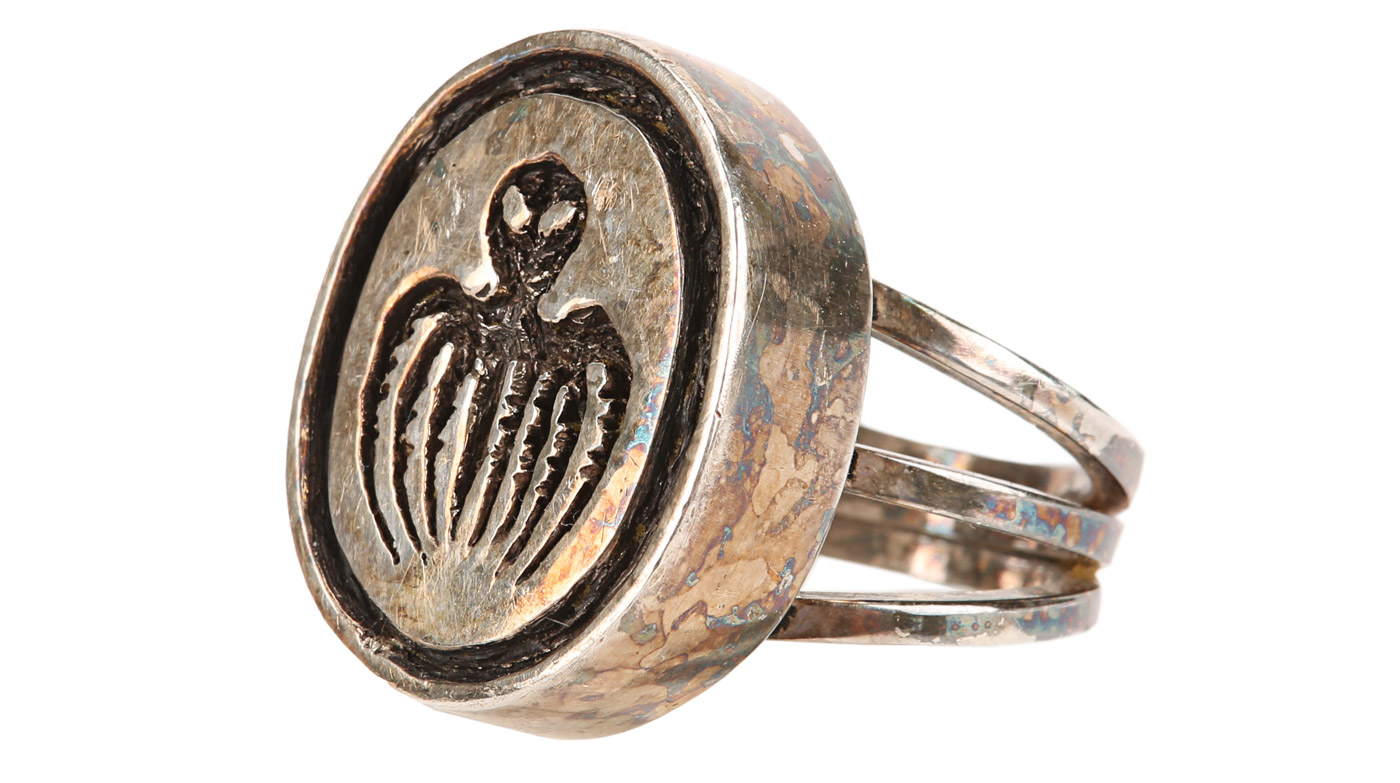 US Space Marine Model Miniature
Moonraker (1979)
Estimate: £6,000 - £8,000
A US space marine model miniature from Lewis Gilbert's Bond film Moonraker. Miniature versions of the US marines were used for certain shots during the laser battle in space against Drax's (Michael Lonsdale) space station guards.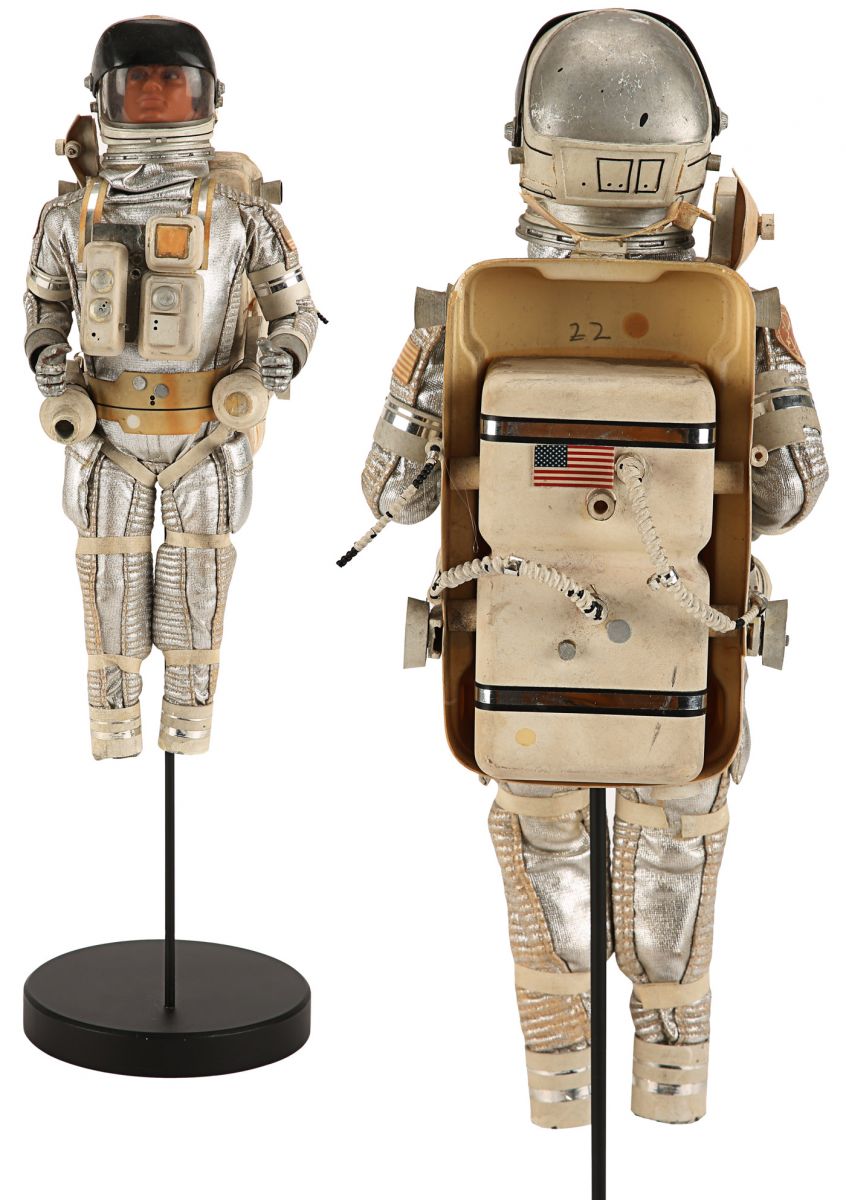 Vesper Lynd's (Eva Green) International Liaison Officer HM Treasury Business Cards
Casino Royale (2006)
Estimate: £200 / $275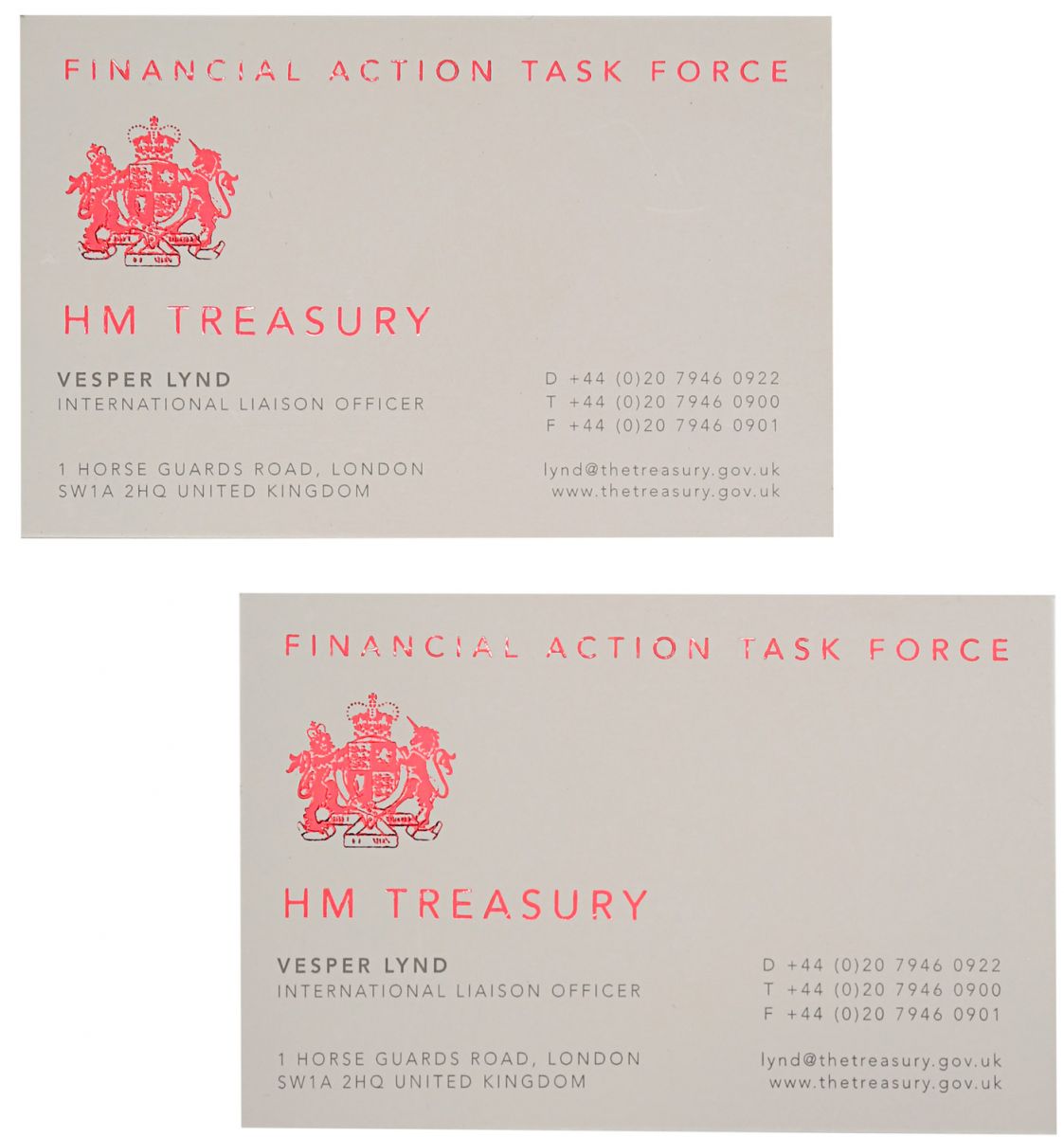 Xenia Onatopp's (Famke Janssen) Helicopter Costume
GoldenEye (1995)
Estimate: £8,000 - £12,000
Xenia Onatopp's (Famke Janssen) costume from Martin Campbell's Bond movie GoldenEye. Onatopp, the Soviet assassin who worked for renegade 00 agent Alec Trevelyan (Sean Bean), wore her costume during the final scenes of the film as she chased down Bond (Pierce Brosnan) in Cuba. She rappelled from a helicopter and fought Bond, who managed to reconnect her safety rope and shoot the helicopter down.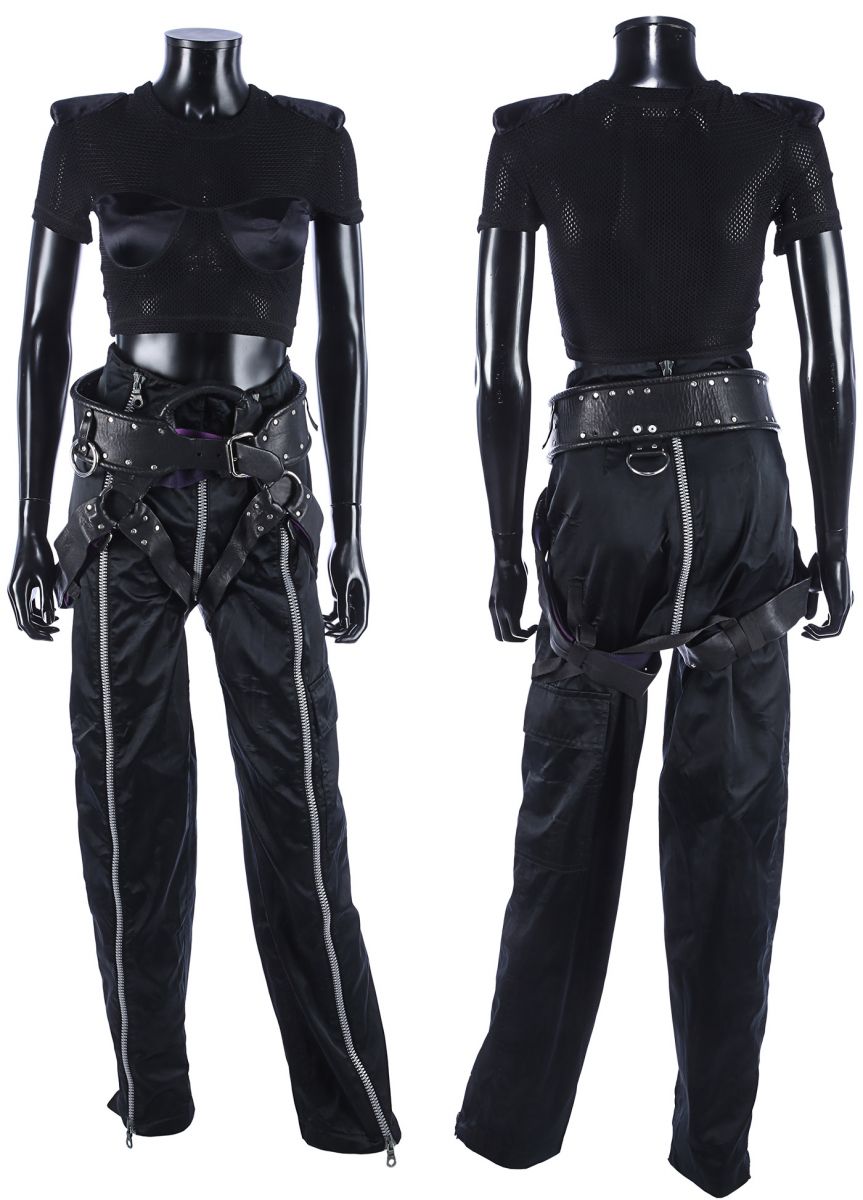 Timothy Dalton Dinner Suit
The Living Daylights (1987)
Estimate: £3,000 - £5,000
James Bond's (Timothy Dalton) dinner suit from John Glen's Bond movie The Living Daylights. Bond wore his suit when he received his mission to aid the defection of General Georgi Koskov (Jeroen Krabbé).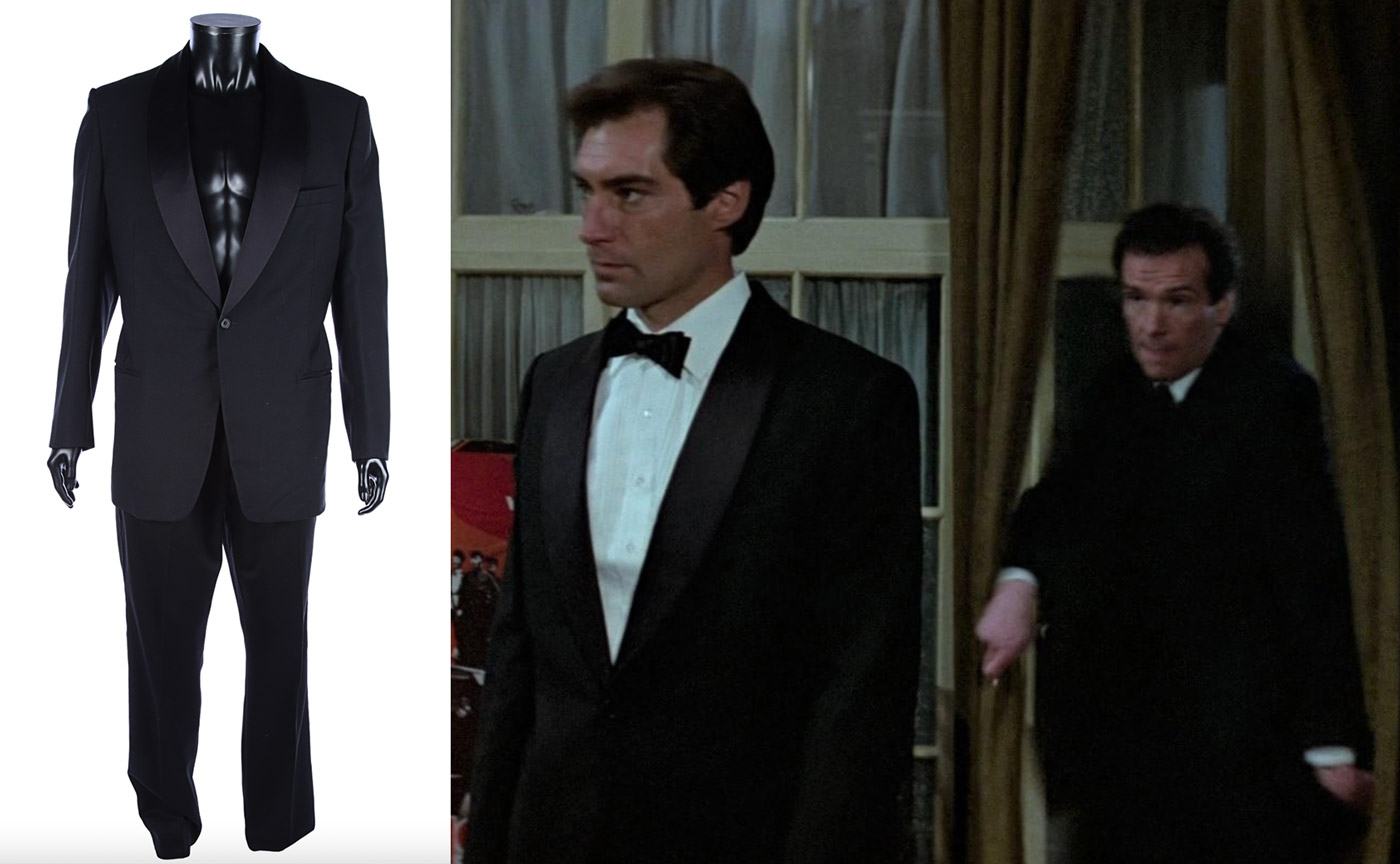 Stephen Lane, Prop Store CEO commented on the upcoming auction: "After our second hugely successful Los Angeles Entertainment Memorabilia live auction in the Summer making over $7.1 million (£5.1 million), Prop Store is back again, bigger and better than ever with a superb collection of over 1,000 lots up for sale. Our first ever three-day event in the UK will take place via live stream on the 9th, 10th and 11th November 2021, with plenty of opportunity for bidders to get up close and personal with the incredible content via live streams, virtual consultations and much more".
For more bidding and info, visit the Prop Store website.
The Crypt digital museum
In addition, Prop Store are pleased to be working with The Crypt, a ground-breaking digital museum, built and curated by The Virtually Group. For the first time ever, movie fans across the globe will have the opportunity to get up close and personal in a virtual environment with a selection of the auction's top lots from anywhere in the world. The virtual gallery is now available to view at www.crypt.art/exhibitions/prop-store
Subscribe to the Bond Lifestyle EYES ONLY newsletter