Bond Lifestyle Super Contest #20 - Win a 500 GBP shopping spree at John Smedley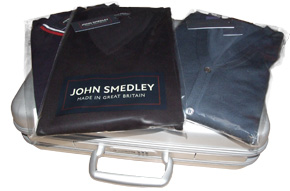 Bond Lifestyle is proud to present a brand new Super Contest to win an amazing prize offered to you by John Smedley: win a £500 shopping spree at John Smedley! This is your chance to get the Bobby V-neck sweater! (The £500 spending spree can only be redeemed online at www.johnsmedley.com)
Your mission was to watch a video (see the teaser here and the contest video here) and answer the questions before Monday April 22nd 2013 for your chance to win!
Now, the final video has been released showing what's in the case! Wach the video to find out what's in the case and find out below the video who's the winner of the contest!
Click on the [ ] icon at the bottom right of the video to watch the video full screen
Questions and Winner
In the first question people had to guess which product was NOT in the suitcase. The correct answer was Floris No.89 fragrance. This was the only product in the list that is not used by James Bond, but only by Bond creator Ian Fleming himself.
The answers and percentage chosen:
Turnbull & Asser Tie 7%
Sony-Ericsson C902 19%
Minox A 25%
John Smedley Bobby 12%
Floris No.89 fragrance 17%
Dents gloves 5%
COS shirt 15%
In the second question, contestants had to guess which brand of pen is in the suitcase. The answer was Parker. The Parker Jotter exploding pen is seen in GoldenEye, and eventually set off by Boris Grishenko (the hint underneath the question "Even you should be able to guess it, borscht-for-brains!" refers to a quote from Boris).
The answers and percentage chosen:
Waterman 4%
S.T. Dupont 25%
Parker 50%
Mont Blanc 21%
7% of the participants had both the answers correct.
The Bonus question was: name three brands of Bond items you see in the video. Quite a few very observant people noticed the S.T. Dupont cufflinks on the cuffs. Only two people noticed the Seiko watch, which was nearly impossible to spot. The top three brands mentioned were Aston Martin (the DBS of course), Samsonite (the aluminum suitcase) and Walther. Most of the participants had named three or more correct brands.
The winner has been selected at random from the participants who answered all questions correctly. And the winner is:
Oscar Verpoort, from The Netherlands. Congratulations Oscar, you can go on a £500 online shopping spree at John Smedley!
Thanks to all the contestants for their enthusiastic participation in the contest, the sponsor John Smedley for the generous prize, Sam Asaert for the beautiful video and Aston Martin Michiels for providing the DBS.
Read more about the John Smedley Bobby or visit John Smedley USA / UK / Germany online store for menswear & womenswear.
To stay up to date about future contests, follow Bond Lifestyle on Facebook.