Champagne Bollinger
Champage Bollinger
GoldenEye and Tomorrow Never Dies Bollinger advertisements
The World Is Not Enough and Die Another Day Bollinger ads
Casino Royale and Quantum of Solace Bollinger ads
Adding another installment to one of the most enduring marketing partnerships in motion picture history, Champagne Bollinger was again featured in the recent James Bond movies Casino Royale and Quantum of Solace.
The literary James Bond first encounters Bollinger in the book Diamonds Are Forever, when Tiffany Case sends a quarter-bottle to his cabin on the Queen Elizabeth.
List of Bollinger champagnes used in the movies:
Live and Let Die: Bond orders Bollinger Champagne, slightly chilled, in his San Moniquan Hotel room. The next day, Bond and Rosie Carver share a bottle of Dom Pérignon during their picnic, just before she gets killed.
Moonraker: A bottle of champagne can be seen in a cooler with Bollinger written on it, in the Apollo Airways airplane that crashes in the pre-title sequence. In Holly Goodhead's room in Hotel Danieli in Venice, another bottle of champagne in a Bolinger cooler can be seen. Bond says "Bollinger! If it's '69 you were expecting me!". In the last sequence of the film, Jaws and his girlfriend Dolly drink Bollinger Tradition (possibly a 1973 vintage) in the exploding space station.
Octopussy: Bollinger RD
A View to a Kill: Bollinger '75
The Living Daylights: Bollinger RD '75
Licence to Kill: Bollinger RD '79
Goldeneye: Bollinger La Grande Année 1988
Tomorrow Never Dies: Bollinger La Grande Année 1989
The World Is Not Enough: Bollinger La Grande Année 1990
Die Another Day: Bollinger '61 & La Grande Année 1995
Casino Royale: Bollinger La Grande Année 1990
Quantum of Solace: Bollinger
The relationship began when the Broccoli-Wilson family, producers of the Bond films, sought a wine to match Bond's impeccable taste and refined personality. Not surprisingly, they chose Champagne Bollinger, long acknowledged as one of the world's finest Champagnes. A mutual friendship developed between the Broccoli-Wilson family and the Bollinger family, and Champagne Bollinger has remained a Bond favorite even as the torch has been passed from Roger Moore to Timothy Dalton, Pierce Brosnan and now Daniel Craig.

Bollinger 002 for 007
In 2012, the year that celebrates the 50th anniversary of Bond in films, Bollinger released the special Bollinger 002 for 007 gift set: a Bond inspired and branded box which contains a bottle of Champagne Bollinger 2002. Read more about this limited edition here, or buy it while it's still available at The Whisky Exchange (£125, they can ship to most countries).
Bollinger 007 Bullet Champagne cooler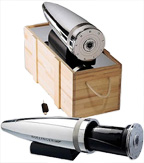 During the release of Quantum of Solace in 2008, Bollinger released a very limited series of a magnificent champagne cooler in the shape of a bullet. The cooler holds a bottle of Bollinger 1999. Read more about this collectors' item here.
Bollinger Grande Année 2002 is available at Harrods.com for £84,95
---