Bond Lifestyle Super Contest #18 - Win two outfits by Orlebar Brown
Bond Lifestyle is proud to present a brand new Super Contest to win an amazing prize offered to you by Orlebar Brown: win two outfits by Orlebar Brown, including the Setter Sky swimming shorts worn by James Bond in SkyFall!
Each outfit is inspired by the Bond look: a classic navy polo, a pair of tailored chinos, a towelling shirt and the Setter Sky swimming shorts. Total value of these items: £500 ($800)!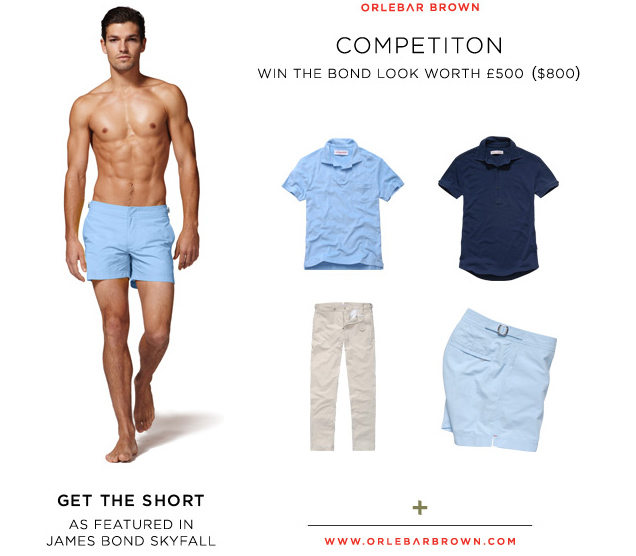 All you have to do to enter this competition is answer two trivia questions and as a bonus, fill in your favorite Bond actor! Enter before Monday November 19th 2012 for your chance to win.
THIS COMPETITION IS NOW CLOSED!
The answers to the questions "What is the name of the Orlebar Brown swim short featured in SkyFall?" was of course the Setter. This was answered correctly by 97% of the participants. The second question, "Including the movie SkyFall, in how many James Bond films does Judi Dench portray M?", proved to be only slightly more difficult as 90% of the entries was correct with the number "7" (the M appears in the movies GoldenEye, Tomorrow Never Dies, The World Is Not Enough, Die Another Day, Casino Royale, Quantum of Solace and SkyFall).
The winner was selected at random, and the name of this lucky man is Miguel Olivencia Pérez, from Spain!
Click here to read more about the results on the mini survey: who is your favorite James Bond actor.
Stay tuned for more new contests: Facebook.com/BondLifestyle.
Read more about Orlebar Brown Setter Sky in SkyFall or visit Orlebar Brown
for more beach and poolside wear.