#82 Bond Lifestyle Contest: Win Bond Photographed by Terry O'Neill and Limited Edition Print
Bond Lifestyle and Iconic Images offer you the chance to win a very limited bundle of the book "Bond Photographed by Terry O'Neill" and a Limited Edition Print of Sir Roger Moore! Answer the trivia question before midnight on July 11th 2023 to enter.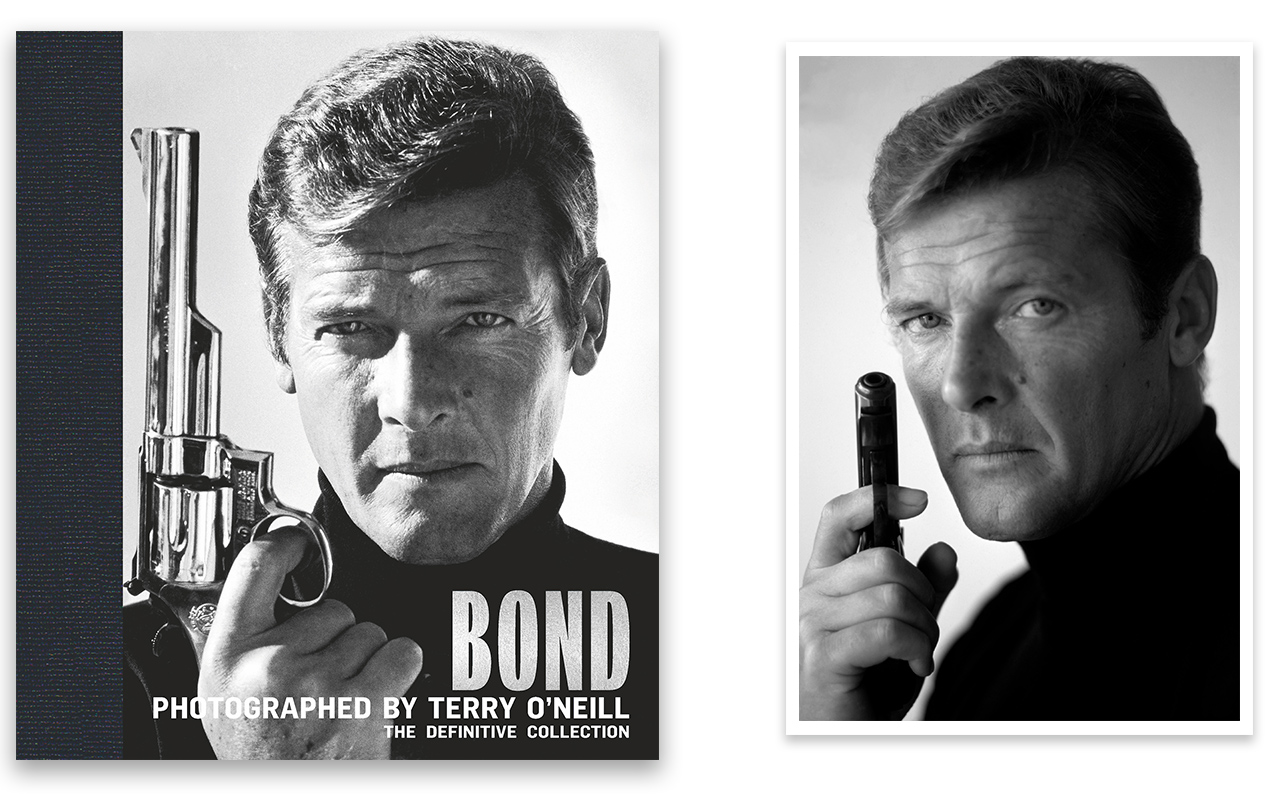 Win a book plus limited edition photo print bundle with a value of £500!
About the prize
To celebrate the 50th anniversary of Roger Moore's first appearance as James Bond (in Live And Let Die which was released on June 27th 1973), Iconic Images is thrilled to offer Bond Photographed by Terry O'Neill – the acclaimed book celebrating O'Neill's work with the franchise, along with an 8"x11" fine-art print, exclusively available through Iconic Images Gallery.
The book contains iconic portraits, rare and unseen images and contact sheets from Goldfinger, Diamonds Are Forever, Live And Let Die, GoldenEye and the Bond spoof, Casino Royale, documented by one of the world's greatest photographers Terry O'Neill.
It was O'Neill who captured gritty and roguish pictures of Connery on set, and it was O'Neill who framed the super-suave Roger Moore in Live and Let Die. His images of Honor Blackman as Pussy Galore are also important, celebrating the vital role of women in the James Bond world. But it is Terry O'Neill's casual, on-set photographs of a mischievous Connery walking around the casinos of Las Vegas or Roger Moore dancing on a bed with co-star Madeline Smith that show the other side of the world's most recognizable spy.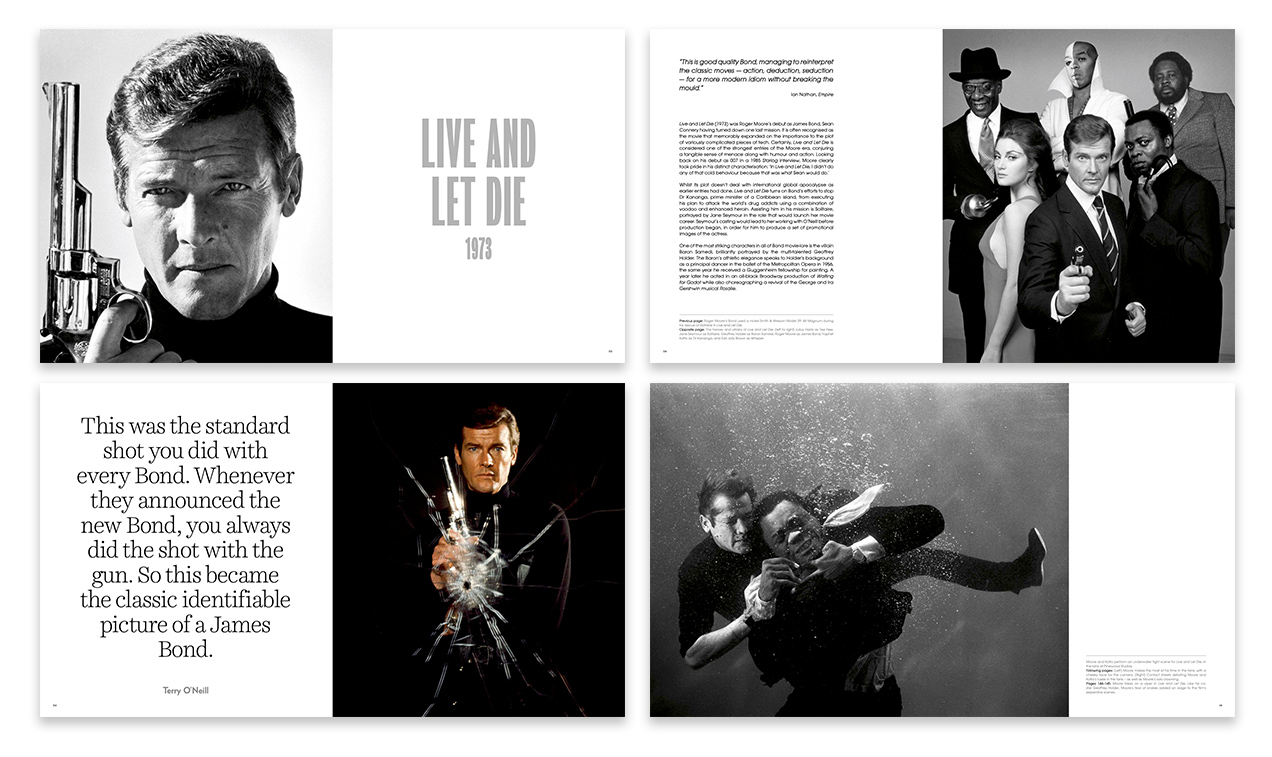 The offer is a print (posthumous) of Roger Moore as Bond with a copy of the Bond x O'Neill book.
The photo print size is 8" x 11", digitally signed and numbered on front, authorised stamp on reverse.
Edition of 50 - Price: £500
Where to buy
The "Bond Photographed by Terry O'Neill and the Limited Edition Print bundle" will be available from June 27th 2023 Iconic Images Gallery for £500.

Limited edition fine art prints of images from Live And Let Die are also available separately at iconicimagesgallery.com.
Enter the contest now for your chance to win!
For a chance to win Bond Photographed by Terry O'Neill and Limited Edition Print, fill in your details and answer the trivia question below before midnight (CET) on July 11th 2023.
Terms & Conditions
Entry is open to participants from all over the world.
1 winner will win 1 Bond Photographed by Terry O'Neill and Limited Edition Print bundle.
The prizes are as stated, are not transferable to another individual and no cash or other alternatives will be offered.
No purchase is necessary to enter or win.
The winner will be drawn randomly from all correct entries received by the closing date stated within the promotional material.
Reasonable efforts will be made to contact the winner. If the winner cannot be contacted or is unable to comply with these terms and conditions, Bond Lifestyle reserves the right to offer the prizes to the next eligible entrant drawn at random.
Failure to respond and/or provide an address for delivery, or failure to meet the eligibility requirements may result in forfeiture of the prize.
Prizes are subject to availability. If a prize is unavailable, Bond Lifestyle and Iconic Images reserve the right to offer an alternative prize of equal or greater value.
The winner agrees to the use of their name and disclosure of country of residence relating to any post-winning publicity.
The winner is responsible for expenses and arrangements not specifically included in the prizes, including any import taxes or duties.

GDPR: By entering the contest you consent to have Bond Lifestyle store your submitted information so Bond Lifestyle can contact you in case you're the winner of the contest. General Data Protection Regulation (GDPR) is an EU regulation on data protection and privacy (read more)
This contest is now closed.
The question was: "Which tv series did Roger Moore NOT star in before becoming James Bond?"
Multiple choice answers:
Ivanhoe 3%
The Saint 6%
The Persuaders 2%
The Avengers 89%
The winner of the book and print is Bobbak Rabiei (@thebondencyclopaedia on Instagram) from the UK. Congratulations!
Thanks to everyone for entering and stay tuned for the next contest!