#78 Bond Lifestyle Contest: Win a Limited100 Automotive Art Print
Bond Lifestyle offers you the chance to win a Limited100 Automotive Art Print! Select which print you want to win and answer the trivia question before midnight on December 18th 2022 to enter.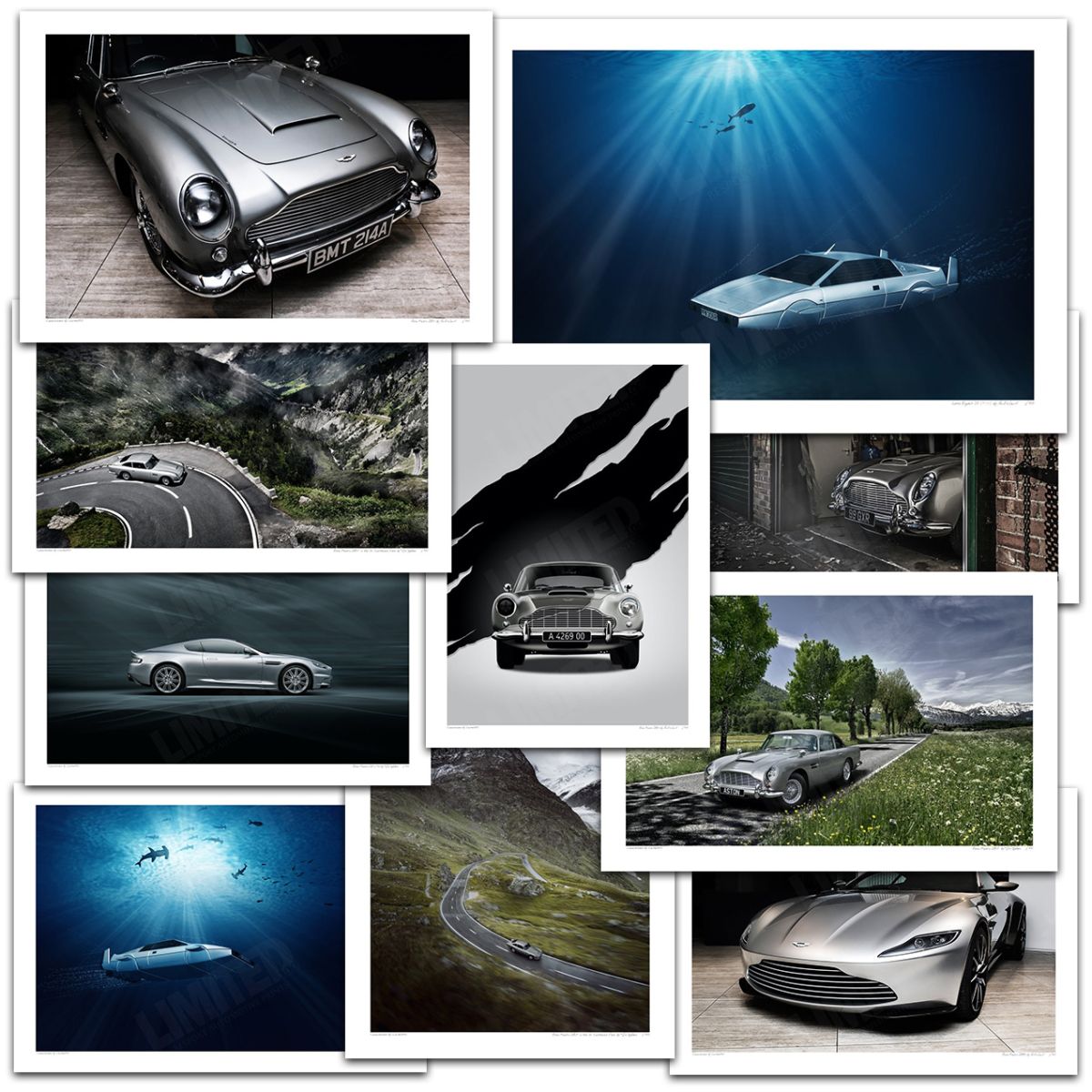 About the prize
All Limited100 prints are Made in Britain, have a hand-signed and numbered certificate of authenticity and brushed aluminium decal on the reverse, and any image can be created in any size, any print format, but always limited to 100 units.
Limited100 offers prints of many iconic vehicles, including several James Bond-related cars like the Aston Martin DB5, Lotus Esprit and Aston Martin DB10.
Now's your chance to win one of the prints below!
Click on an image below to find out more about the car, location and artist:
The prize in the contest is 1 of these prints in size Large (A1 size, 23 3/8" x 33 1/8" / 594 x 841 mm, value £269), without frame. The contest is open to people from all over the world.
Special offer
The prints can also be ordered in several sizes, with or without frame with 5% OFF your order if you use the exclusive code BONDLIFE5.
See all the Bond-related artprints on Limited100

Enter for your chance to win
For your chance to win a Limited100 Automotive Art Print, fill in your details, select the Art Print that you want to win and answer the trivia question below before midnight (CET) on December 18th 2022.
Terms & Conditions
Entry is open to participants from all over the world.
1 winner will win 1 a Limited100 Automotive Art Print, A1 size, without frame.
The prizes are as stated, are not transferable to another individual and no cash or other alternatives will be offered.
No purchase is necessary to enter or win.
The winner will be drawn randomly from all correct entries received by the closing date stated within the promotional material.
Reasonable efforts will be made to contact the winner. If the winner cannot be contacted or is unable to comply with these terms and conditions, Bond Lifestyle reserves the right to offer the prizes to the next eligible entrant drawn at random.
Failure to respond and/or provide an address for delivery, or failure to meet the eligibility requirements may result in forfeiture of the prize.
Prizes are subject to availability. If a prize is unavailable, Bond Lifestyle and Limited100 reserve the right to offer an alternative prize of equal or greater value.
The winner agrees to the use of their name and disclosure of country of residence relating to any post-winning publicity.
The winner is responsible for expenses and arrangements not specifically included in the prizes, including any import taxes or duties.

GDPR: By entering the contest you consent to have Bond Lifestyle store your submitted information so Bond Lifestyle can contact you in case you're the winner of the contest. General Data Protection Regulation (GDPR) is an EU regulation on data protection and privacy (read more)
This contest is now closed!
The Trivia question was: 
"In the 2008 movie Quantum Of Solace, what car does James Bond drive in Austria, following Dominic Greene to the Tosca Opera?"
This turned out to be a slightly more difficult question to answer than normal, with 'only' 79.7% of peopel answering correctly.
Here are the multiple choice answers and the percentage of people selecting the answer:
Alfa Romeo 159 (3.4%)
Aston Martin DB5(10.6%)
Ford Mondeo (4.4%)
Jaguar XJ8 (1.9%)
Volvo S40 (correct answer, 79.7%)
Bond can briefly be seeen driving the Volvo S40 before going to the opera in Bregenz (read more).
These are the Art Prints and percentage of how many people selected them:
1. Aston Martin DB5 in the St. Gotthard-Pass (25.3%)
2. Aston Martin DB5 at Bicester Heritage (13.6%)
3. Aston Martin DB5 in the St Gotthard-Pass Portrait (12.6%)
4. Aston Martin DB5 BMT214A (11.7%)
5. Lotus Esprit S1 1976 Type A (10.9%)
6. Aston Martin DB5 in Switzerland (7.0%)
7. Aston Martin DBS V12 (5.4%)
8. Lotus Esprit S1 1976 Type B (5.4%)
9. Aston Martin DB10 (4.6%)
10. Aston Martin DB5 A-4269-00 Type A (3.6%)
Thanks to everyone who entered the contest.
The winner of the Limited100 Art Print is Chris Dann from the United Kingdom. He selected the Aston Martin DB10 as his prize. Congratulations!
In the meanwhile, enter another contest for your chance to win the book 007 The Armoury.