#77 Bond Lifestyle Contest: Win a Cumbria Crystal Grasmere DOF Whisky Tumbler
Bond Lifestyle offers you the chance to win a Cumbria Crystal Grasmere Double Old Fashioned whisky tumbler! Answer the trivia question before midnight on December 11th 2022 to enter. Also read more about the Factory Outlet offer of the tumbler, exclusively for Bond Lifestyle followers.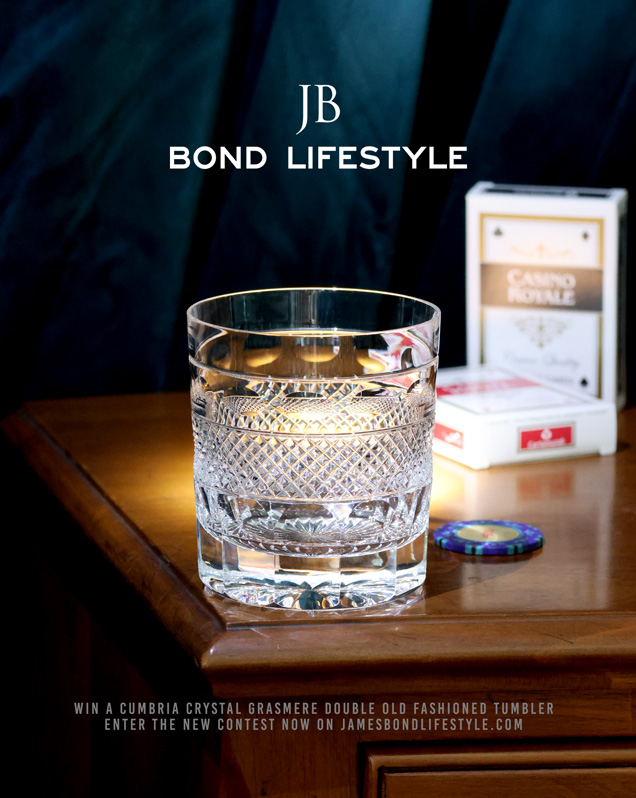 About the prize
A Cumbria Crystal Grasmere Double Old Fashioned (DOF) whisky tumbler was seen in the James Bond movie, Casino Royale (2006) when Bond recovers in his room from the fight in the casino.
The tumbler comes in two sizes, and the one seen in the film is the larger 12oz model.
The tumbler is part of the Grasmere Collection which shares its name with the famous village and lake in the English Lake District where the famous poet William Wordsworth once lived. The Grasmere Collection has featured in several films and period dramas including every episode of Downton Abbey.
Where to buy
The Double Old Fashioned Premium Quality tumbler is available for £115.50 on the Cumbria Crystal website (get 5% off using code BONDLIFE5) - but Cumbria Crystal now also offers a Factory Outlet product (read more below) for £75 including branded box.
Factory Outlet - Bond Lifestyle exclusive
Crafting exclusively by hand inevitably means that a small proportion of Cumbria Crystal products do not pass the rigorous quality checks required to be assessed as Premium Quality. These are classified as Outlet Products and will have just minor issues, mostly only seen on close inspection, leading Cumbria Crystal to reclassify them. They are made with exactly the same love and care as the Premium Quality crystal.
Usually the factory outlet stock is only available to UK customers, but Cumbria Crystal is exclusively making this item available worldwide, until 15th December 2022, for Bond Lifestyle followers with guaranteed Christmas dispatch.
Get the Factory Outlet Grasmere tumbler for £75 at Cumbria Crystal.

Note that the prize in the contest is a Factory Outlet Product Grasmere Tumbler.
About Cumbria Crystal
Cumbria Crystal is the only producer of completely hand-blown and hand-cut luxury English lead crystal in the United Kingdom. Read more about the company and tumbler in the Bond Lifestyle article "Made In Britain - Cumbria Crystal".
Cumbria Crystal glasses were also seen in the James Bond films The World Is Not Enough (the Windermere model) and in Die Another Day (the Helvellyn tumbler).
 
Enter for your chance to win
Now is your chance to win a Cumbria Crystal Grasmere Double Old Fashioned tumbler! Fill in your details and answer the trivia question below before midnight (CET) on December 11th 2022.
Terms & Conditions
Entry is open to participants from all over the world.
1 winner will win 1 Cumbria Crystal Grasmere DOF Factory Outlet Tumbler.
The prizes are as stated, are not transferable to another individual and no cash or other alternatives will be offered.
No purchase is necessary to enter or win.
The winner will be drawn randomly from all correct entries received by the closing date stated within the promotional material.
Reasonable efforts will be made to contact the winner. If the winner cannot be contacted or is unable to comply with these terms and conditions, Bond Lifestyle reserves the right to offer the prizes to the next eligible entrant drawn at random.
Failure to respond and/or provide an address for delivery, or failure to meet the eligibility requirements may result in forfeiture of the prize.
Prizes are subject to availability. If a prize is unavailable, Bond Lifestyle and Cumbria Crystal reserve the right to offer an alternative prize of equal or greater value.
The winner agrees to the use of their name and disclosure of country of residence relating to any post-winning publicity.
The winner is responsible for expenses and arrangements not specifically included in the prizes, including any import taxes or duties.

GDPR: By entering the contest you consent to have Bond Lifestyle store your submitted information so Bond Lifestyle can contact you in case you're the winner of the contest. General Data Protection Regulation (GDPR) is an EU regulation on data protection and privacy (read more)