#75 Bond Lifestyle Contest: 75 prizes, 75 winners, $7500 Total Prize Value
This is the big one, 007! Bond Lifestyle celebrates its 75th contest by giving away 75 prizes with a total prize value of over $7500! There will be 75 winners, so this is your biggest chance to win yet.
Watch the contest video on YouTube to see all the prizes and to find out how you can increase your chance of winning even more!
UPDATE: This contest is now closed, and the winners are announced below!
-
WARNING: do NOT respond to messages from the FAKE Instagram account jamesbondlifestyle.official (521 followers) regarding this contest or anything else!
-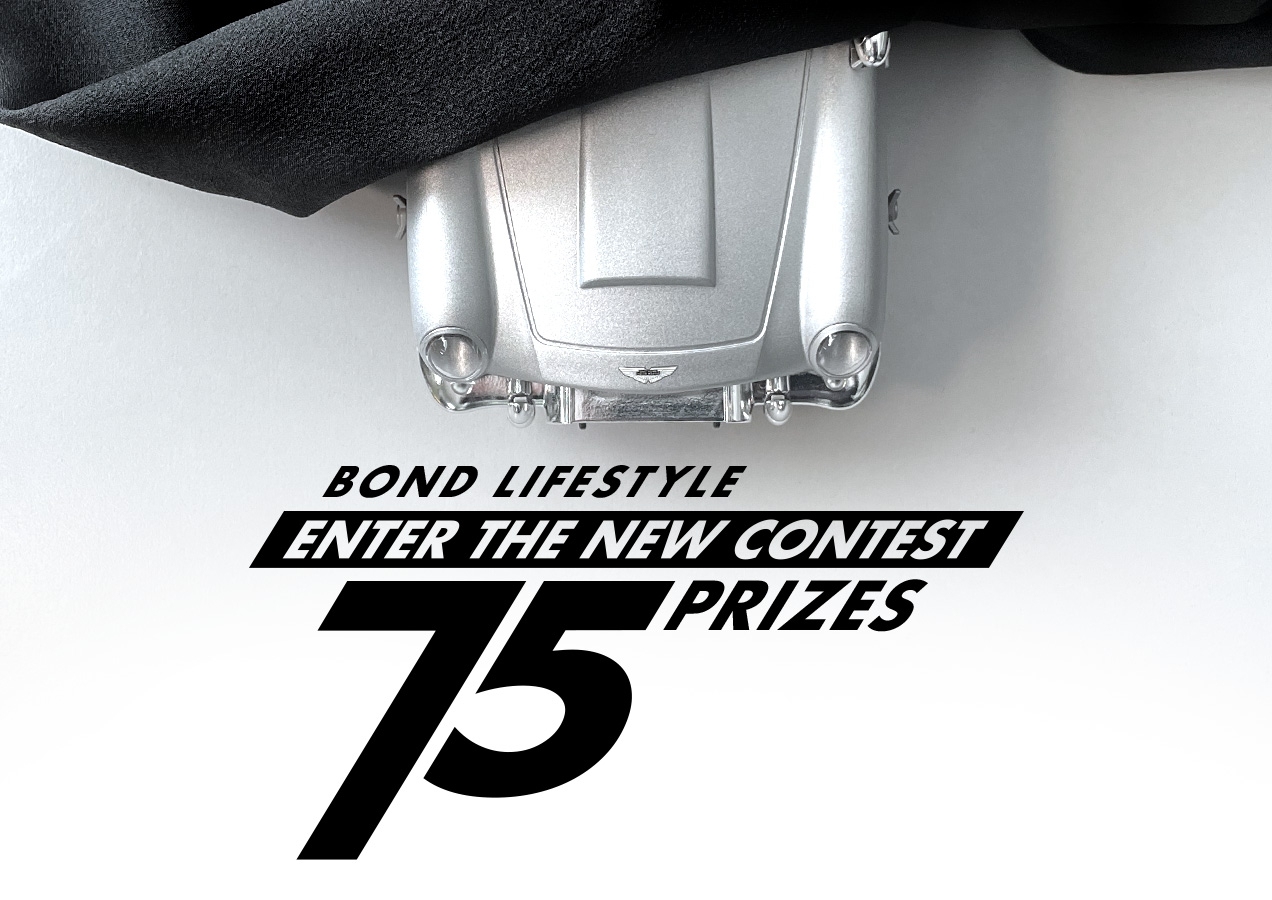 Below you can find the prizes and the winners:
Click on an image or title to learn more about the prize.
Update 7 May: the Mystery Prize has been announced! It is new 007 x Penfold 60 Year Anniversary Golf Tool set!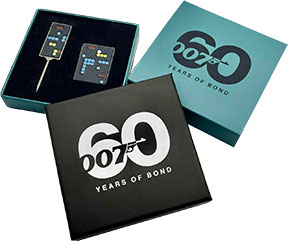 007 x Penfold
Golf Tool Set
Winner: Joseph Lennart
 
Orlebar Brown is offering 10 items from their 007 Collection: 4 swimming shorts, the Octopussy Harrington jacket, Thunderball striped shirt, The Man With The Golden Gun shirt, Thunderball Gingham shirt, Dr No Knitted Polo Shirt and the Moonraker merino half-zip sweater (one prize per winner).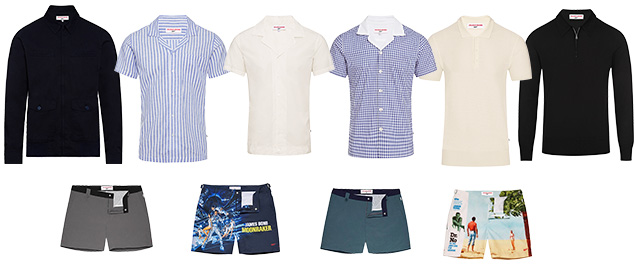 Read more about the collection or see the 007 Heritage Collection on the Orlebar Brown website.
Winners:
Orlebar Brown Octopussy Harrington: Sam Leo
Orlebar Brown Moonraker Knitted Half Zip: Kiril Shotarovski
Orlebar Brown Dr. No Silk Knitted Polo: Bardia Eshghi
Orlebar Brown Golden Gun Capri Short Sleeve Shirt: George Brachos
Orlebar Brown Thunderball Gingham Shirt: Romain Sevrin
Orlebar Brown Dr. No Bulldog Swim Shorts: Tod Nicholson
Orlebar Brown Moonraker Bulldog Swim Shorts: Luigi Edoardo Chiaverini
Orlebar Brown Thunderball Setter Swim Shorts - Blue & Navy: Bertil Hermansen
Orlebar Brown Thunderball Setter Swim Shorts - Black & Fossil: Noah Shallcross
Orlebar Brown Thunderball Stripe Shirt: Christopher Harner
N.Peal is offering the pieces from the No Time To Die Combat outfit, including the grey Combat Trousers, blue Army Sweater and 007 braces, and the white Henley shirt inspired by the one worn by Bond.

The N.Peal clothes are among the most popular items from No Time To Die!
Winners:
N.Peal 007 Braces: Fred Milliron
N.Peal 007 White Henley: Jamie Dickie
N.Peal 007 Army Sweater: Wouter Levelt
N.Peal 007 Trousers: Arden Sedlins
But there is more:
Thanks to artist Michael Gillette you can win a Bond art print of your preference! We're giving away 4 Medium size (9"x13") art prints. 1 print per winner, and the winners can select one of the 12 available prints (see all prints on michaelgilletteart.com).

The art prints were made as covers for the Ian Fleming Bond books, read more here.
Art print winners (the winner can select a 9"x13" design from Michael Gilette Art):
Gerardo Lei
Sherry Krause
Emery Cormier
Melvin Maisonial
The official 007 Store is offering a beautiful prop replica of the Safin 007 Mask. a limited numbered edition exclusive to the 007 Store and 007 Store USA!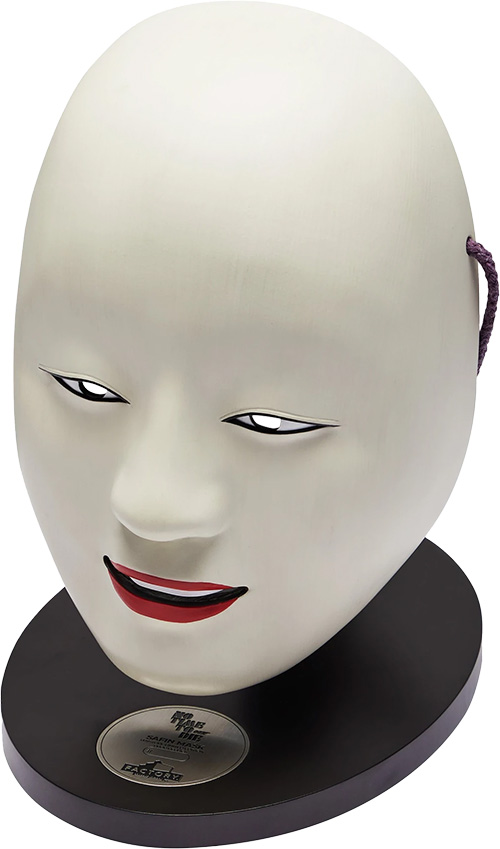 Safin Mask Prop Replica
by Factory Entertainment
Offered to you by the 007 Store
Winner: Torgeir Rokkones
How to enter
Answer the trivia question below before midnight (CET) on May 15th 2022 and you can do two more things (optionally) to increase your chance of winning:
Increase your chance of winning
- Enter early
The sooner you enter, the more chance you have to win, as I will give away prizes throughout April and early May, as well as after the closing date of the contest.
- Mention the Secret Code
Watch the Contest Launch video on YouTube (click here or watch it below) to find the SECRET CODE mentioned in the video, and make sure to enter that code in the form below to GET AN EXTRA ENTRY in the contest!
- Subscribe to Bond Lifestyle YouTube Channel
Get another EXTRA ENTRY in the contest by subscribing to the Bond Lifestyle YouTube Channel (visit the channel here) and filling in your YouTube user name in the contest form. If you are already subscribed, you will get that extra entry as well, just make sure to fill in your YouTube user name in the form.
- Answer the Trivia Question correctly
Note that you have to answer the trivia question CORRECTLY to be eligible to win, even if you have extra entries!
TERMS & CONDITIONS
Entry is open to participants, 18 years old and older, from all over the world.
75 winners will win 1 prize each.
The prizes are as stated, are not transferable to another individual and no cash or other alternatives will be offered.
No purchase is necessary to enter or win.
The winners will be drawn at random from all correct entries received.
Reasonable efforts will be made to contact the winner. If the winner cannot be contacted or is unable to comply with these terms and conditions, Bond Lifestyle reserves the right to offer the prizes to the next eligible entrant drawn at random.
Failure to respond and/or provide an address for delivery, or failure to meet the eligibility requirements may result in forfeiture of the prize.
Prizes are subject to availability. In the event of a prize being unavailable, Bond Lifestyle and the sponsors reserve the right to offer an alternative prize of equal or greater value.
The availability of the Orlebar Brown pieces are subject to sizing and availability - if a piece is not available in the size of the winner, an alternative Orlebar Brown piece will be selected.
The winners agree to the use of their name and disclosure of country of residence relating to any post-winning publicity.
The winner is responsible for expenses and arrangements not specifically included in the prizes, including any import taxes or duties.
Data will not be shared by Bond Lifetsyle with other companies and will only be used to determine and contact the winners.

GDPR: By entering the contest you consent to have Bond Lifestyle store your submitted information so Bond Lifestyle can contact you in case you're the winner of the contest. General Data Protection Regulation (GDPR) is an EU regulation on data protection and privacy (read more)
Contest Form
This contest is now closed - the winners have been announced above.
WARNING: do NOT respond to messages from the FAKE Instagram account jamesbondlifestyle.official (421 followers) regarding this contest or anything else! 
The TRIVIA QUESTION was: In how many official James Bond films is James Bond seen driving an Aston Martin DB5?
The correct answer was 8 (Goldfinger, Thunderball, GoldenEye, Tomorrow Never Dies, Casino Royale, SkyFall, SPECTRE, No Time To Die). Read more about the DB5 in Bond films.