When you purchase through links on this site, we may earn an affiliate commission. Here's how it works.
Advertisement

#70 Bond Lifestyle Contest: Win Vuarnet sunglasses
Bond Lifestyle offers you the chance to win a pair of Vuarnet Edge 1613 or Vuarnet Legend 06 sunglasses! Answer the trivia question and select which pair you want to win. Enter before midnight on 20 September 2021!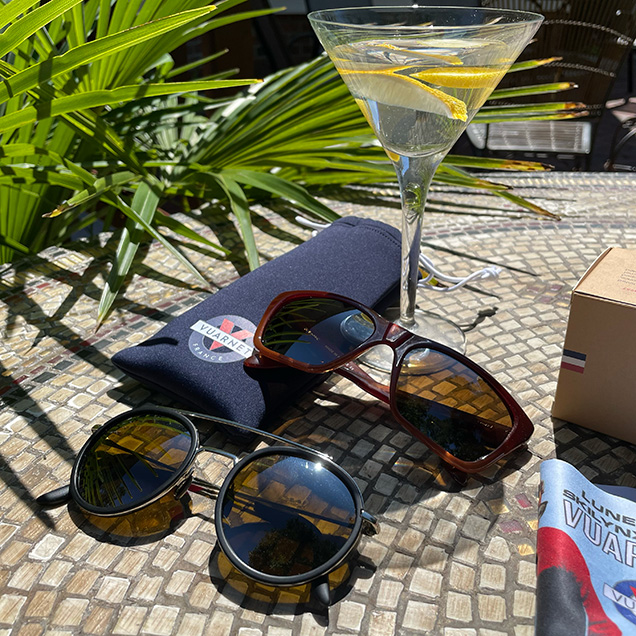 Vuarnet Edge 1613

The Vuarnet Edge 1613 sunglasses have been worn by Daniel Craig to many public events and it looks like (although not confirmed) Bond will wear the pair in No Time To Die.

 

The glasses are now only available with a silver frame (not the dark metal worn in the film) and are available online at Vuarnet USA and Vuarnet UK/EU.

Vuarnet Legend 06

The Vuarnet Legend 06 sunglasses were worn by Daniel Craig since 2017 and it looks like Bond will be wearing a pair of these sunglasses in No Time To Die.

The glasses are vintage shape, available in only one size, but different frame colors. The Vuarnet 06 sunglasses worn by James Bond have a Brown frame and Brownlynx™ lenses. These mineral glass lenses give some color distortion (yellow tint), but provide great protection to the eyes and clearer contrast.

The Vuarnet 06 is a famous pair of shades: the model became already legendary in 1969, when Alain Delon wore Vuarnet 06 sunglasses in the French film La Piscine by director Jacques Deray.

The Vuarnet Legend 06 VL0006 sunglasses are available online at Vuarnet USA and Vuarnet UK/EU.
Win Vuarnet sunglasses
Now is your chance to win Vuarnet sunglasses for yourself! Answer the trivia question and select which model you want to win. Enter before midnight (CET) on September 20th 2021.
Terms & Conditions
Entry is open to participants from all over the world.
Only 2 winners will win one pair of Vuarnet sunglasses each.
The prizes are as stated, are not transferable to another individual and no cash or other alternatives will be offered.
No purchase necessary to enter or win.
The winners will be drawn at random from all correct entries received by the closing date stated within the promotional material.
Reasonable efforts will be made to contact the winners. If the winners cannot be contacted, or are unable to comply with these terms and conditions, Bond Lifestyle reserves the right to offer the prizes to the next eligible entrant drawn at random.
Failure to respond and/or provide an address for delivery, or failure to meet the eligibility requirements may result in forfeiture of the prize.
Prizes are subject to availability. In the event of a prize being unavailable, Bond Lifestyle and Vuarnet reserve the right to offer an alternative prize of equal or greater value.
The winners agree to the use of their name and disclosure of country of residence relating to any post-winning publicity.
The winners are responsible for expenses and arrangements not specifically included in the prizes, including any import taxes or duties.
GDPR: By entering the contest you consent to having Bond Lifestyle store your submitted information so Bond Lifestyle can contact you in case you're the winner of the contest. If you agree to the option in the form below, your email and name will be shared with Vuarnet (selecting yes or no to the option does not affect your chance of winning). General Data Protection Regulation (GDPR) is an EU regulation on data protection and privacy (read more)
This contest is now closed.
Below some results on what people answered:
Which pair of Vuarnet sunglasses do you want to win?
This was incredibly close!
Vuarnet Legend 06: 49.8%
Vuarnet Edge 1613: 50.2%
Who directed the most James Bond films?
Terence Young 1.3%
Guy Hamilton 3.5%
John Glen 94.1%
Martin Campbell 1,1%
"John Glen" was the correct answer, he directed 5 James Bond films, from For Your Eyes Only to Licence To Kill.
And the winners are...
The winner of the Vuarnet Legend 06 sunglasses is Sam Kronis from the UK.
The winner of the Vuarnet Edge 1613 sunglasses is Johannes K from Austria.
Congratulations to the winners!