#36 Bond Lifestyle Contest - Win a Barbour Commander
The olive green Barbour Beacon Sports jacket has been one of the most popular items from SkyFall. Bond Lifestyle and Aphrodite Clothing offer you the chance to win a Barbour Beacon Sports jacket (also known as the 'Commander Dept B' jacket). Answer the trivia question below before November 9th for your chance to win!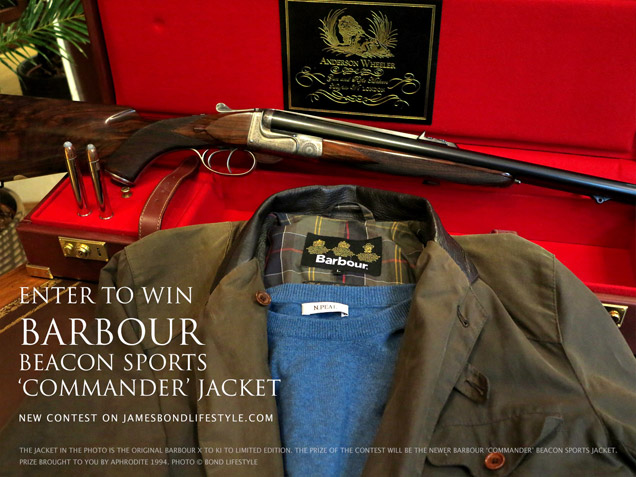 An original Barbour X To Ki To jacket with an N.Peal Oxford sweater and a very rare original Anderson Wheeler 500 Nitro Express Double Rifle
About the Barbour jacket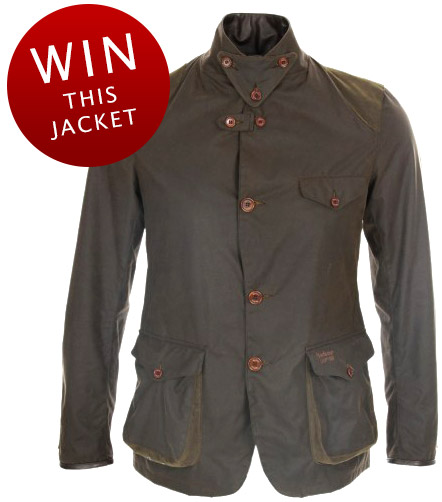 In the Scotland scenes in SkyFall, Bond wears a Barbour X To Ki To Beacon Sports Heritage limited edition jacket. The jacket was sold out even before the film came out in cinemas, so Barbour decided to reissue the jacket as the Commander Dept B jacket. This Barbour Commander jacket is a slightly modified version of the original X To Ki To (read comparison here), but even more screen accurate, as in the film the hood and flap were removed by the costume department.
Answer the trivia question below before midnight November 9th 2015 for your chance to win this great jacket!
The contest is now closed - winner announced!
The question of the contest was:
Which type of helicopter did Silva use to attack Bond's childhood home in the movie SkyFall?
The answer was: AgustaWestland AW101
There were thousands of entries and most people had the correct answer. From the people with the correct answer, one winner was selected at random and his name is Simone Veritiero from Italy. Congratulations with your prize!