#26 Bond Lifestyle Julian Glover Signed Photo Contest
Enter this Bond Lifestyle contest for your chance to win a photo signed by acclaimed actor Julian Glover, who played James Bond villain Aris Kristatos in For Your Eyes Only.
Julian Glover has played roles in dozens of films, including General Maximilian Veers in Star Wars Episode V: The Empire Strikes Back, Walter Donovan in Indiana Jones and the Last Crusade. and he can currently be seen as Grand Maester Pycelle in the series Game of Thrones.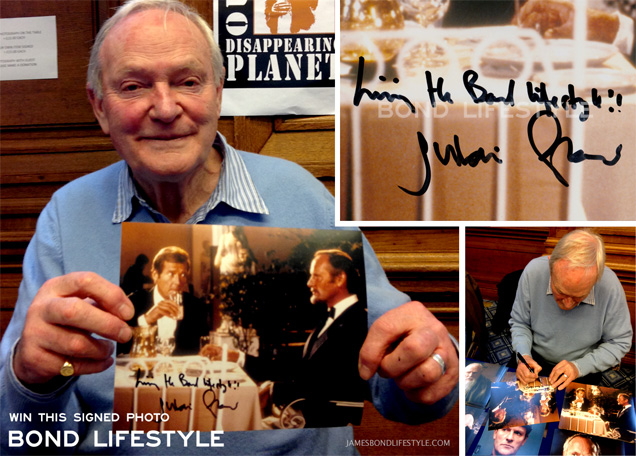 The photo was acquired by Remmert van Braam (Bond Lifestyle) and signed by Julian Glover on Saturday 29 March 2014 at the London Film Memorabilia Convention at Central Hall Westminster. The photo measures 25,5cm x 20,5cm (9,8" x 7,8") and the text on the photo reads "Living the Bond Lifestyle! Julian Glover".
Answer the trivia question below before Sunday 13 April 2014, 23h59pm CET for your chance to win this exclusive prize!
This contest is now closed.

The trivia question was: "What is the brand of the white polo shirt that Aris Kristatos wears on the yacht when he tries to kill James Bond and Melina Havelock by dragging them through the shark-infested sea in the movie For Your Eyes Only?"
Answer: Fred Perry
The winner of the signed photo is Justin Cappelletti from Rhode Island, USA. Congratulations!
In the next contest, you will be able to win a photo signed by Bond Girl Sue Vanner (pre-title-sequence The Spy Who Loved Me), so stay tuned!