Classic Cinemas Paramount Theatre - James Bond Film Fest
05 September, 2014
5 September 2014 - 6 September 2014
10:00 a.m. - 2:00 p.m.
Classic Cinemas Paramount Theatre
213 North Schuyler Avenue, Kankakee, IL 60901
Phone: 815-936-6843
The James Bond 007 Film Festival will feature special appearances by James Bond movie stars Richard Kiel and Maud Adams. Kiel is best known for his role as Jaws in The Spy Who Loved Me and Moonraker. Adams was the title character in Octopussy and the Bond girl in The Man With the Golden Gun. They will make multiple appearances during the festival and greet fans at an autograph session. Raymond Benson the 4th official author of James Bond novels will also be making appearances.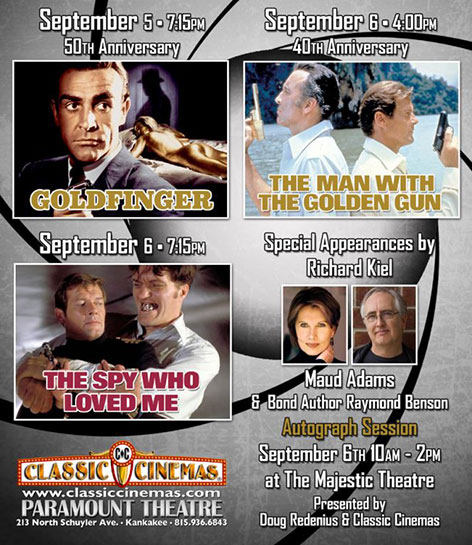 Richard Kiel, Maud Adams and Raymond Benson will be signing autographs from 10:00 a.m. – 2:00 p.m. on Saturday, September 6th at the Majestic Centre (150 N. Schuyler Ave., Kankakee). The session is free, but there will be a charge for autographed photos and books.
Kiel, Adams and Benson will be attending some of the James Bond screenings over the weekend. Bond Historian Doug Redenius will introduce them. A model of the gold plane from the film Goldfinger will be on display in a glass case in the theatre lobby.
The Lotus used in The Spy Who Loved Me will be parked in front of the Paramount Theatre on Saturday, September 6th.
All copyrights for products, logos, images etc are held by their respective owners. Bond Lifestyle is not responsible for these events, please take any queries up with the author.
---
Subscribe to the Bond Lifestyle EYES ONLY newsletter