#62 Bond Lifestyle Contest: Win Penfold Heart Golf Balls and accessories
From now until the release of No Time To Die, Bond Lifestyle will give-away a Bond related prize to Bond Lifestyle Newsletter subscribers once every month - no trivia question needs to be answered. All subscribers will be entered automatically. If you are already subscribed, you are entered automatically as well.
This month November 2020, Bond Lifestyle is proud to offer three Penfold gift sets, each set consisting of: a dozen Penfold Heart golf balls, a Penfold golf towel and Penfold Heart tees. All you have to do to enter is sign up for the Bond Lifestyle newsletter before 20 November 2020!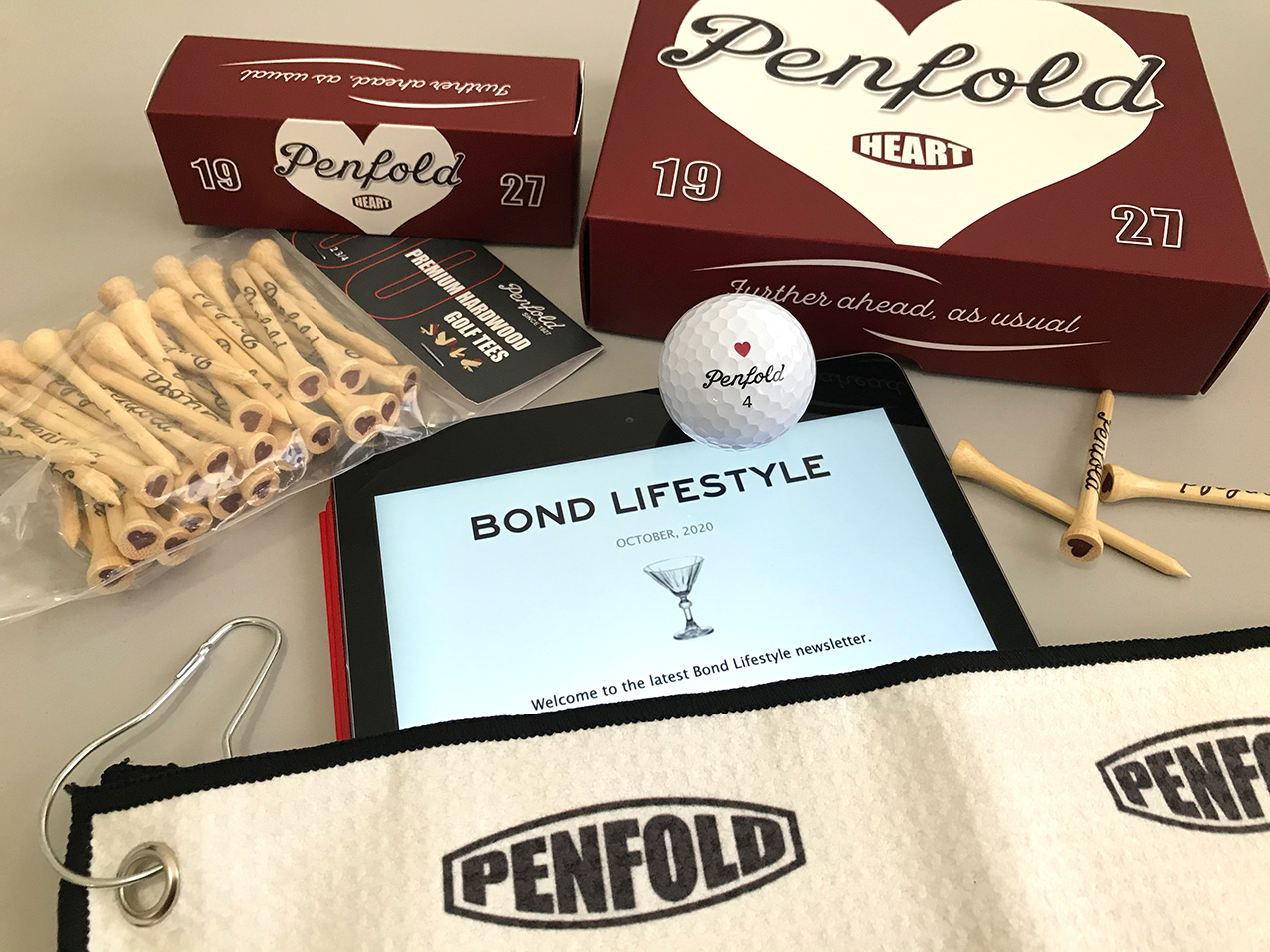 Penfold has just released a new version of the Hearts ball, with new packaging and design, read more here or visit Penfold Golf USA or Penfold Golf UK.
A Penfold Heart ball was used by James Bond in the Goldfinger novel and also by Sean Connery as James Bond in the movie Goldfinger.
Enter the contest
Now is your chance to win one of the Penfold gift sets! Sign up for the Bond Lifestyle newsletter before 20 November 2020 and you will be entered in this contest, and as long as you are subscribed, other Bond Lifestyle newsletter exclusive give-aways (note: if you are already subscribed, you are entered automatically, no need to subscribe again).
Terms & Conditions
Entry is open to participants from all over the world.
3 winners will win one Penfold Hearts gift set.
The prizes are as stated, are not transferable to another individual and no cash or other alternatives will be offered.
No purchase necessary to enter or win.
The winner will be drawn at random from all correct entries received by the closing date stated within the promotional material.
Reasonable efforts will be made to contact the winner. If the winner cannot be contacted, or is unable to comply with these terms and conditions, Bond Lifestyle reserves the right to offer the prizes to the next eligible entrant drawn at random.
Failure to respond and/or provide an address for delivery, or failure to meet the eligibility requirements may result in forfeiture of the prize.
Prizes are subject to availability. In the event of a prize being unavailable, Bond Lifestyle and Penfold reserve the right to offer an alternative prize of equal or greater value.
The winner agrees to the use of their name and disclosure of country of residence relating to any post-winning publicity.
The winner is responsible for expenses and arrangements not specifically included in the prizes, including any import taxes or duties.
GDPR: By entering the contest you consent to having Bond Lifestyle store your submitted information so Bond Lifestyle can contact you in case you're the winner of the contest.
General Data Protection Regulation (GDPR) is an EU regulation on data protection and privacy (read more)
The winners are announced!
The three winners of the first Newsletter giveaway are:
Robert Coward  |  Daniel Gaster  |  Sean Kavanaugh
Congratulations!
Subscribe below to enter
Bond Lifestyle will send you newsletters with news, the latest from the website, special offers, and contests. Usually not more than 1 or 2 newsletters per month. You can unsubscribe anytime.