Launch event Grant Macdonald Silver Aston Martin DB5 model and Martini set
30 October, 2015
On Tuesday 27 October 2015, Grant Macdonald officially launched their Silver Aston Martin DB5 1:30 scale model and silver Martini Shaker set at Hotel Café Royal.
Among the guests were ex-Bond girl Martine Beswick (gypsy girl in From Russia with Love and Paula Caplan in Thunderball), Bond Lifestyle founder Remmert van Braam, 007 Magazine's Graham Rye and representatives of luxury brands including Sunseeker and Aston Martin.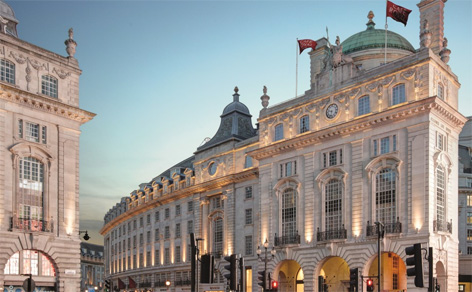 The impressive Hotel Café Royal at Regent Street
photo © HotelCafé Royal
The evening, held at the renowned Hotel Café Royal on Regent Street, included a Martini Masterclass for guests.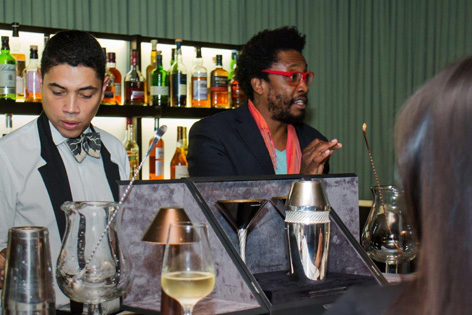 Martini masterclass at The Club Bar
photo © Grant Macdonald
Guests met with the designers of the precise 1:30 sterling silver model of Aston Martin's sportscar and the Martini set.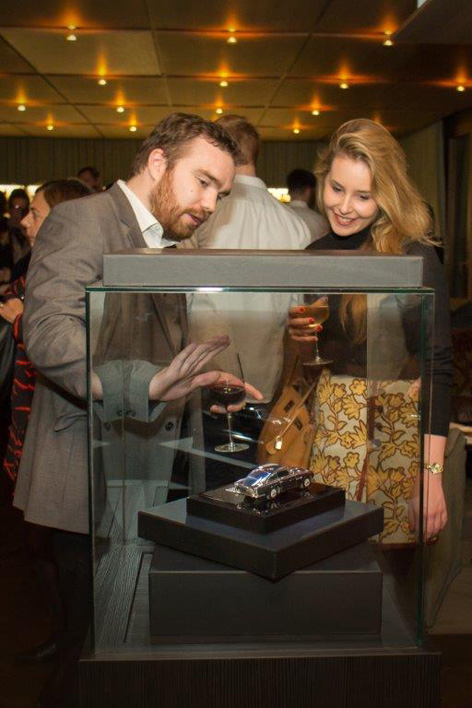 Designer Luke Orford explains the design and production process of the Aston Martin DB5 model
photo © Grant Macdonald
Handcrafted in London in hallmarked sterling silver and presented on a wood and glass plinth, Grant Macdonald silversmiths spend 50 hours crafting this beautiful replica of the DB5.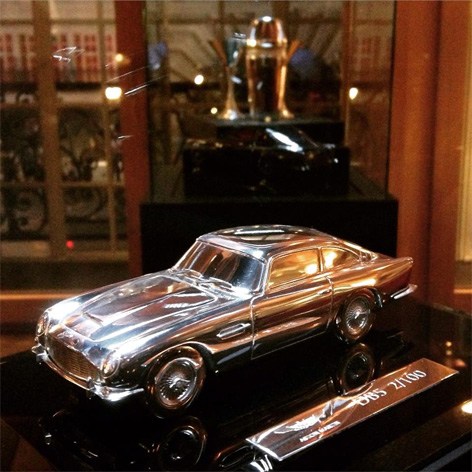 Silver Aston Martin DB5, nr 2/100
photo © Bond Lifestyle
The Aston Martin Martini Set was also launched at the Timeless 100 last night and guests experienced a Martini Masterclass to celebrate.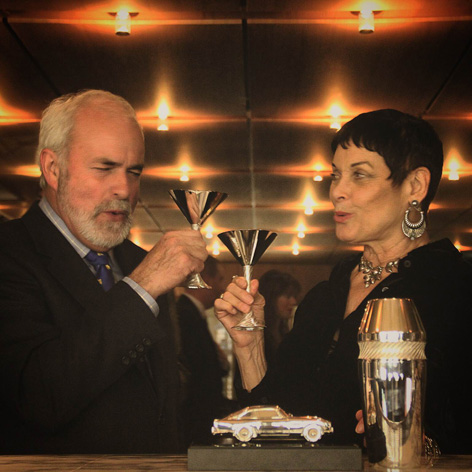 Grant Macdonald and actress Martine Beswick
photo © Legallybond
As a testament to the trademark lines and curves that has defined the Aston Martin design ethos throughout its history, this sterling silver Martini Set lined with 24 carat gold is a unique gift.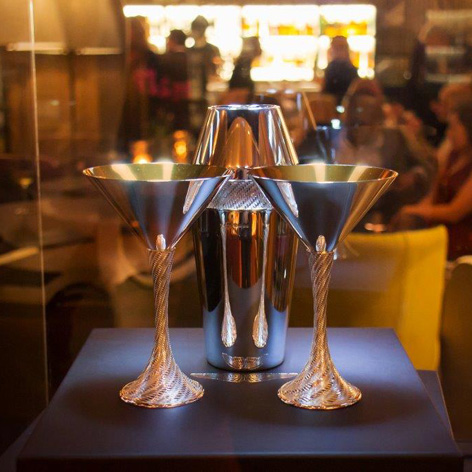 Silver Grant Macdonald Aston Martin martini shaker set
photo © Grant Macdonald
The intricate crosshatching pattern on the Martini glass stems and Cocktail Shaker replicates carbon fibre, the material used in Aston Martin's latest sportscars. The design for the Cocktail Shaker strainer is inspired by a rifling pattern effect. Blending centuries-old silversmithing techniques with high-end modern technology, it takes master craftsman over 30 hours to handcraft each set.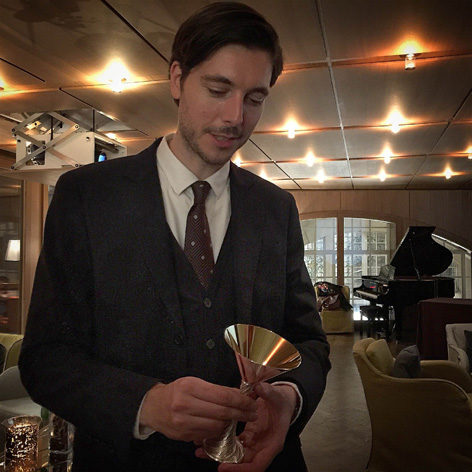 Your reporter is wondering if he can smuggle this silver martini glass out of Hotel Café Royal
photo © Legallybond
Both of the Timeless 100 pieces are individually engraved with the edition numbers and the Aston Martin logo. They also carry the official Aston Martin Collection hallmark as a final stamp of approval. A signed Certificate of Authenticity accompanies each piece, which are presented in a sleek black and grey case handmade by master boxmakers in England.
As an Art of Living partner of Aston Martin, Grant Macdonald have worked in partnership with the British sportscar manufacturer since 2011. "Aston Martin is synonymous with pioneering style and understated coolness and the Art of Living extends this world-renowned design spirit into all spaces of lifestyle. As an Art of Living Partner, we are honoured to be welcomed into the heart of Aston Martin and to create with them a homeware collection that reflects the Power, Beauty & Soul that is built into every Aston Martin car" says Founder and Head Designer Grant Macdonald.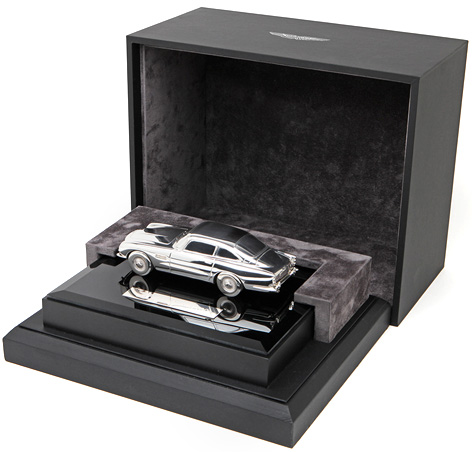 Silver Grant Macdonald Aston Martin DB5 1:30 scale model
photo © Grant Macdonald
The DB5 Model retails for £4,500 and the Martini Set £7,850. These limited edition Timeless 100 pieces are available at www.grantmacdonald.com.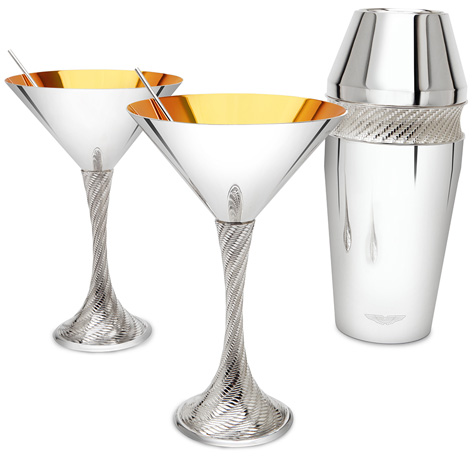 Silver Grant Macdonald Aston Martin Martini set
photo © Grant Macdonald
Harrods has a large selection of Grant Macdonald Aston Martin luxury items available online, including martini and champagne glasses and a luxury picnic hamper.
Thanks to Laura-Marie Nixey and LegallyBond