Tom Ford remake of Quantum of Solace Harrington jacket
10 October, 2016
Thanks to the hard work of Bond fans on the AJB forum, Tom Ford is considering to remake the original Tom Ford Harrington jacket worn by Daniel Craig in Quantum of Solace. Tom Ford will start production when 50 people sign up to buy one of these limited run jackets.
The jacket in question is the blue cotton Harrington style jacket, inspired by the classic Baracuta Harrington. The jacket created by Tom Ford together with costume designer Louise Frogley is worn by James Bond in the final action scenes in Quantum of Solace, during the fights and explosions at hotel Perla de las Dunas, and when Bond leaves Greene behind in the desert, and lastly when he drops off Camille at the train station.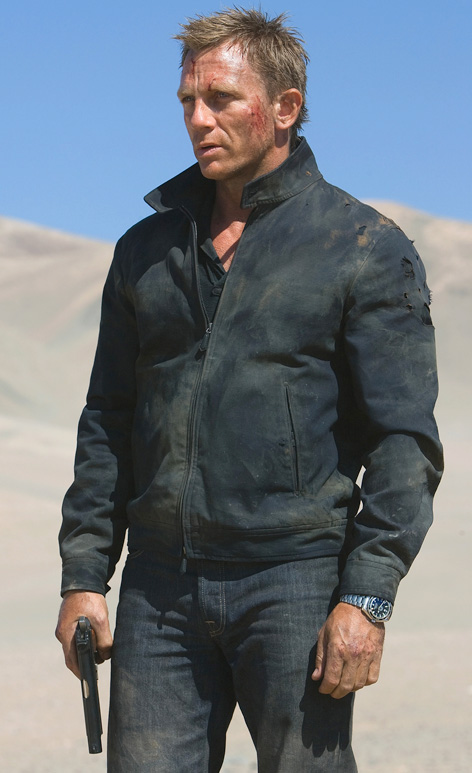 Daniel Craig in Quantum of Solace
photo © Danjaq LLC, MGM, and Columbia Pictures
A screen accurate jacket has been virtually impossible to get, even when the film came out, and it has become one of the most sought after Bond jackets.
Screen-used Tom Ford Harrington Jacket
photo © AJB Forum member Meesta Bawnd
Tom Ford is now considering to remake the jacket but only if at least 50 jackets are ordered. The forum members on AJB already pre-ordered nearly 40 jackets, so if you're interested in getting this rare jacket and want to see it produced again, add your name to the pre-order list.
The price of the Tom Ford Harrington jacket will be €1990 including VAT, and €1631.15 (approx. $1850) for non-EU residents. The jacket will be shipped from Italy so import taxes and duties might come on top of that for people outside the EU. Prices do not include shipping.
Read the complete forum thread on AJB, including more photos and measurement tips for the size.
If you are interested in getting one of these very limited jackets, you can post a message on the AJB forum or send a message via the Bond Lifestyle contact form and your details will then be forwarded.