Grandhotel Pupp, Karlovy Vary, Czech Republic

Hotel Pupp, which doubles as Hotel Splendide in Casino Royale
photo © Hotel Pupp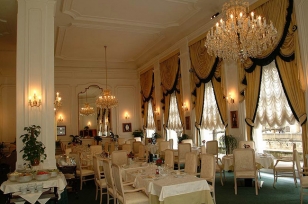 Hotel Pupp Restaurant, where Bond and Vesper have a drink after the poker game in Casino Royale
photo © Hotel Pupp
Grandhotel Pupp, a 228-room luxury hotel located in Karlovy Vary (Carlsbad), Czech Republic, doubles for Hotel Splendide in Montenegro in the 2006 movie Casino Royale.
In the footsteps of Agent 007
The hotel offers special package for Bond fans. Enjoy an exciting stay in the footsteps of Agent 007.
accommodations for three nights in a luxury room
sumptuous buffet breakfast
a visit to an indoor firing range, where guests can try their hand at target shooting
a special 007 menu in one of our restaurants
a stylish Vesper cocktail
"Double Win" chips for the Pupp Casino Club
aroma massage in the Pupp Royal Spa
EUR 60 credit for activities in the Plešivec adrenaline centre
free access to the hotel relaxation centre
evening entertainment with live music in Becher's Bar
the Pupp Casino Club is open daily for your full satisfaction
The offer is valid between 1 April and 31 October 2012
Address Grandhotel Pupp
Mirové námesti 2
360 91 Karlovy Vary
Czech Republic
Tel: +420 353 109 630 - 1
Fax: +420 353 226 638
E-mail: reservation@pupp.cz
For route descriptions and more information, visit the official website (see below).
Thanks to Ryan for the alert
---