Army PTI Training Jacket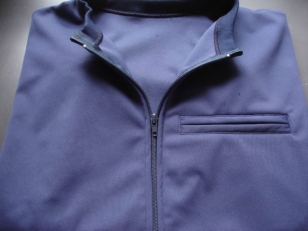 Joint Services Clothing Company PTI Jacket, similar to the jacket worn by Bond in SkyFall
photo © Joint Services Clothing Company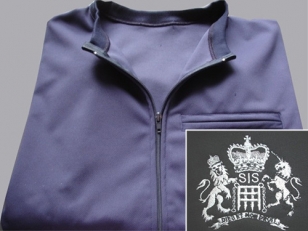 You can order the jacket with SIS-logo inspired insignia, similar to the one seen in the film.
photo © Joint Services Clothing Company
In the movie SkyFall, James Bond wears an Army physical training corps PTI training jacket with an SIS insignia under the left chest pocket. The jacket can be spotted in the teaser trailer during the interrogation scene and in the other trailers in the shooting range scene. It is not known which company made the jacket, or if it was made or adjusted by the costume designer. PTI Training Jackets are made for the Army Physical Training Corps. PTI stands for Physical Training Instructor.
A good place to get one would be Joint Services Clothing, a British company that manufactures officially licensed clothing and delivers directly to the British Army. A similar jacket can be ordered on their website or on their eBay.com store for £27.50, and you can even have a Bond inspired SIS insignia embroidered on it. The insignia has just (early December 2012) been updated to a more similar insignia as seen in SkyFall, order that one here (it's different from the one pictured on the left).
Watch the video podcast about Jackets in SkyFall for more info about this jacket.
---