Sunspel offers complete Riviera Set
09 April, 2014
Sunspel, the company that developed the shirts for James Bond (Daniel Craig) in the movie Casino Royale and Quantum of Solace, currently offers a Riviera set of the three Sunspel Riviera shirts seen in Casino Royale, and a Riviera Polo Shirt set.
Riviera Set (Casino Royale)
The Riviera Set from Casino Royale is available for $272 / £170 / €204 on the official Sunspel website and allows you to collect 3 classic styles (navy polo, white v-neck and grey crew shirt) with a saving of approximately 10% on their individual prices.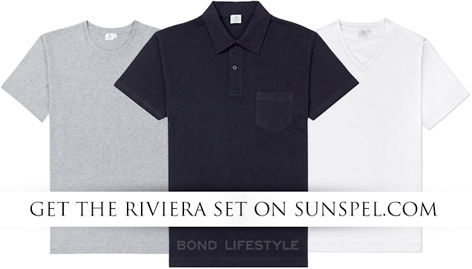 Bond wears a navy blue Sunspel Riviera Polo Shirt on the Bahamas when he meets with M. Since the release of the film, the shirt has proven to be one of the most popular Bond related clothing items and a Bond fan favourite. In the Madagaskar, Miami Airport an Venice scenes of the film, Bond wears the grey crew-neck Riviera shirt. The white v-neck shirt can be seen in Venice, worn underneath the black cardigan. Read more about the Sunspel shirts in Casino Royale.
The Riviera polo and t-shirts were designed by Sunspel together with costume designer Lindy Hemming especially for the film and Daniel Craig's physique to allow him to move cleanly and easily in the action sequences.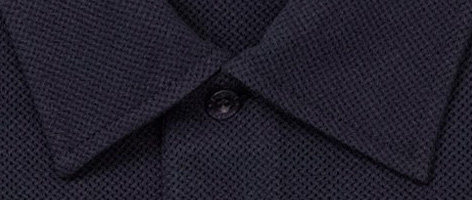 The material of the polo is one of Sunspel's unique vintage fabrics, Q75 Riviera warp-knit cotton, which was originally created by Peter Hill, grandson of the company's founder, Thomas. Designed for the hot sun of the Italian Riviera, it is a lightweight mesh knitted on lace machines. It has more breathability than traditional pique since it has a more open mesh, and is much softer. The collar is made from the same fabric and there is a single pocket.
Lindy Hemming: "There have been so many different characters in film and theatre that I have dressed in Sunspel vests, t-shirts and underwear because they are classic, timeless and beautifully made. This time, dressing Daniel Craig as the new James Bond, I thought that it would be a perfect collaboration of quality and Britishness to ask Sunspel to create all his t-shirts, polo shirts and underwear, which they duly did so excellently. He looks very sexy and happy in their clothing."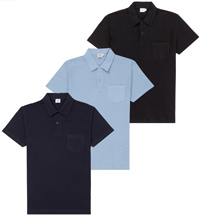 Riviera Polo Shirt Set
Sunspel also offers a Riviera Polo Shirt Set, which includes three Riviera polo shirts in colours of your choice. Bond Lifestyle recommends the Riviera polo in Navy (as seen in Casino Royale), Sky (a color reminiscent of the Dr No polo worn by Sean Connery) and Black (the Quantum of Solace style shirt). This set is easy to order now for $336 / £210 / €252 on the official Sunspel website (12,5% discount on the individual items).
Buy the Riviera Set ($272, USA) or Riviera Polo Shirt Set ($336)
Buy the Riviera Set (£170, UK) or Riviera Polo Shirt Set (£210)
Buy the Riviera Set (€204, EU) or Riviera Polo Shirt Set (€252)