The Sunspel Riviera Holiday Set
07 August, 2014
Sunspel added a new Riviera Set to their collection, which includes the Sunspel Riviera polo shirt, and a v-neck or crew-neck t-shirt as seen in Casino Royale, plus the swimming shorts that were made for the Barbican Designing 007 exhibition.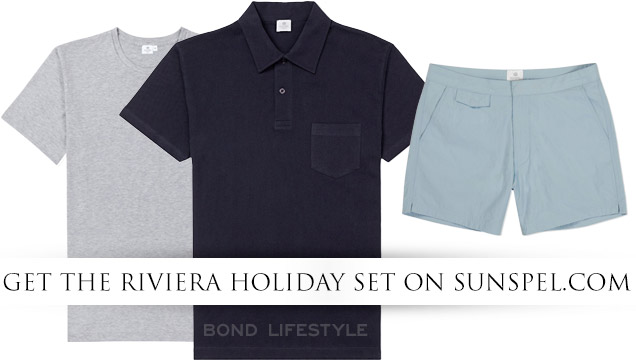 Riviera Holiday Set
The Riviera Holiday Set from Casino Royale is available for $360 (USA) / £225 (UK) / €275 (EU) on the official Sunspel website and allows you to collect these 3 classic styles with a saving of almost 15% on their individual prices. You can select each item in any color you want. If you want the movie accurate colors, then get the polo in navy, and the crew neck t-shirt in grey melange or v-neck t-shirt in white.
Bond wears the navy blue Sunspel Riviera Polo Shirt on the Bahamas when he meets with M. Since the release of the film, the shirt has proven to be one of the most popular Bond related clothing items and a Bond fan favourite. In the Madagaskar, Miami Airport an Venice scenes of the film, Bond wears the grey crew-neck Riviera shirt. The white v-neck shirt can be seen in Venice, worn underneath the black cardigan. Read more about the Sunspel shirts in Casino Royale. The swimming shorts, inspired by Sean Connery's shorts from his early Bond movies, were made by Sunspel and costume designer Lindy Hemming for the Designing 007 exhibition.
Get the Riviera Holiday Set on Sunspel.com:
The Riviera polo and t-shirts were designed by Sunspel together with costume designer Lindy Hemming especially for the film and Daniel Craig's physique to allow him to move cleanly and easily in the action sequences.
Also still available are the Riviera Set (polo, t-shirt and v-neck t-shirt) or the Riviera Polo Set (three polo shirts):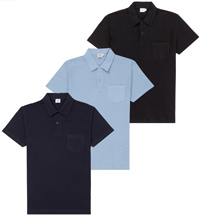 Buy the Riviera Set ($272, USA) or Riviera Polo Shirt Set ($336)
Buy the Riviera Set (£170, UK) or Riviera Polo Shirt Set (£210)
Buy the Riviera Set (€204, EU) or Riviera Polo Shirt Set (€252)