Leon Paul fencing equipment in Die Another Day
04 April, 2016
The fencing equipment and training for the fencing and sword fight scene in Die Another Day (2002) was provided by Leon Paul, a London based fencing equipment manufacturer. Leon Paul makes and sells all types of fencing gear from swords, oils, epees, sabers, masks, suits and gloves to breeches and electronic equipment. Everything is manufactured in their own factory in London.
Leon Paul provided specialist sword fencers and armourer to work with sword master Bob Anderson, Ex-British national coach and the sword fight coordinator for Lord of the Rings, Zorro and Star Wars.
In 1960, Leon Paul started working with sword master and sword fight director Bob Anderson, a former pupil of Leon Paul, and ex-British national coach. Bob Anderson worked on some of the most memorable movie fight scenes ever created, including fights seen in Princess Bride, Lord of the Rings, Highlander, Pirates of the Caribbean, Zorro and Star Wars.
Bob Anderson always used Leon Paul equipment and so when James Bond needed fencing equipment for Die Another Day he came straight to London. Leon Paul created custom uniforms and masks worn by Pierce Brosnan and Toby Stephens, and provided a metallic piste and equipment. Steven Paul, great grandson of Leon Paul, was the fencing stunt double for Pierce Brosnan.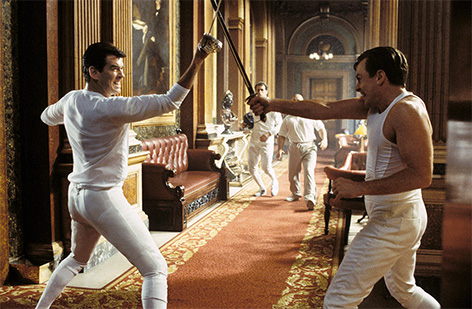 James Bond (Pierce Brosnan) and Gustav Graves (Toby Stephens) during the sword fight filmed at the Reform Club
The fencers and armourers were also involved in training the actors and choreographing the moves and stunts and designing the layout of the fictional fencing club, Blades.
The sword fight scene at the club was nominated for an Empire "Scene of the Year" award, and nominated for "Best Fight" Taurus World Stunt Award.
The fight scene takes place at Blades, a fictional club, with some scenes filmed at Pinewood Studios and some sequences filmed at the Reform Club, a real gentlemen's club based on Pall Mall, the heart of London's Club land (read more here).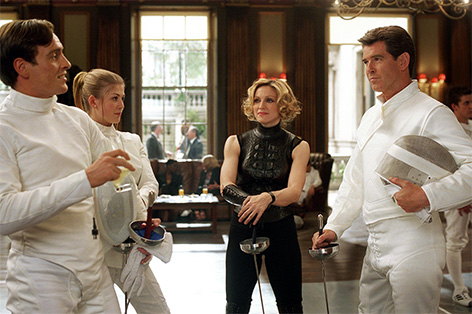 Gustav Graves (Toby Stephens), Miranda Frost (Rosamund Pike), Verity (Madonna) and James Bond (Pierce Brosnan) before the fencing fight. Equipment provided by Leon Paul.
Madonna makes a cameo appearance as the Verity, the fencing instructor, who looks on while James Bond picks up an epee and fights Gustav Graves (played by Toby Stephens). Then they switch to real, sharp, swords and drew blood. Bond wins, and so did the fencing sport.
The intense fencing and sword fighting scene sparked a new interest in the sport of fencing. Fencing clubs around the United Kingdom saw a sudden increase in new members and fencing equipment manufacturers saw their business picking up as a result of the film.
"We have had an increase of 25% in turnover over the last three months," Barry Paul owner and managing director of Leon Paul comment ed at the time. "And we can even see this month it'll be more than last month," he says.
"Certainly for us there's a sense that the Bond film has resulted in more people being interested in fencing, ringing up and looking at our website."
Mr Paul's son Ben, who deals with the internet side of the business and said e-mails from the US increased by about 20% after the movie came out and from the UK by about 15% thanks to 007. A lot of people from America mentioned in their e-mail that they saw the James Bond film.
Visit LeonPaul.com or LeonPaulUSA.com for the current range of Leon Paul fencing equipment.
For more Bond products that are produced in the UK, read the Bond Lifestyle article series Made In Britain.
All copyrights for products, logos, images etc are held by their respective owners. Bond Lifestyle is not responsible for these articles, please take any queries up with the author.
---