Aston Martin DB10 die-cast model cars
27 October, 2017
The Aston Martin DB10 is a unique car that was exclusively developed for the James Bond film SPECTRE. There were only 10 cars made, all for the use of the film. Some were destroyed, some ended up at the Bond In Motion exhibition and only 1 was ever sold publicly, during the 2016 Christie's James Bond Auction where it sold for £2.4m ($3m).
It took many months for brands like Corgi and Hot Wheels to release die-cast models in 1:32 scale and 1:18 scale.
Currently there are several models available, and Bond Lifestyle lists them here.
Scalextric Aston Martin DB10, scale 1:32
When SPECTRE was released in the cinema in November 2015, there were no die-cast car models available of the DB10. The first model of a DB10 was included in the Scalextric SPECTRE race set C1336.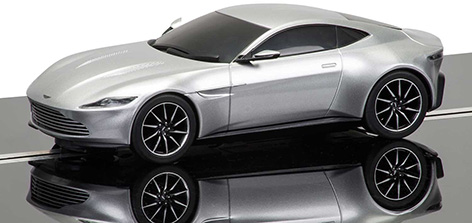 Only on eBay this car can sometimes be found separately, This model can be used on any Scalextic race sets, features magnets to keep it on the track and working lights.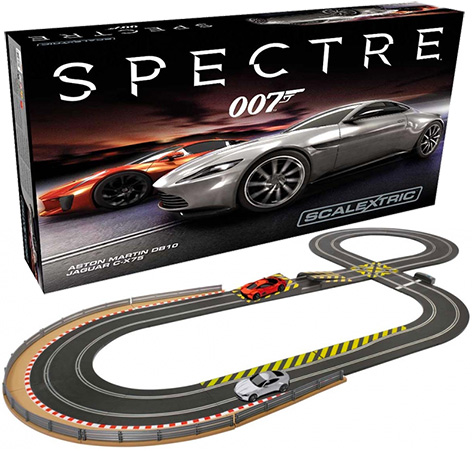 The Scalextric SPECTRE set does get bad reviews on Amazon (only 2 out of 5 stars on Amazon.co.uk and 3 out of 5 stars on Amazon.com) with many people being disappointed in the quality of the set or cars breaking down after a few hours. So if you don't want to spend $199 / £129 on the whole SPECTRE set, but want to complete your DB10 collection, get the car separately on eBay for about $30 / £30.
Corgi Aston Martin DB10, 1:32 scale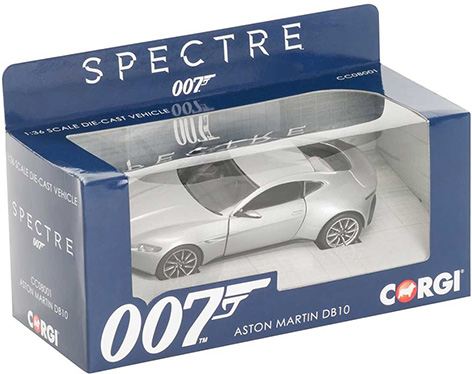 Early 2016 Corgi released the 1:32 scale die-cast model of the Aston Martin DB10, model nr CC08001. The model looks good, and the doors can open, which is a nice detail for this small scale. The Corgi DB10 is widely available online.
Buy on Amazon.com ($24.20)
Buy on Amazon.co.uk (£16.97)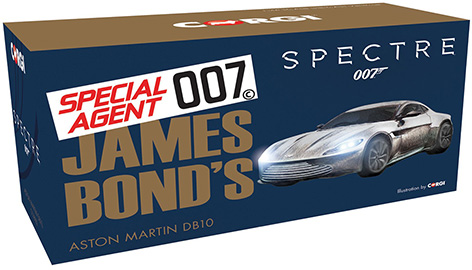 In 2017, another release of the same car, now with model nr CC08002, is released, with a different box, part of a series of Bond related cars. This car is officially launched in November 2017, but can sometimes be found on eBay.
Toy State Aston Martin DB10, 1:32 scale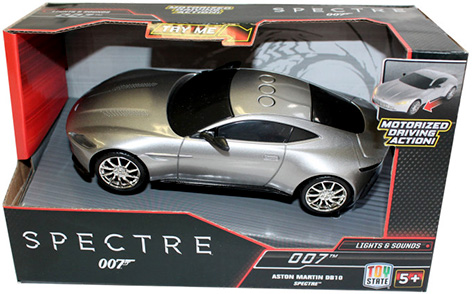 A fun version of the DB10 is the 1:32 scale model by Toy State. The doors can't open and the windows are black, but it comes with Bond music, working lights and engine sounds that are all activated via buttons on the roof. The car should cost around $20 / £14, which is about right for the quality and size of the car, but beware it is sometimes offered for much more on Amazon in the US or on eBay.
Buy on Amazon.com
Buy on Amazon.co.uk (£14.89)
Buy at Argos (£9.99)
Bond In Motion Aston Martin DB10, 1:43 scale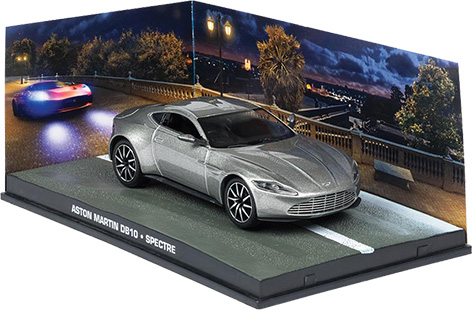 The Bond In Motion Official James Bond Die-Cast Collection, created by Eaglemoss, is launched throughout 2017 in different regions around the world and includes an Aston Martin DB10 1:43 scale model. The model is part of a larger subscription based collection, where every month you get 2 Bond vehicles and magazines about each vehicle. Each region has a different order and offer of vehicles, but the UK region just launched and you can get the first model in the collection, the Aston Martin DB10, for only £4.99 (read more here). The car comes in a plastic cover and witih a magazine about the car.
Order in the USA
Order in the UK (£4.99)
Hot Wheels Aston Martin DB10, 1:64 scale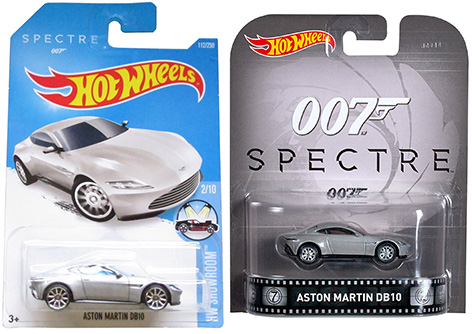 A small 1:64 scale toy car of the DB10 is made by Hot Wheels. The car is not very detailed, as can be expected for this size and price range. Buying it via eBay is much cheaper than on Amazon.
Buy on Amazon.com ($14)
Buy on Amazon.co.uk (£13.50)
Find on eBay ($2 - $6)
Hot Wheels Elite Aston Martin DB10, 1:18 scale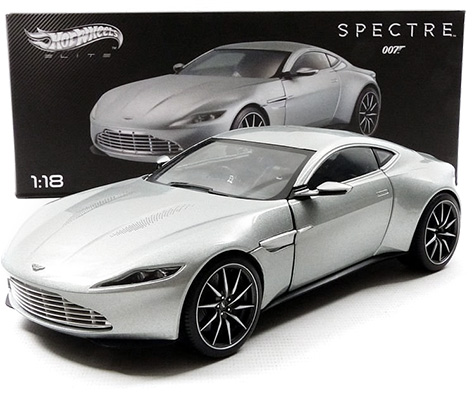 One of the most recent DB10 models is also the best and most expensive die-cast model of the DB10. Hot Wheels Elite offers this beautifully detailed DB10 model for no less than £160 / $149 / €180. For that you do get opening doors, trunk and boot, and a properly detailed interior.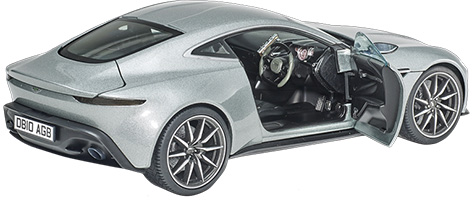 Available at high end car model shops or online.
Buy on Amazon.com ($149)
Buy on Amazon.co.uk (£172)
Nikko Aston Martin DB10 R/C model, 1:12 scale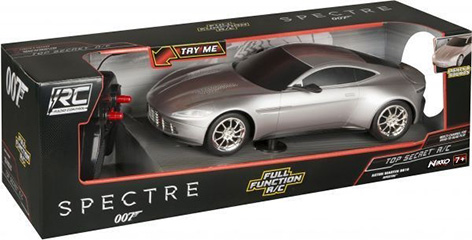 Nikko, known for its remote control cars and now owned by Toy State, has produced two r/c models of the DB10: one very small car that can be controlled by a remote that looks like a watch, and a bigger model, scale 1:12 that has a black remote with 007 logo.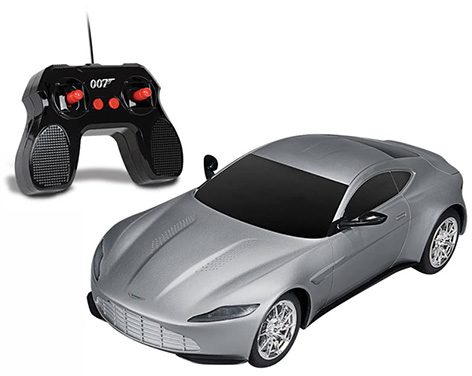 The 1:12 scale model is big (49cm long x 16cm high x 18cm wide) and should cost around £35 - £40 or €40 (it seems to be only available in Europe). It runs on 6 AA batteries and 3 AAA batteries for the remote. The car features headlights and sounds, including the James Bond theme.
Find on eBay
Buy on Bol.com (NL, €35)
Nikko Aston Martin DB10 R/C model, small (scale unknown)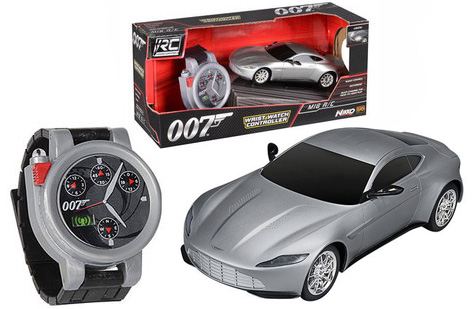 The small remote controlled car has a remote in the shape of a watch. Don't expect much of this model, comments on Amazon have noted that the car is very small and not great quality. Don't pay more than a few dollars/pounds/euros for this model, if you can even find it.
Feber Aston Martin DB10 6v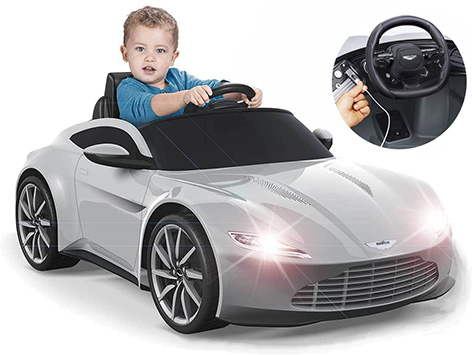 The Feber Aston Martin DB10 6v is hardly a die-cast model, but definitely worth mentioning in this list. The DB10 is not very realistic, but all the more fun since it can actually be driven around or controlled by a smartphone if your child can't reach the pedals yet. A full charge of the 6V battery let's you(r kid) drive it around for approximately one hour, up to 3Mp/h or 4km/h.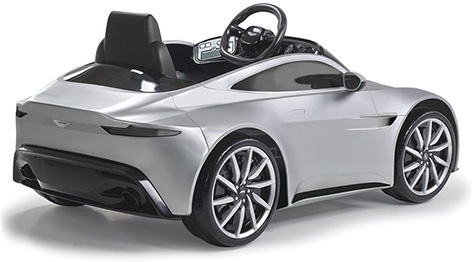 The car has a foot operated electric engine and forward and reverse gears. This car is harder to find, but online for example in the UK at Amazon, or search on eBay. The price isn't too bad if you realize it's only slightly more than the 1:18 Hot Wheels Elite model.
Buy on Amazon.co.uk (£199)
Aston Martin DB10 Keyring

The official James Bond shop offers a nice DB10 keychain. The shape of the car is very well done and it has a chrome shine. The smallest Bond die-cast model available, but for only £13 / $17 / £15 this is a great collectible and useful gift!
Buy at 007 Shop
If you found any other DB10 models, or have any other suggestions, feel free to comment below, or send a message.
All copyrights for products, logos, images etc are held by their respective owners. Bond Lifestyle is not responsible for these articles, please take any queries up with the author.
---