Rolls-Royce Vision Next 100 - Blofeld's next car?
23 June, 2016
As a part of the BMW Vision Next 100 project, Rolls-Royce revealed the 103EX, a look at the future of luxury mobility. Bond Lifestyle explores the history of Rolls-Royce and Bond and travelled to the Roundhouse in London to take a closer look at the Vision Next 100 futuristic limousine to see if it's fit for a villain!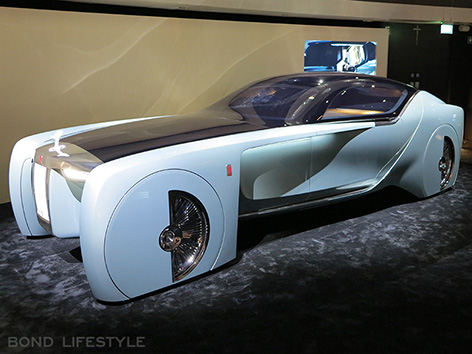 Thunderbirds are go!
Rolls-Royce and Bond (villains)
Rolls-Royce is often used in Bond films and novels, often by villains but also by members of the Secret Service.
One of the most famous villains to use a Rolls is Auric Goldfinger who drives a black and yellow Rolls-Royce in the novel and movie Goldfinger to smuggle gold. In the novel it's a Rolls-Royce Silver Ghost, in the film a Rolls-Royce Phantom III.
In the film Octopussy we see Kamal Khan being driven around in a black Rolls-Royce Phantom III.
Valentin Zukovsky, a villain as well as an ally of Bond, owns a Rolls-Royce Silver Shadow in The World Is Not Enough.
More recently, in the film SPECTRE, Ernst Stavro Blofeld sends his vintage 1948 Rolls-Royce Silver Wraith.
The allies of Bond also often use a Rolls.
Marc-Ange Draco drives a Rolls-Royce Silver Shadow in the film On Her Majesty's Secret Service.
Ian Fleming mentions in the novels that M is being driven around in a Rolls-Royce: in Dr No a black Silver Wraith, in The Man With The Golden Gun a Phantom III and an unnamed model in On Her Majesty's Secret Service.
In the novel From Russia With Love, Kerim Bey sends "an old black basket-work Rolls Royce coupé-de-ville that Bond guessed must have been built for some millionaire of the '20s" to pick up Bond at the airport, and the car continues to be a mode of transport throughout the story. In the film From Russia With Love, Kerim Bey owns a Rolls-Royce Silver Wraith.
In the novel Moonraker, James Bond puts a "Rolls-Bentley Convertible" on top of his wishlist after winning a lot of money at Blades. Bentley and Rolls-Royce used to be partner companies and some novels, for example Thunderball, Bond has "Rolls" fix his Bentley.
Bond himself is driven around in a Rolls-Royce in several films as well, for example the 1962 Rolls-Royce Silver Cloud II CUB 1 in A View To A Kill and the Rolls-Royce Silver Shadow in The Man With The Golden Gun.
Rolls-Royce 103EX
British Luxury automaker Rolls-Royce is owned by BMW and as part of the Vision Next 100 promotions of BMW, the Rolls-Royce 103EX was launched as a showcase of the brands vision of the future of luxury mobility.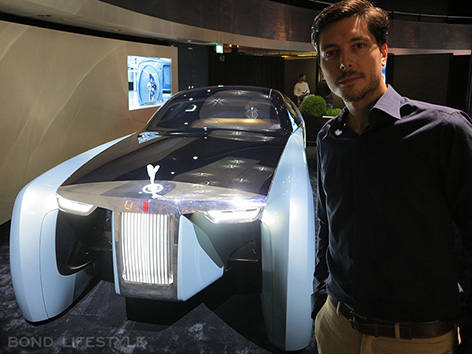 Yours truly scouting the next Bond villain car at the Roundhouse London
The Roundhouse at Chalk Farm (near Camden) in London, is transformed into a futuristic showcase with lots of screens with images of the past and future 100 years, beautiful lighting and only three cars: the insanely over-the-top Rolls-Royce 103EX, the more realistic, but futuristic and self driving BMW Vision Next 100 and a very good looking Mini Next 100 concept car which transforms itself depending on the driver of the car.

BMW and Mini Vision Next 100 concept cars at Roundhouse
Most Bond fans rather not have another BMW in a Bond film for the next 100 years, and the Mini would only be a fun citycar for Q or Moneypenny. The Rolls however, would be a perfect Blofeld superlimo.
As mentioned, Blofeld owns a vintage Rolls-Royce in SPECTRE, but during the filming of SPECTRE in London, Blofeld was seen getting out of a green modern Rolls-Royce Phantom as well. That car didn't make it into the final film.
Will Blofeld return in Bond 25? If so, it would be incredible to have him drive the newly revealed Rolls-Royce 103EX. It's a concept car, not meant for production, but hey, that never stopped anyone from putting it in a film - remember Bond's Aston Martin DB10 and Hinx Jaguar C-X75 are concept cars as well. The Rolls looks very impressive and it's a perfect car to stock with gadgets or Bond baddie features.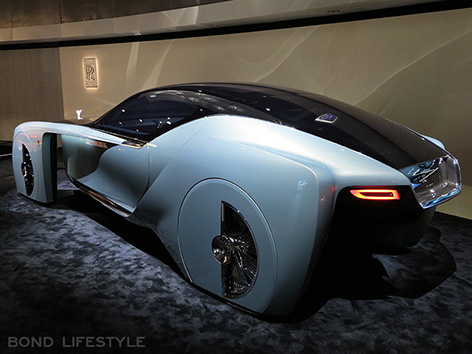 The coupe-like shape is slightly reminiscent of the current Rolls-Royce Wraith model
The Rolls doesn't have a regular door but the whole roof and side open up like a clamshell to give the passengers an easy entrance.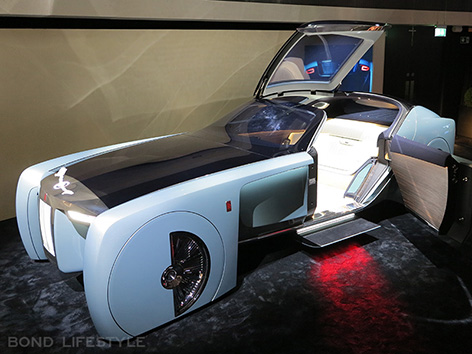 You don't just go in, you make an entrance
A nice little touch is that this Vision Next 100 has not one, but two umbrellas hidden in the 'door' (the part that opens sideways).
The special doors reveal a comfortable 'couch'-like seat for two people.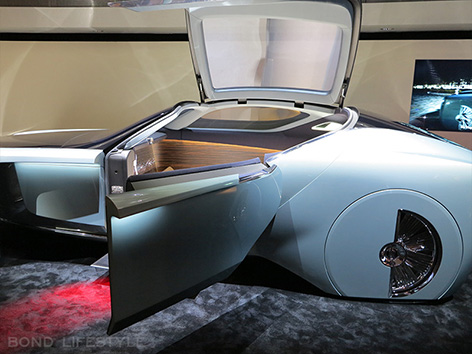 Rolls-Royce Vision Next 100 side view
The Vision Next 100, also referred to as the Rolls-Royce 103EX, is a self-driving car, instead of a steering wheel and dashboard it has massive screen for a dashboard and a lounge chair for the two lucky passengers.
Large screen instead of a dashboard and steering wheel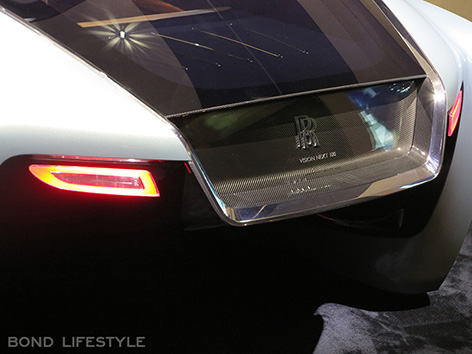 RR Vision Next 100
The car has an electric engine and this leaves for a hidden trunk compartment for custom made luggage which slides out from the left size, presented on a tray as it were.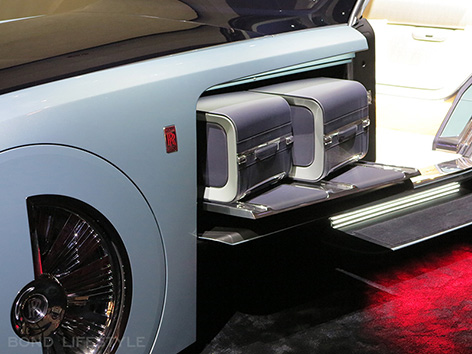 Luggage compartment on the side
The immense wheels are partly hidden behind the side panels and have an incredible 28" rim size, but are relatively quite narrow.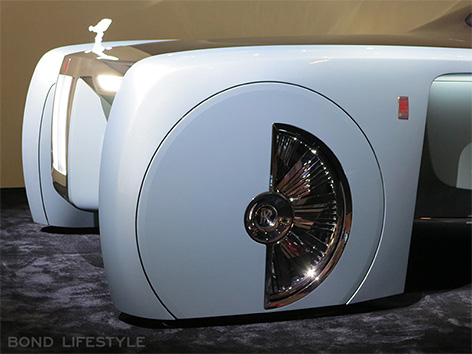 The oversized 28" rims are quite bling
The design of the front of the car in inspired by the vintage Rolls-Royces like Goldfinger's Phantom III or even older models, but also is reminiscent of the hull of a luxury yacht.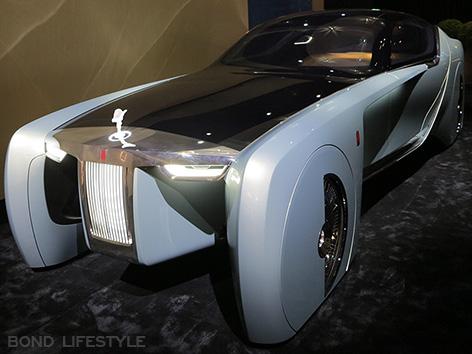 It might not look as big on the photos but this is a massive car - the same size as the Phantom which is huge if you realise that this is basically a two-seater.
The logo is quite unique for a Rolls: it has red RR and Rolls-Royce text, something that hasn't been seen on a Rolls-Royce since Mr. Rolls died in an airplane accident in 1910. After his death all Rolls's got a black instead of a red emblem.
Of course it as an oversized, crystal lit from below Flying Lady (also called Emily or Spirit of Ecstacy) emblem on the grille.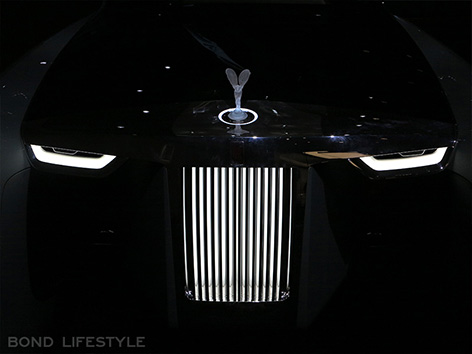 A perfect evil look for a Bond villain car
Time will tell if the car will be seen in a Bond film, but as a note to the Bond film producers: after a tour in the US in October this car has a free schedule!
If you want to see this piece of automobile art for yourself, visit BMW Vision Next 100 at the Roundhouse in London, where the Rolls (and the BMW and Mini) are on display until June 26th.
BMW Vision Next 100
When
18 - 26 June 2016
Doors open 10am - 5pm

Where
Roundhouse London
Chalk Farm Road
London NW1 8EH
United Kingdom

Free entry
For more info on the Rolls-Royce 103EX, visit the microsite on Rolls-Roycemotorcars.com for a nice video and photos.
All photos by Remmert van Braam © Bond Lifestyle