Cartamundi playing cards and chips in SkyFall
01 September, 2012
Belgian playing cards manufacturer Cartamundi is the exclusive supplier of the official SkyFall playing cards and chips.
Cartamundi, the worldwide market leader in the manufacture and sale of playing cards, will feature as the exclusive supplier of playing cards and poker chips used in the twenty third James Bond instalment SkyFall. The cards and chips have the logo of the fictional "Floating Dragon" casino in Macau. This is based on an actual casino in Macau called the "Macau Palace", a floating casino. Macau is also known as the Monte Carlo of the orient, and Bond will visit it in SkyFall. In the trailer we can see a shot of Bond in his tuxedo entering the casino on a boat.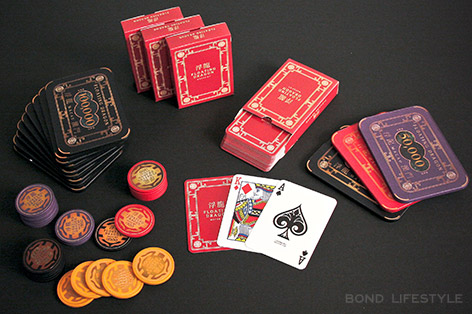 In SkyFall, Bond's loyalty to M is tested as her past comes back to haunt her. As MI6 comes under attack, 007 must track down and destroy the threat, no matter how personal the cost.
Cartamundi has had a successful James Bond licence for 10 years and also supplied the cards and poker chips for the Bond film Casino Royale. Chief Sales Coördinator, Bert Van Pelt, explains "We are proud that as a Belgian company, Cartamundi is able to contribute to the success of the world-famous Bond films. We hope the publicity generated by the new James Bond film will raise the profile of both Cartamundi, and the playing card game in general. Poker is still a hype throughout the world, so we are convinced that this trend can only be stimulated further by the new Bond film SkyFall.
Cartamundi will launch an exclusive range of SkyFall playing cards and poker sets onto the market in September. More information on this new range will follow shortly.
In this 50th anniversary year of the James bond movies, Cartamundi has already launched a collection of very nice anniversary card products, currently available on the UK version of Amazon only.
Read more:
Cartamundi SkyFall Poker Cards and Chips
Cartamundi 50th Anniversary Poker Cards and Chips