James Bond 007 Fragrance
James Bond Fragrance 75ml
photo © Procter & Gamble, Danjaq
In March 2013, Ocean Royale was added to the 007 Fragrance line
photo © Procter & Gamble, Danjaq
In August 2013, Quantum was added to the 007 Fragrance line
photo © Procter & Gamble, Danjaq
James Bond Fragrance, limited edition deluxe golden bottle of 75ml
photo © Procter & Gamble, Danjaq
James Bond Fragrance, a new version of the limited edition deluxe golden bottle with special Union Jack box design
photo © Procter & Gamble, Danjaq
James Bond shower gel and deodorant
photo © Procter & Gamble, Danjaq
Advertisement for the James Bond Fragrance
photo © Procter & Gamble, Danjaq
The James Bond 007 Fragrance, designed by Eon Productions in association with Procter & Gamble has been released in 4 collectible fragrances.
Signature edition
The first edition, released in October 2012, in the black bottle, features notes of apple, cardamom, sandalwood, vetiver, lavender, moss and coumarin that will give you a retro feel.
Bill Brace, vice president of fashion brands for P&G Prestige said: "The aromatic feugere fragrance family came to prominence in the 1960s – it was unmistakably masculine – mossy and ferny. But that was a while ago, so we wanted to move it on and give it a much more modern and sophisticated shell, which is why there's fresh apple, cardamom, sandalwood and vetiver."
The 007 logo is embossed on the front of the bottle of the eau de toilette. The 'diamond shaped' pattern on the bottle and packaging looks similar to the pattern of the ST Dupont Diamond Head cufflinks worn by Bond in Casino Royale and Quantum of Solace.
The black bottles of the Signature 007 Fragrance are still available online at Harrods and Amazon.co.uk:
- 30ml-125ml (£20-£55) buy now
- 50ml (£19.99) buy now
- 75ml-125ml (£32-£42) buy now
Gold Limited Edition
The 50 year golden anniversary of James Bond films in 2012 was marked with the introduction of a limited edition deluxe golden bottle of 75ml, available at Harrods.
- Limited Edition Gold Bottle 75ml (£36)
In November 2013, another Limited Edition was released, featuring a golden British flag on the box (see image on the left).
Ocean Royale
In March 2013, a new fragrance called Ocean Royale (blue bottle) was released. Ocean Royale features lime, anise, bergamot, sea breeze accord, iris, teak, tonka bean, coffee, cedar, sandalwood and guaiac wood. It is available as 30, 50 and 75 ml and 125 ml Eau de Toilette with aftershave lotion, shower gel and two types of deodorants.
- Ocean Royale 75ml (£32 at Harrods)
- Ocean Royale 125ml (£42 at Harrods)
Quantum
In August 2013, another eau de toilette series was released, called Quantum (silver bottle). Top notes: juniper berries and bergamot, heart notes: sandalwood and base notes: leather and violet leaf.
- Quantum 75ml - 125ml (UK)
- Quantum 75ml - 125ml (USA)
Shower gel, Deodorant, Gift sets
Amazon.co.uk (UK) and Amazon.de in Germany offer the complete range of James Bond Fragrance, shower gel and deodorant. Retailer Kohl's is the exclusive store to sell 007 Fragrance and related products in the USA, starting from October 17th 2012.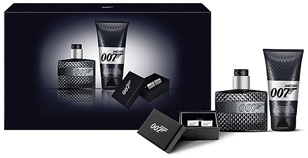 Order the the Gift set, as pictured above, including cufflinks, shower gel and fragrance at Harrods.com for only £25.
Marketing
The print ad campaign, which features a silhouette of a man who could be a member of MI6, has been designed by Greg Williams, who has created the Bond on Set books and campaigns for five most recent James Bond films. See a short trailer about Greg Williams and the 007 Fragrance photoshoot below:
This is not the first James Bond 007 branded fragrance. Other releases include JAMES BOND By A.B.R. Barlach, James Bond 007 "Tomorrow Never Dies" Parfum by Luca Bossi, and Avon created a Bond Girl 007 fragrance to be associated with the 2008 James Bond film Quantum of Solace.
---