John Smedley Bobby - Bond Lifestyle Made In Britain
21 January, 2016
James Bond, the ultimate British Secret Agent, is known for his good taste. Agent 007 saves the world in British tailor made suits and shirts, drives and destroys British luxury cars and superyachts where ever he goes, and calms down at the end of a long day in the field with a shot of Scotch whisky in a British crystal tumbler.

In this new article series, Bond Lifestyle takes a closer look at the 'Made in Britain' products used by Bond in the films and Ian Fleming novels.
With "Made In Britain" Bond Lifestyle refers to products of which the majority of the manufacturing process has taken place in the United Kingdom, meaning "United Kingdom of Great Britain and Northern Ireland" (which includes Scotland and Wales).
In the second article, we ask Jess Mcguire-Dudley, Head of Marketing & Design at John Smedley about the production of the John Smedley Bobby sweater seen in SkyFall.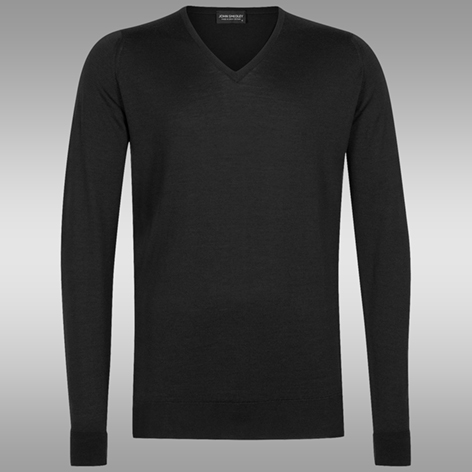 Quick facts:
Product: John Smedley Bobby v-neck pullover
Seen in: SkyFall (2012)
Worn by: James Bond (Daniel Craig), disguised as a driver, waiting at the bar of his hotel for flight information and later continued to be worn underneath the Billy Reid coat in the following scenes. Also worn by Craig at some SkyFall premiere events (see photo here and here)
Still available? Yes
Price: £140 - $265 - €185
Where to buy: John Smedley website USA - UK - Germany/rest of Europe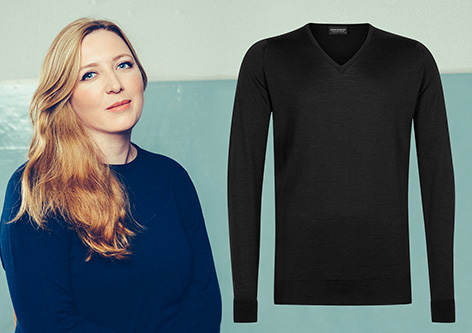 Jess Mcguire-Dudley, Head of Marketing & Design John Smedley
Can you tell us about the history of John Smedley?
John Smedley began in 1784, as a fine manufacturer of muslin and cotton cloth, quickly expanding in the 1800's into hosiery and knitwear and was one of the first companies to include branding in their garments using the signature 'Jaybird' logo and have their own in house sales reps, this allowed the company to rapidly expand in the UK and overseas.
Following this successful period the brand grew to world renown developing the signature knitwear lines known today, the 1950's and 60's saw a wave of celebrity fans including Marilyn Monroe, Audrey Hepburn, Tippi Hendren, The Beatles and many a James Bond championed the products. In fact the polo shirt worn by Sean Connery in Dr No is rumoured to be our classic polo shirt that is still unchanged and present in the collection today.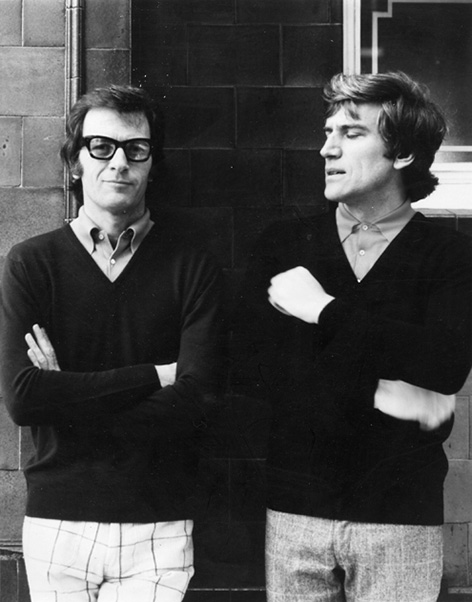 From the archives: John Smedley Bobby classic v-neck pullover Bobby, layered over their 3 button polo shirt
What does Made in Britain mean in the case of John Smedley?
For us this is so much more than just a strapline, John Smedley products are entirely made in Britain with all production taking place at our sites in Lea Mills and Arnthorpe we're incredibly proud to continue this tradition and champion the world class craftsmen who create our product. Over 50 people work on every single garment with many processes such as the neckline cutting still done by hand today, alongside this are 1.5 kilometres of the finest merino and cotton yarns and 1.2 million perfect stitches. Each garment is produced with pride and passion at its heart and that's something we will always champion.
Wool spools at John Smedley factory in Lea Mills
(click photos to enlarge)
Is the John Smedley Bobby completely made in Britain?
Absolutely!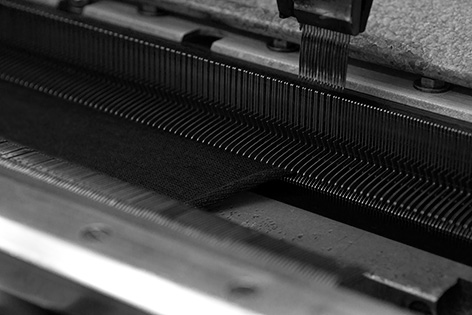 John Smedley knitting machine
Where is the John Smedley factory located?
Lea Mills, Matlock Derbyshire.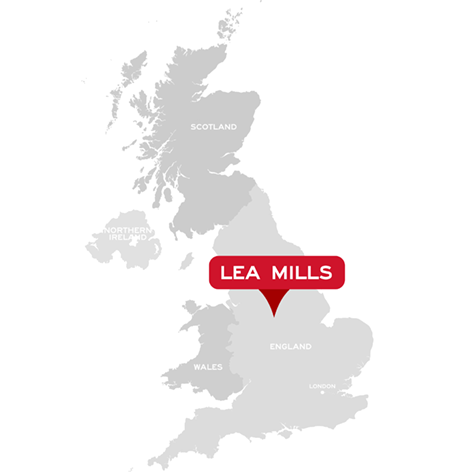 What is happening exactly inside the facility?
The process starts with the yarn itself being spun into usable threads, these are then fed into our knitting machines down in the depths of the factory where we knit all panels, ribs and trims for each garment. Following this the pieces are linked together, seamed and the necklines cut, any additional collars, buttons and pockets would also be added at this stage. Finally we measure and press every garment before sealing it in our 'Made in Great Britain' garment bags and it is shipped off to a new home.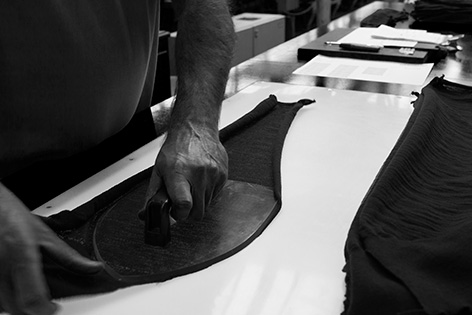 Quality control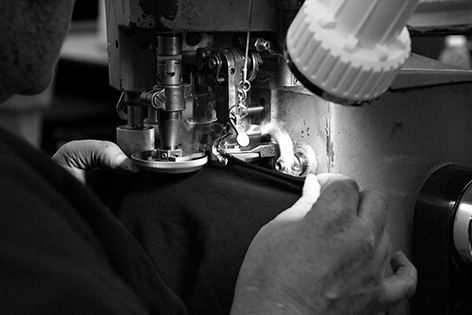 Making a Bobby sweater: seaming
How many people are working at John Smedley?
Over 400.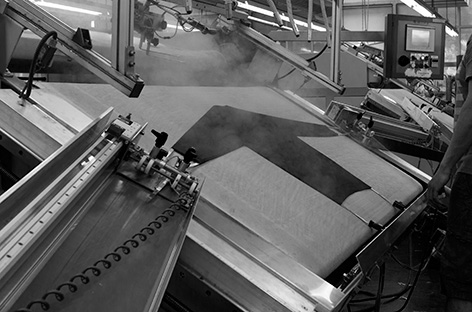 Making a Bobby sweater: pressing
When was the John Smedley Bobby first made?
Bobby was introduced into the collection in the 1960's in answer to the need for a sleeker, smart silhouette that worked as a standalone piece or beneath suiting.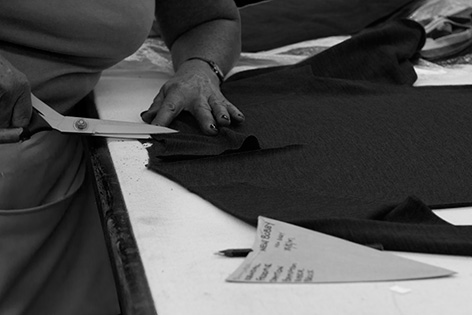 Cutting the neck
What is your yearly production of the John Smedley Bobby sweaters?
Bobby is one of our core products and each season could be available in upto 25 different colours meaning the yearly production runs into 100's of 1000's.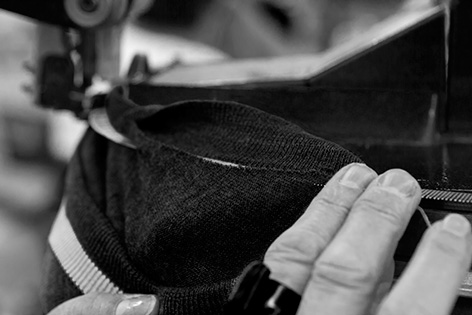 Sewing the neck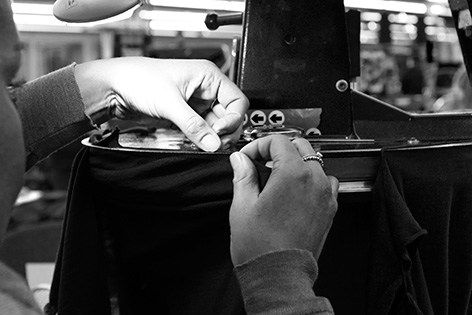 Making a Bobby sweater: sewing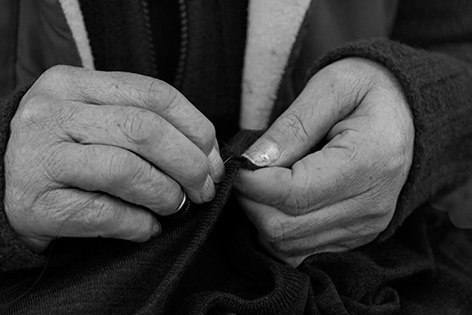 Final touches: hand sew finish
What makes the John Smedley Bobby jumper stand out from its competition?
It is the world's finest sweater! This works in many ways in that our fine gauge merino knitwear is renowned the world over for its quality but also as a piece itself it is timeless, elegant and extremely well considered, designed to sit perfectly over shirting, beneath suiting or even just over a simple tee. In addition how many people can say their V neck was hand cut by a specialist in the depths of Derbyshire one of only two ladies in the whole of the UK qualified to do this by eye? And that's not even mentioning the host of like minded fans from Bonds to Royalty and many more in between so the Bobby customer is in extremely good company.
What are some of the advantages of producing in the UK?
The advantages are plentiful from the care and attention to detail put into every product to the fact that our consumer's know they are supporting traditional craftsmanship when they buy our product – there is an unrivalled quality in our garments that simply can't be replicated elsewhere.
What are some of the challenges of producing in the UK?
Producing in the UK can create some challenges, most of our craftsman have a tenure of a minimum of 10-15 years with plenty exceeding 20-30 years service so far which is amazing in terms of the skill level they have developed, but the challenge is now finding equally talented or trainable new generations of craftsmen who are willing to learn a traditional craft and keep these skill sets going. I would love to see the government put more into apprenticeships and support packages so we can keep these skills alive for the future.
What is your favourite Bond film?
I would have to say SkyFall – excellent sweater wearing in between the stunts.
Who is your favourite James Bond actor?
Controversial, but I actually loved Timothy Dalton!

Read more about John Smedley in SkyFall
Buy the Bobby on the John Smedley website:
$255 (USA) - £155 (UK) - €210 (Germany/rest of Europe)
Bond Lifestyle wants to thank John Smedley for their participation.
Stay tuned for the next episode of the 'Made in Britain' webseries!
Other Made In Britain articles:
All copyrights for products, logos, images etc are held by their respective owners. Bond Lifestyle is not responsible for these articles, please take any queries up with the author.
---