Summer Sale at Swarovski, John Smedley and Sunspel
10 July, 2013
Your chance to get some of the Bond brands for less during the summer sale, including Swarovski, John Smedley, Sunspel!
Swarovski
Swarovski has a huge sale on their website, and even offers some of the Bond items with a 50% discount. (For EU and other region stores, click on the link and select your region at the bottom of the page):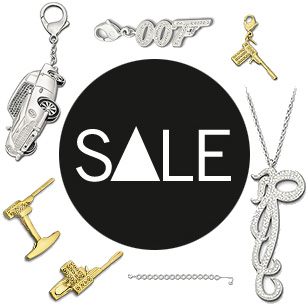 Bond Casino Pendant $150 $75
Bond Casino Earrings $140 $70
Bond Ice Palace Pendant $180 $90
Bond Ice Palace Bracelet $155 $77.50
Bond DB5 Bag Charm $140 $70
Bond DB5 Charm $60 $30
Bond 007 Charm $60 $30
Bond Shell Pendant $170 $75
Bond Shell Charm $65 $32.50
Golden Gun Pendant $100 $50
Golden Gun Bracelet $100 $50
Golden Gun Cufflinks $100 $50
Golden Gun Rings $90 $47.50
Golden Gun Charm $50 $25
Octopussy Pendant $160 $80
Spectre Charm $60 $30
Click here for the complete listing of Swarovski sale items. If you search for "Skyfall" on the Swarovksi website, you will find some items related to the SkyFall collection on sale as well.
John Smedley
John Smedley offers 40% discount on a large selection of their high quality knitwear. Unfortunately the Bobby in Black is not on sale.
Sunspel
The Sunspel Summer Sale is now on. Shop a host of styles including Egyptian cotton t-shirts and polo shirts, luxury sleepwear and underwear. The Sunspel Summer Sale ends at midnight (GMT) on Sunday 14 July, so act fast. read more about Sunspel and Bond here.
Mr Porter
The popular MrPorter.com website offers up to 70% discount.