Wanted: Ian Fleming's golden typewriter
31 May, 2012
On May 28th 1908, Ian Fleming, the creator of James Bond was born in London. The official Bond website 007.com is keen to track down the owner of the typewriter that Ian Fleming used when writing many of the original James Bond adventures.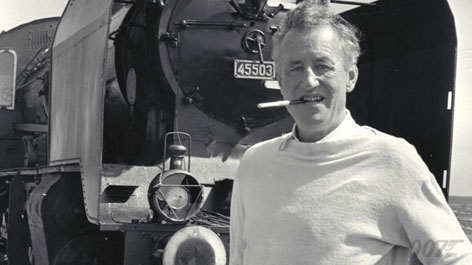 Fleming bought the gold-plated Royal Quiet Deluxe Portable typewriter from a New York dealer in 1952. It appears in many of the photographs showing Fleming working at his GoldenEye home in Jamaica. The 1947 model typewriter was bought at auction in 1995 by an anonymous bidder and to this day its whereabouts remain unknown.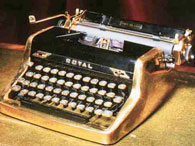 We would love to talk to the owners of this momentous piece of Bond history. So, Bond fans, do you know who owns the machine? Are you the mysterious buyer? If so, please get in touch either via 007.com or the contact form on this website.
Read more about the golden typewriter on the OZTypewriter Blog.
About the Royal Quiet Deluxe typewriter
The Royal Typewriter Company, a manufacturer of typewriters headquartered in New York City, introduced the Quiet Deluxe portable typewriter in 1941 and the model became very popular. In 1947 Royal produced, in limited quantity, a gold-plated version of the Quiet Deluxe model. The golden version is nowadays hard to find but a simple Royal Quiet Deluxe portable typewriter can be found on eBay for $60 to $199.