Spoiler Alert: The James Bond Collectors Box revealed
04 December, 2017
After two teasers we can now reveal all of the collectibles in the surprise The James Bond Collectors Box from A-Box that was announced in November and will ship on December 15th.
SPOILER ALERT - photos and text will reveal all contents of the James Bond Collectors Box and Kingsman The Golden Circle Box.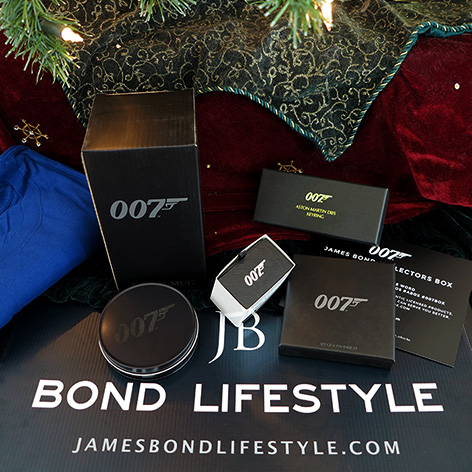 The A-Box (available here) contains a gold Aston Martin DB5 keychain, SPECTRE cufflinks, a SPECTRE t-shirt, stainless steel travel mug, movie poster pin set of 6, Bond villain coaster set.
Gold Aston Martin DB5 keyring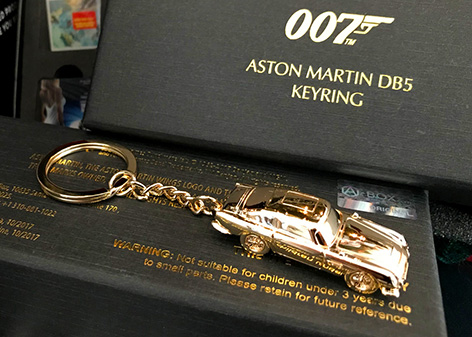 This luxury keyring shows off the Aston Martin DB5, which is famous for being the most recognised cinematic James Bond car, first appearing in the James Bond film Goldfinger (1964) and then Thunderball, a year later. It is considered to be the quintessential vehicle of the character.
The golden DB5 keyring is the same keyring as offered in silver on the official 007 store, but then in gold.
Set of 4 Bond Villain Coasters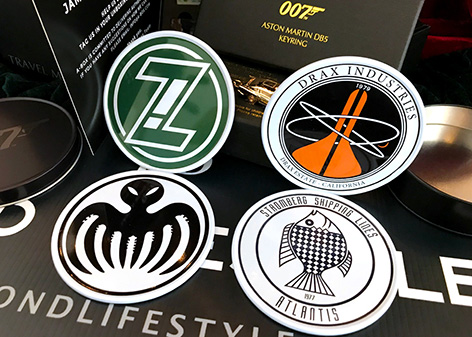 A set of four coasters featuring prints of logos of Villain organisations: Zorin Industries (A View To A Kill), Drax Industries (Moonraker), SPECTRE (the logo as seen in the movie Thunderball) and Stromberg Shipping Lines (The Spy Who Loved Me). These coasters are of a nice, heavy quality and come in a black can with 007 logo. Diameter: 90mm (approx. 3.5").
SPECTRE Cufflinks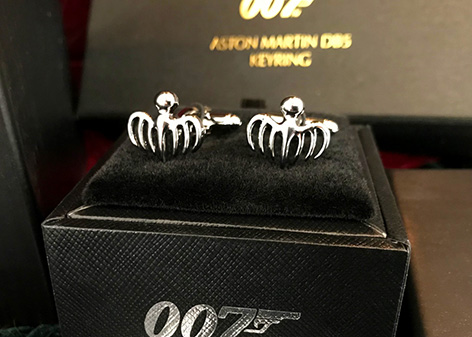 The metal cufflinks have the shape of the octopus logo from SPECTRE (an acronym of Special Executive for Counter-intelligence, Terrorism, Revenge, and Extortion). SPECTRE is a global criminal and terrorist organisation featured across the James Bond novels and films.
The SPECTRE symbol has seen a number of changes over the past 50 years, but remains a important and recognisable piece of James Bond iconography and a potent symbol for James Bond's most tenacious adversary. The cufflinks feature the latest symbol as seen in the movie SPECTRE (2015).
The cufflinks come ins  small black box with silver 007 logo.
Set of 6 movie poster pins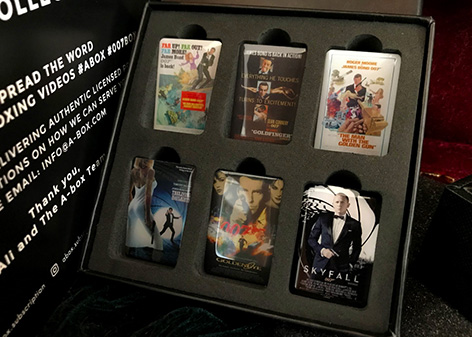 A set of 6 pins, each featuring a movie poster of a film f one of the 6 actors that have played Bond. The following movie posters are used: Goldfinger (Sean Connery), On Her Majesty's Secret Service (George Lazenby), The Man With The Golden Gun (Roger Moore), The Living Daylights (Timothy Dalton), GoldenEye (Pierce Brosnan) and SkyFall (Daniel Craig). The pins come in a black carton box with 007 logo. Each pin measures 25 x 36mm (approx. 1 x 1.4").
Travel Mug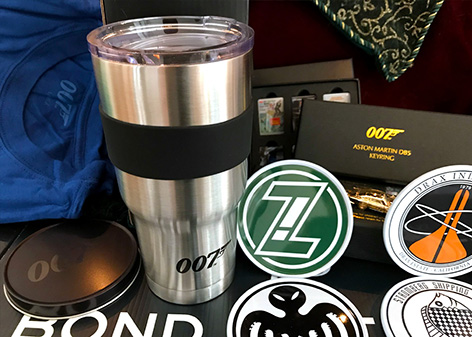 An aluminum travel mug with black 007 logo.The cup has a seetransparent plastic top with open drink hole, so this is not so much a thermos to store hot drinks for a long time, but more a heavy duty take-away cup for in the car. Height of the mug: 17cm (approx. 6.7").
SPECTRE T-Shirt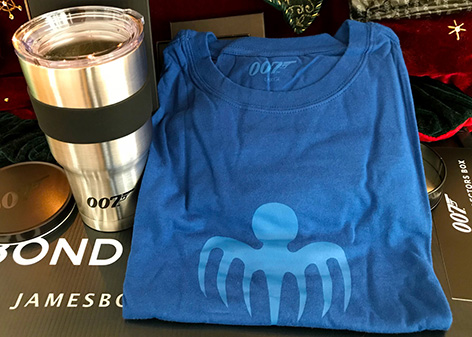 A blue t-shirt with the latest SPECTRE logo in light-blue. The t-shirt comes in a size of your choice (when ordering the A-Box you need to mention your t-shirt size).
Each box costs £39 (or $39 / €45). The Limited Edition James Bond Collectors Box can be ordered now and will ship on December 15th 2017.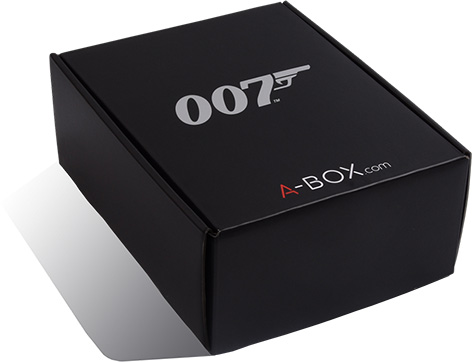 A-Box is available in the USA, UK and across the EU. Find out more on A-Box.com.
Kingsman - The Golden Circle
A-Box also offers a Kingsman - The Golden Circle box, that might be of interest to Bond fans as well, see all items in the image below: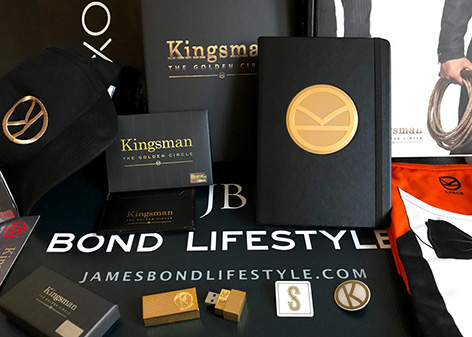 This Kingsman Collectors Box comes with a nice gold-colored USB drive (16GB), which feels quite heavy and has a gold diamond head pattern. The black card wallet features Kingsman logo and the black notebook with elastic features a metal Kingsman "K" logo in a golden circle. There are two pins, a black baseball cap with Kingsman logo and an orange t-shirt with printed tuxedo design. This box is also available on A-Box.com.