Release your inner artist with The Big Draw at Bond In Motion
28 September, 2017
The Big Draw Festival is the world's biggest celebration of drawing, organised by The Big Draw charity (formerly the Campaign for Drawing), and this year Bond in Motion at the London Film Museum is offering visitors the chance to release their inner artist with a variety of activities celebrating the Living Lines theme.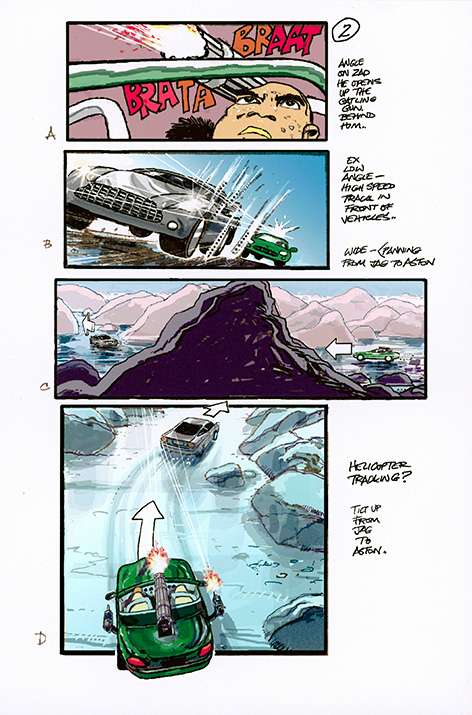 Die Another Day car chase on ice storyboard by Martin Asbury
Image © 2002 Danjaq, LLC and United Artists Corporation.
Visitors can participate in three James Bond themed art activities throughout October at the London Film Museum as part of Living Lines: An Animated Big Draw Festival.
Throughout the exhibition, guests can admire and take inspiration from the work of visionary James Bond Production Designer Sir Ken Adam, one of the most significant production designers of the twentieth century.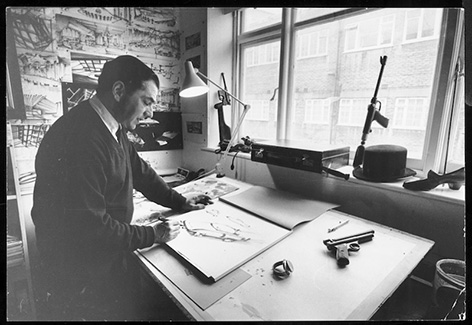 Ken Adam at his drawing board
Photo © 1965 Danjaq, LLC & United Artists Corporation
Founded in 2000, The Big Draw is an arts education charity that promotes visual literacy and the universal language of drawing as a tool for learning, expression and invention.
Living Lines: An Animated Big Draw Festival is open to a wide range of interpretations from animated, theatrical, illusionary, technical or just plain messy. Visitors to Bond in Motion will find the inspiration to spark creativity from the original items on display from the 007 film series including concept drawings, storyboards, scripts, model miniatures and full-size cars, boats, and motorbikes.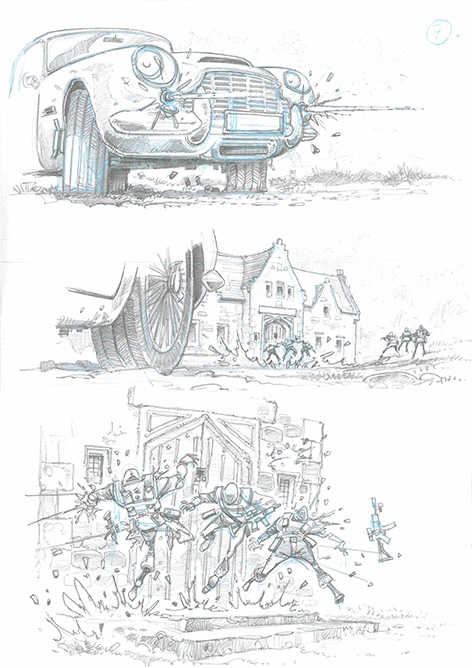 SkyFall Lodge attack sequence storyboard by Jim Cornish
Image © 2012 Metro-Goldwyn-Mayer Studios Inc., Danjaq, LLC and Columbia Pictures Industries, Inc.
Visitors can take part in three complimentary art activities in October; design a 007 disguise, create a fantasy James Bond storyboard, and contribute to a collage wall by drawing a scene from their favourite 007 adventure.
A selection of the finished designs will be posted on the London Film Museum social media pages with Bond in Motion prizes awarded for the best creations.
Many James Bond vehicles, costumes and unforgettable movie scenes started life as a storyboard or concept drawing. From Dr. No in 1962 through to SPECTRE in 2015, the James Bond films have featured the work of incredibly talented designers and artists who have imagined, drawn, painted and created some of the most fantastic and futuristic ideas ever to feature on the big screen.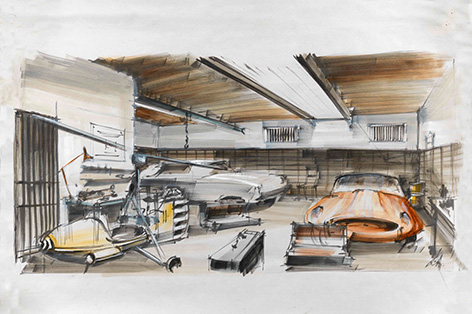 You Only Live Twice, Q's Workshop with Little Nellie by Ken Adam
Image © Todd-White Art Photography
"We are delighted to support The Big Draw initiative," said London Film Museum Founder and CEO, Jonathan Sands. "In October, we are offering visitors to our permanent Bond in Motion exhibition in Covent Garden the opportunity to take part in three James Bond themed art activities which we hope guests of all ages will enjoy."
The London Film Museum is located at 45 Wellington Street, Covent Garden and is open seven days a week. Tickets are available from www.londonfilmmuseum.com and www.ticketmaster.co.uk.