James Bond Production Designer Sir Ken Adam dies aged 95
10 March, 2016
Production designer Sir Ken Adam, famous for his work on seven James Bond films, has died at the age of 95.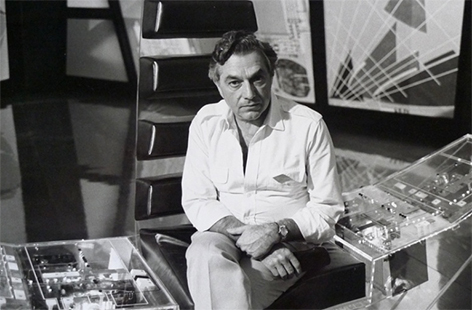 Ken Adam
Adam died on Thursday at his home in London after a short time in hospital. His death was confirmed by Sir Christopher Frayling, his biographer.
Adam was hired for the first James Bond film, Dr. No, in 1962 and in 1964 he designed the famous Pentagon war room set for Stanley Kubrick's Dr. Strangelove. He turned down the opportunity to work on Kubrick's next project 2001: A Space Odyssey after he found out that Kubrick had been working with NASA for a year on space exploration, and that would put him at a disadvantage in developing his art.
This enabled Adam to make his name with his innovative, semi-futuristic sets for further James Bond films such as Goldfinger (1964, the famous Fort Knox Interior), Thunderball (1965), You Only Live Twice (1967) and Diamonds Are Forever (1971). The supertanker set for The Spy Who Loved Me (1977) was the largest sound stage in the world at the time it was built. Adam's last James Bond film was Moonraker (1979).
Adam's other notable credits include the Michael Caine cult spy thriller The Ipcress File (1965) and its sequel Funeral in Berlin (1966). Adam returned to work with Kubrick on Barry Lyndon, for which he won his first Oscar. He also designed the famous car for the film Chitty Chitty Bang Bang, which was produced by the same team as the James Bond film series.