Original James Bond Aston Martin DB5 auctioned for $2.1 million
23 January, 2006
The silver 1965 Aston Martin DB5 coupe that James Bond drove in Goldfinger and Thunderball was sold to a Swiss businessman for $2,090,000 at the annual classic car auction in Scottsdale, Arizona.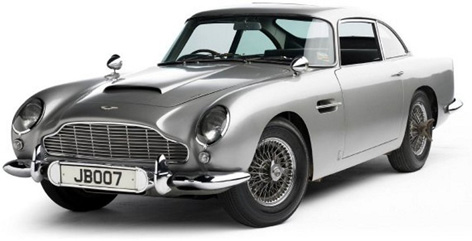 The 1965 silver coupe is one of four cars originally constructed for the two movies and also used for promotional purposes.
"The atmosphere was electric, it was so exciting," said Terrance Lobzun of RM Auctions in Phoenix, Ariz. "Every seat of the 1,500 in the house was sold. It was standing room only."
The 45-year-old bidder did not want to be identified and placed his bids over the telephone through a friend. Canada's RM Auctions says there were at least six bidders in the room as well as several over the telephone. After an intense 15 minutes, the Swiss collector won out.
What makes the car so special is its spy options: machine-guns, a wheel-mounted tire-slasher, a retractable rear bulletproof screen, an oil slick ejector and a smoke-screen system. The passenger ejector seat with removable roof panel has been replaced with a standard seat.
The car had a dramatic entrance befitting its glamorous past. Lights in the auction house were turned off and Lobzun, dressed in a tuxedo, drove the car onto the stage. He demonstrated all the features as the audience stood up and clapped.
"If there had been real bullets in the guns, I would have taken out the whole front row," said Lobzun.
The winner, who was bidding in his first auction, will add the car to a collection that includes classic Aston Martins and Porsches.
Auction officials had estimated that Bond's vehicle could fetch between $1.5 million and $2.5 million US.
Two other classics cars also were sold, with bidders paying $565,000 for gangster Al Capone's 1928 Cadillac sedan and $195,000 for country music singer Hank Williams Jr.'s 1964 Pontiac Bonneville convertible, officials said.
All three vehicles had been at the Smoky Mountain Car Museum in Tennessee.