New SPECTRE IMAX poster revealed
16 October, 2015
EON Productions, Metro-Goldwyn-Mayer Studios and Sony Pictures have released a new Day of the Dead-themed SPECTRE IMAX poster.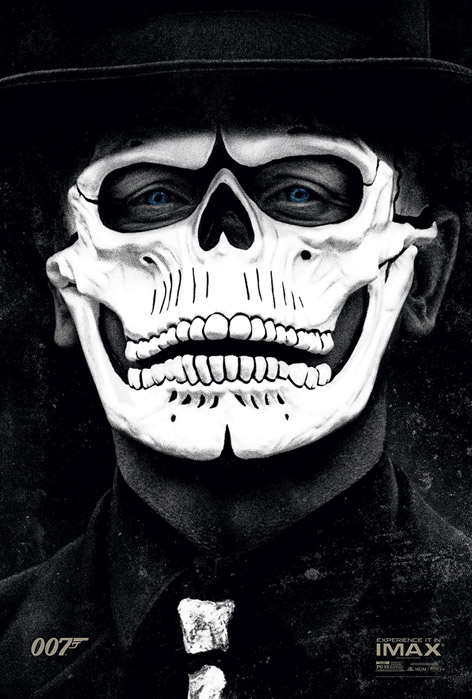 SPECTRE IMAX Poster
The image shows Bond with his piercing blue eyes behind a black and white mask, and is taken from the spectacular opening sequence of SPECTRE which takes place in Mexico City during the Day of the Dead festival.
It was also announced that Mexico City will host the SPECTRE Premiere of the Americas on Monday 2 November 2015. It's the first time that Mexico has hosted an international James Bond premiere, the date coinciding with the real Day of the Dead festivities.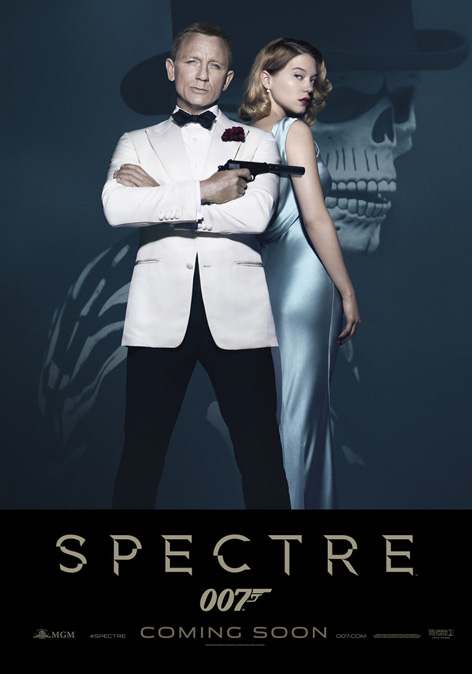 SPECTRE poster with James Bond in Tom Ford tuxedo and Madeleine Swann in Ghost Dress and David Deyong Earrings
Producers Michael G. Wilson and Barbara Broccoli commented, "We owe our magnificent Day of the Dead opening sequence, shot in Mexico City, to the expert craftsmanship of our wonderful British and Mexican crews. With 2015 being the Year of Culture between the UK and Mexico, it is fitting that the Premiere of the Americas will take place in Mexico City, on the actual Day of the Dead Festival."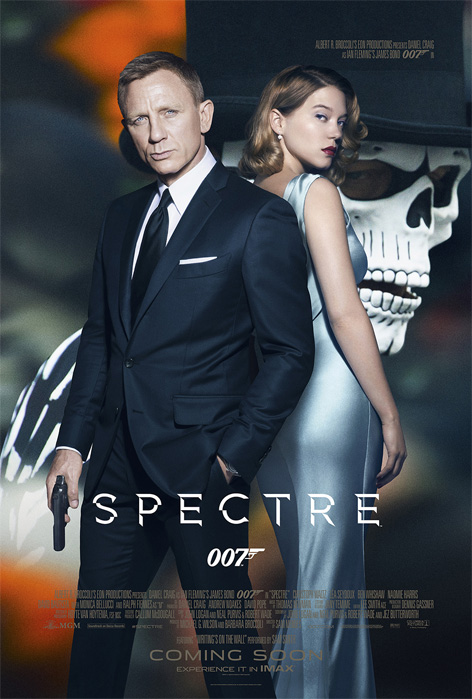 SPECTRE poster with James Bond in Tom Ford suit and Madeleine Swann in Ghost Dress and David Deyong Earrings
Following the UK release and Royal World Premiere on October 26, 2015, SPECTRE will begin its rollout in North America and South America on 6 November.
Synopsis
In the film, a cryptic message from the past sends James Bond (Daniel Craig) on a rogue mission to Mexico City and eventually Rome, where he meets Lucia Sciarra (Monica Bellucci), the beautiful and forbidden widow of an infamous criminal. Bond infiltrates a secret meeting and uncovers the existence of the sinister organisation known as SPECTRE.
Meanwhile back in London, Max Denbigh (Andrew Scott), the new head of the Centre for National Security, questions Bond's actions and challenges the relevance of MI6, led by M (Ralph Fiennes). Bond covertly enlists Moneypenny (Naomie Harris) and Q (Ben Whishaw) to help him seek out Madeleine Swann (Léa Seydoux), the daughter of his old nemesis Mr White (Jesper Christensen), who may hold the clue to untangling the web of SPECTRE. As the daughter of an assassin, she understands Bond in a way most others cannot.
As Bond ventures towards the heart of SPECTRE, he learns of a chilling connection between himself and the enemy he seeks, played by Christoph Waltz.
Directed once again by Sam Mendes, SPECTRE is written by John Logan and Neal Purvis & Robert Wade. The themesong is performed by Sam Smith.