Meet all six James Bond figures now at Madame Tussauds
16 October, 2015
Madame Tussauds London revealed wax figures of all six James Bonds, with five completely new wax 007s joining the existing figure of Daniel Craig. To coincide with the release of SPECTRE, the line-up of Sean Connery, George Lazenby, Roger Moore, Timothy Dalton, Pierce Brosnan and Daniel Craig will appear at the legendary London attraction for six weeks only, before embarking on a tour of Madame Tussauds locations worldwide on December 1, 2015.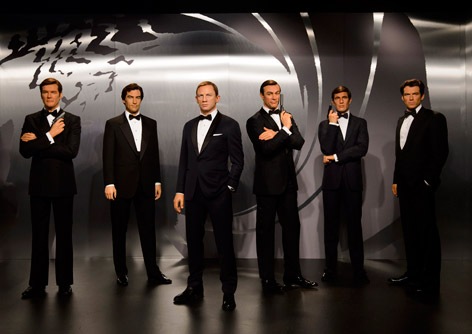 All six Bonds at Madame Tussauds (click photo to enlarge)
Created in close collaboration with EON Productions, the set will give fans an opportunity to stand side-by-side with all six Bonds - in the same place, at the same time. Guests are invited to see how they measure up to each 007, pose with their favourite and take a stand out profile picture.
Each of these new wax figures will be featured in a classic 007 dinner suit, designed by Oscar® winning costume designer, Lindy Hemming, based on the original costumes*. Lazenby, Moore and Connery recreate different variations of a classic Bond pose - arms folded and pistol held aloft, whilst Craig, Brosnan and Dalton are shown in more relaxed poses. The six stand tall together against an impactful and iconic gun barrel backdrop, synonymous with the James Bond films.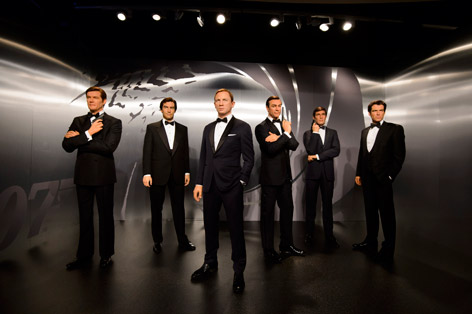 The Madame Tussauds team already had access to measurements of Craig, Connery, Moore, Dalton and Brosnan from previous figures featured at the attraction, but needed George Lazenby's to complete the picture. The star of On Her Majesty's Secret Service was happy to oblige and gave the artists a sitting in Los Angeles in February.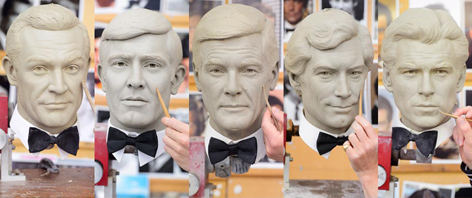 The figures took a team of twenty artists, four months to complete at a cost of £150,000 each. Hundreds of layers of oil paint were used to build up accurate skin tones and each hair on all of the figures' heads was inserted individually by hand over a six week period.
Only at Madame Tussauds London for a limited time only, book online now on the LoveTheatre website or visit www.madametussauds.com/london
Line up: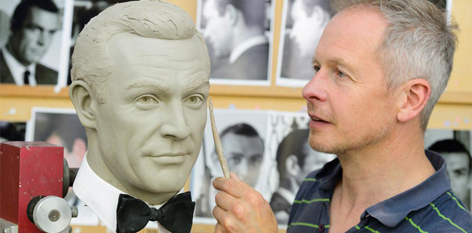 Sean Connery
Sean Connery who played 007 in six EON films starting with Dr No in 1962 is portrayed as he appeared in the 1963 movie From Russia With Love.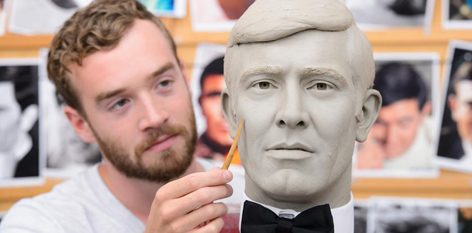 George Lazenby
George Lazenby played Bond just once in 1969's On Her Majesty's Secret Service and is featured in a classic pose from the film.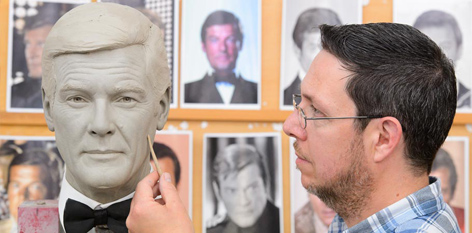 Roger Moore
Roger Moore played Bond seven times beginning with 1973's Live and Let Die and is portrayed as he appeared in the 1977 movie The Spy Who Loved Me.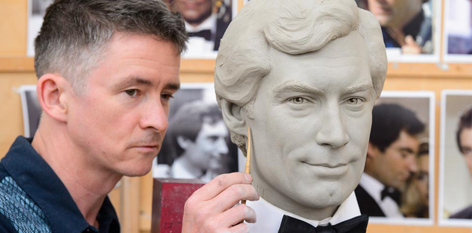 Timothy Dalton
Timothy Dalton is featured as he appeared in the late 1980s in his two Bond appearances The Living Daylights (1987) and Licence to Kill (1989).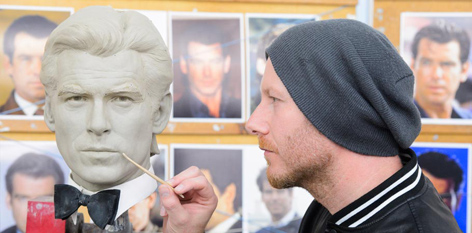 Pierce Brosnan
Pierce Brosnan was 007 four times appearing first in 1995's GoldenEye; he is featured as he appeared in the 1997 film Tomorrow Never Dies.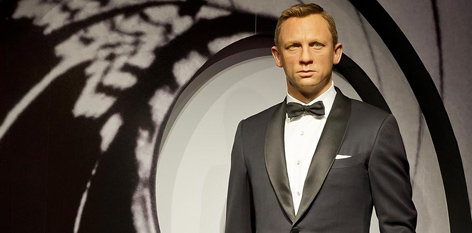 Daniel Craig
Daniel Craig's figure portrays him as featured in his third Bond Movie, 2012's SkyFall.
SPECTRE is set for release in the UK on October 26 and in the US on November 6, 2015.
*All shirts, accessories and ties designed by Turnbull & Asser
Sean Connery and Roger Moore suit tailor: David Mason at Anthony Sinclair
George Lazenby suit tailor: Andrew Major at D Major Bespoke Tailors
Timothy Dalton suit tailor: Adrian Gwillym at Academy Tailors
Pierce Brosnan suit tailor: Brioni
Daniel Craig suit designer: Tom Ford