James Bond cars and collectibles at Bonhams Aston Martin Sale
22 April, 2015
The Aston Martin Sale 2015 by Bonhams will take place on Saturday 9 May, 2.30 at the Aston Martin Works Service, Newport Pagnell and will feature several James Bond related collectibles and cars.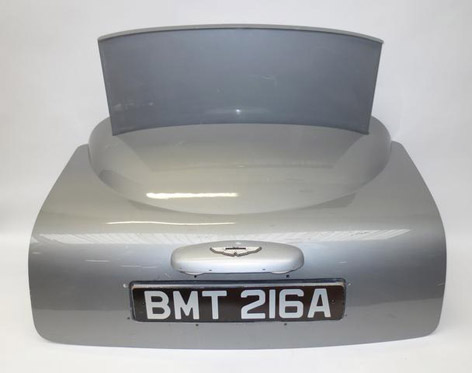 Lot 84: Aston Martin DB 5 "Bullet Proof Shield" boot panel unit
An interesting lot is number 84, an Aston Martin DB 5 "Bullet Proof Shield" boot panel unit, for display purposes only. A fibreglass boot panel finished in light grey (some surface marks and scratches), with simple bungee and latch mechanism operating 'pop-up' plastic 'shield' (split to top left corner), as featured in the film Goldfinger fitted to James Bond's 'Special Equipment' DB5, with rotating licence plate prism fitted with two license plates including 'BMT 216A', and lighting unit with enamel badge.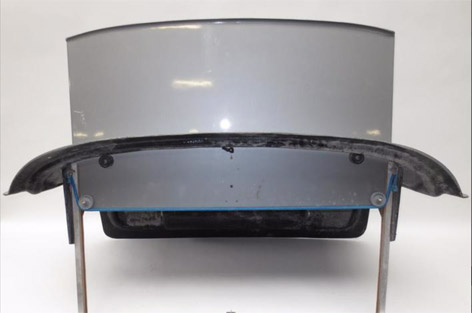 The whole boot panel unit measures 110cm wide overall. Expected sale price: £250 - 350 (€340 - 480).
104
Two signed James Bond photographs featuring the Aston Martin DB5, comprising a monochrome image of Sean Connery as 007 and signed by the actor in black marker, 25 x 20cm, the other a colour image of Daniel Craig as 007 with Judi Dench as 'M', initialled 'DG' and signed by Dench, 20 x 26cm, each mounted, framed and glazed and with certificates of authenticity.
£250 - 350
105
A signed photograph of Sean Connery with the Aston Martin DB5, colour image of the actor as James Bond 007 leaning on the door of the famed DB5, signed by Connery 'Best Wishes...' in black marker, 25 x 19cm, mounted, framed and glazed.
£250 - 350
107
An Original 1966 Aston Martin and 'James Bond 007' Press Photograph, depicting Sean Connery standing next to the 'BMT 216A', with annotations and remains of press cuttings to the rear, mounted, framed and glazed, 18cm x 24cm.
£250 - 350 (€340 - 480)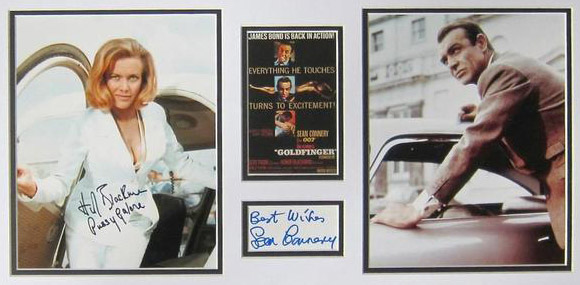 117, 118, 119
Several lots in the auction are photographs of Sean Connery with the Goldfinger Aston Martin DB5 with signature, for example the one above, signed "best wishes" by Sean Connery and Honor Blackman.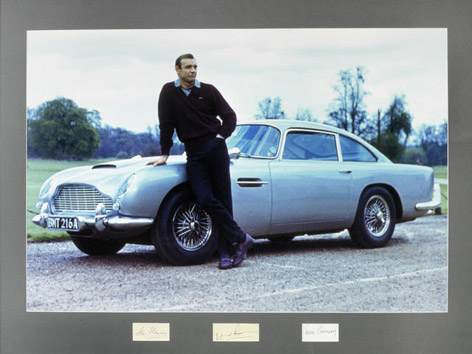 120
A large photograph of Sean Connery with the Goldfinger Aston Martin DB5 with three signatures, colour image of Connery as James Bond 007 with the DB5 at Stoke Poges Golf Club, 59 x 90cm, mounted together with autographs of Ian Fleming, David Brown and Sean Connery, framed and glazed, measuring 83 x 111cm overall.
£2,500 - 3,000 (€3,400 - 4,100)
121, 122, 123 and 124
Posters for the films Goldfinger, Skyfall and The Living Daylights.
126
A collection of assorted Aston Martin prints with a James Bond Goldfinger theme, all with depictions of the Aston Martin DB5 used in the film, all mounted, framed and glazed, the largest is 41cm x 29cm
£250 - 350 €340 - 480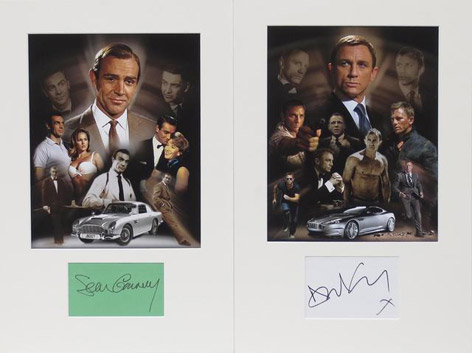 131
Two James Bond montages featuring Aston Martin with signatures of Sean Connery and Daniel Craig as James Bond, each colour montage image depicting Connery and Craig as 007 in scenes from the films, featuring the DB5 and the DBS V12 respectively, each mounted together with signature of the corresponding actor, each approximately 49 x 33cm overall.
£300 - 400 (€410 - 550)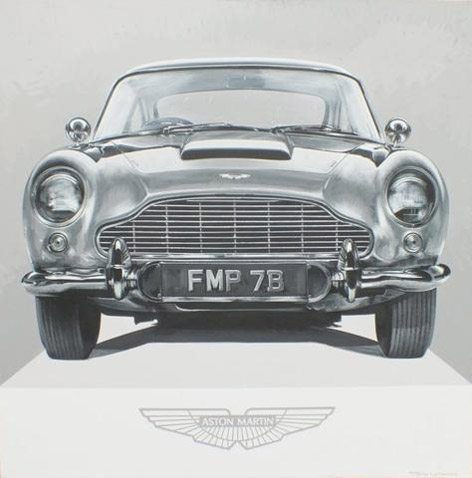 142
Tony Upson, 'James Bond Aston Martin DB5', signed, acrylic on canvas, a front view of the car as driven by Sean Connery as 007 in the Goldfinger and Thunderball films, 104 x 140cm.
£300 - 400 (€410 - 550)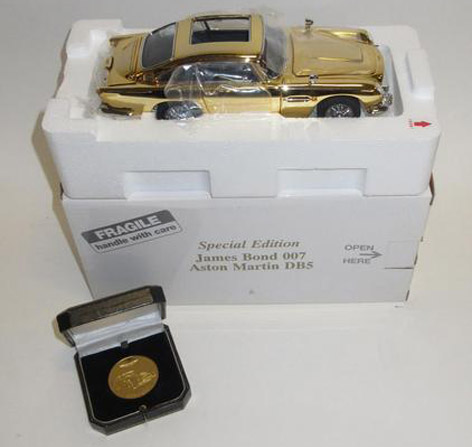 162
A special edition 'gold plated' James Bond 007 Aston Martin DB5 model and Aston Martin medal in presentation case. Precision engineered 1:24 scale die-cast metal, constructed from more than 300 parts exclusively by the Danbury Mint, the main body, bonnet, boot and ejector panel are 22ct gold plated, in original packing, roof panel and ejector seat still sealed unopened as new condition, features telephone concealed in the driver's door, leather seats, rotating number plates, bullet-proof shield, tyre slashers, battering rams, machine guns, the bonnet lifts to scale model engine bay, with box, together with an Aston Martin 1954 - 2007 commemorative medal in a presentation box.
£250 - 350 (€340 - 480)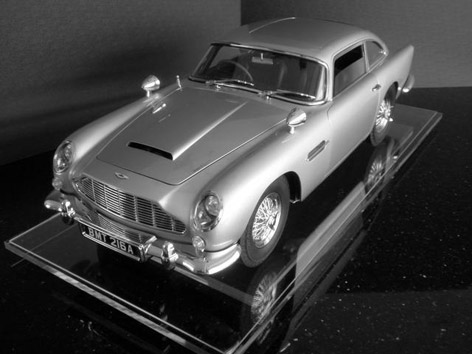 165
A 1:8 scale model of the James Bond Goldfinger Aston Martin DB5, kit-built, constructed from mainly metal parts, originally licensed by both Eon Productions and Aston Martin Lagonda Limited, well detailed model with opening doors, bonnet and boot, loaded with all the Bond 'Special Equipment' including machine guns, bullet shield, removable roof section, cutting spinners, and finely modelled interior, approximately 60cm long, mounted on a Perspex plinth within an etched display case.
£1,800 - 2,000 (€2,500 - 2,800)
The Bond cars
Of course there are also some original Aston Martins for sale at the auction, for example this beautiful silver Aston Martin DB5, lot 211 (see image below) and 5 other DB5's.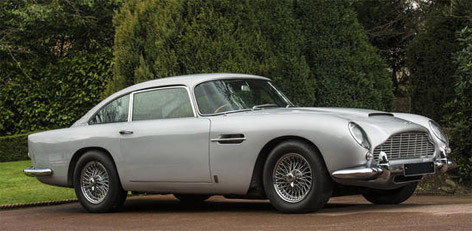 This silver DB5 is expected to sell for £380,000 - 440,000 (€530,000 - 620,000).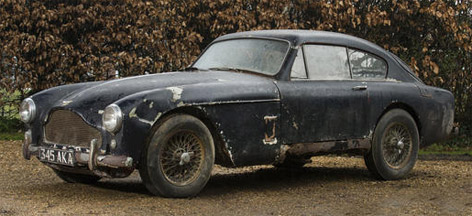 A special 1958 Aston Martin DB Mark III Sports Saloon is offered. The DB Mark III is arguably the first 'James Bond' Aston Martin, appearing in Ian Fleming's novel Goldfinger.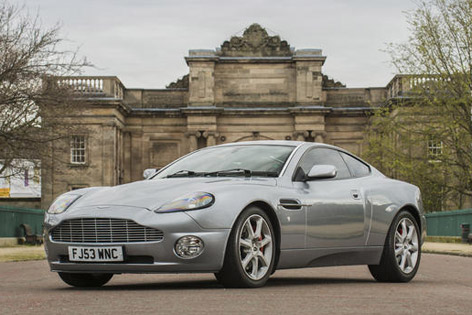 The most affordable but also one of the most beautiful Bond models is this silver 2004 Aston Martin Vanquish.
Viewing
Friday 8 May 17:00 - 20:00
Saturday 9 May from 08:00
(Car parks open from 07:30)
Sale times
Automobilia 10:00
Motor Cars 14:30
For more information and other lots, see the Bonhams website.