Daniel Craig wears N.Peal sweater, vintage Omega watch and Crockett & Jones shoes at the Bond 24 press conference
04 December, 2014
During the SPECTRE press conference earlier today at Pinewood Studios, Daniel Craig was looking very good in his blue/grey outfit. Craig wears an N.Peal Oxford sweater, Brunello Cucinelli trousers, his custom made Crockett & Jones Molton black suede shoes and his vintage Omega Seamaster watch.
The Oxford round-neck sweater, made from 100% cashmere, is the same model as worn by Bond in SkyFall but today he wears it in the color Imperial Blue. The Oxford in Imperial Blue (or the SkyFall color 'Blue Wave') is available on the N.Peal website for £219.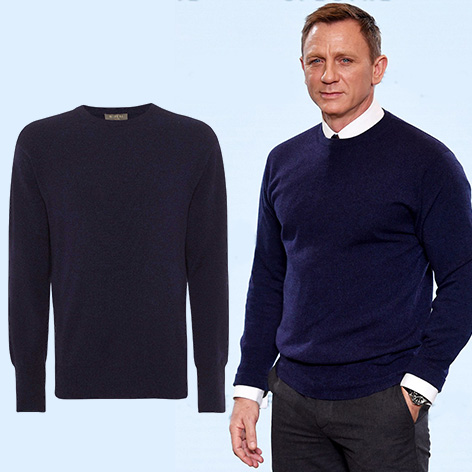 Under the jumper, Craig wears a white dress shirt with cufflinks, which unfortunately can't be seen properly for identification.
James Bond wore an N.Peal Oxford Blue Wave cashmere sweater in the movie SkyFall, as part of his Scotland Outfit. Read more about this sweater in the article "Taking a closer look at the N.Peal sweater worn in SkyFall".
The watch worn by Craig is a vintage Omega Seamaster 300M watch with black dial, black bezel with 10, 20, 30, 40, and 50 markings), a date window at the 3 o'clock position, and a black leather strap, one of his personal watches.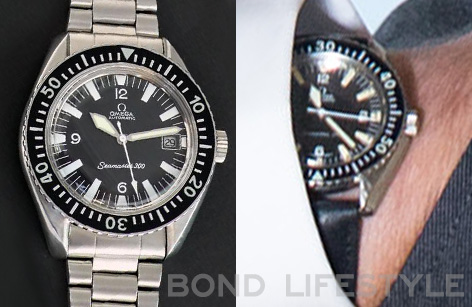 A vintage Omega Seamaster on the left and the watch on the wrist of Daniel Craig on the right
The shoes are a pair of black suede Crockett & Jones Molton boots, especially made for Daniel Craig himself. A few die-hard fans had the same shoes made as well, but curently these exact shoes can't be made anymore. In SkyFall, Bond wears four different models of Crockett & Jones shoes.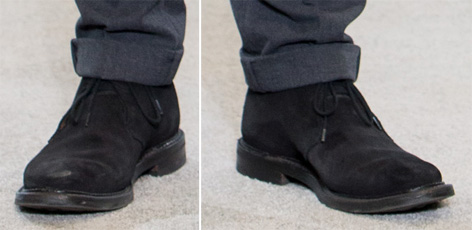 The trousers are not yet identified, they are very similar to the shark grey ACNE Wall Street trousers worn in SkyFall. 
Update 20 December 2014: The trousers are reported to be tapered grey cashmere Brunello Cucinelli trousers.
If the appearance of the sweater in the press conference means that we'll also see N.Peal in the new Bond film is not confirmed, but since Jany Temime is once again the costume designer (just like in SkyFall), it is possible that we will see some of the brands including N.Peal, Crockett & Jones return in the new film. N.Peal announced today on their website that "Bond has chosen a couple of N.Peal cashmere styles to wear in the film."
Watch an interview with Daniel Craig after the announcement:
Photos © 2014 Columbia TriStar Marketing Group, Inc. and MGM Studios. All rights reserved. Photo Credit: David Dettmann