Celebrate Ian Fleming's Birthday with Walking Tour and Cocktails
22 April, 2016
Celebrate the birthday of James Bond author Ian Fleming on May 28, 2016 with a walking tour of Fleming's London life and a cocktail!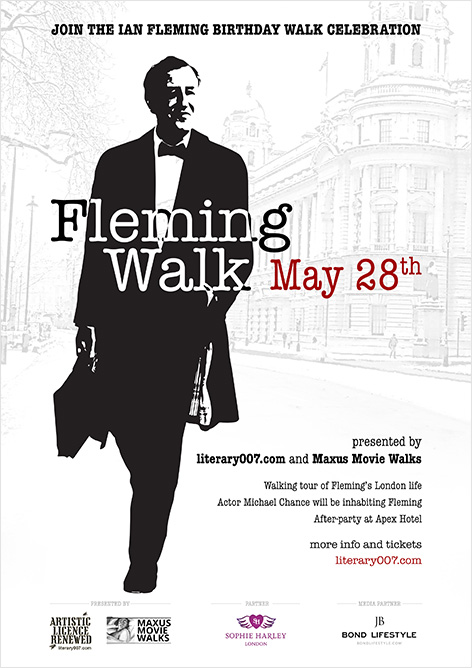 This special birthday celebration is a collaboration between Artistic Licence Renewed (literary007.com) and Maxus Movie Walks.
The walking tour of Ian's City life starts at 5pm from Bank tube station. This exclusive version of the Maxus Walks Ian Fleming Tour will include the actor Michael Chance, who played Ian in the one-man show, The Man with the Golden Pen.
The tour will culminate at the Apex Hotel Bar right outside Ian Fleming's old writing office at Mitre Court in London for drinks at 7pm.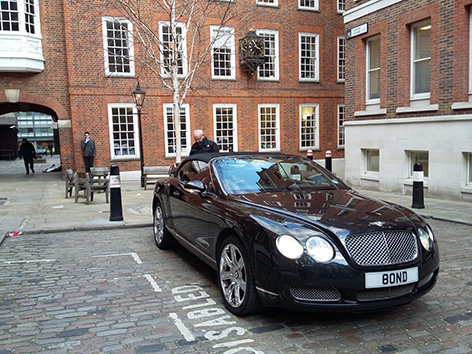 Mitre Court, Fleming's writing office location
photo © Literary007.com
Some special guests will attend the event, including Sophie Harley (jewellery designer for Bond film Casino Royale and Quantum of Solace), Jon Lys Turner (author of upcoming biography of Richard Chopping, the illustrator of many Ian Fleming Bond novels), Brian Lett QC (author of Ian Fleming and SOE's Operation Postmaster), Trevor Scobie (designer of three of John Gardner's James Bond book covers), Remmert van Braam of Bond Lifestyle and many more!
The walk will take place in the heart of London, and locations on the walk include:
Reuters Statue (Ian Fleming worked there in 1931-32)
Throgmorton Avenue (Ian Fleming worked for Cull & Co. Merchant Bank 1933-35)
Bishopsgate (Ian Fleming worked for Rowe & Pitman stockbrokers 1935-1939)
Midland Bank site (the model for Goldfinger/Fort Knox safe theft)
Goldsmiths Hall (where Ian Fleming researched Goldfinger)
Printing House Square, Blackfriars (Ian Fleming worked for Sunday Times 1945-1957)
Serjeants Inn, Mitre Court, Fleet Street (Ian Fleming had his writing office here 1957-1964)
Tickets for the Fleming Walk + Cocktails are priced at £10 pre-booked (click here to get your ticket) or £15 cash on the day, but hurry as the event is limited to 20 people!