Anthony Horowitz will write second James Bond novel
04 October, 2016
Novelist and screenwriter Anthony Horowitz confirmed that he will write a new James Bond novel.
The new book, of which the title is not yet announced, will be published by "Ian Fleming's original publisher", Vintage imprint Jonathan Cape.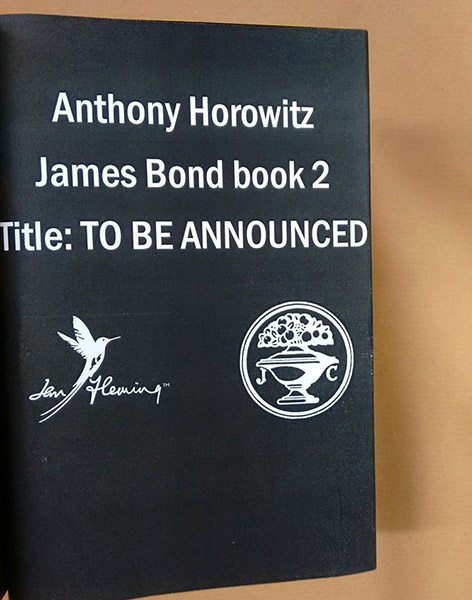 Horowitz was invited to write a second official James Bond novel by Ian Fleming Publications Ltd after the success of his 2015 bestseller, Trigger Mortis, published by Orion in September last year.
The setting of the new book will be "period Bond" and the story will again (just like Trigger Mortis) feature previously unpublished material by Fleming.
The book is expected to be published in spring 2018.
Richard Cable, m.d. of Vintage, commented: "We are delighted to welcome Anthony Horowitz and a new James Bond novel to Jonathan Cape, Ian Fleming's publisher. Anthony's first Bond novel, Trigger Mortis, was a great critical and commercial success, and we know that there are thousands of Bond fans who will be thrilled that Anthony has taken on the challenge once again."
Horowitz said: "Writing Trigger Mortis was a pleasure and I was delighted by the positive response when it was published. And I was thrilled when the Ian Fleming estate asked me to come back. How could I refuse? I can't wait to return to the world of James Bond."
Anthony Horowitz is the fourth author in recent years to be invited by Ian Fleming Publications Ltd to write an official Bond novel, following in the footsteps of William Boyd, whose Solo was published in 2013, the American thriller writer Jeffery Deaver, who wrote Carte Blanche in 2011, and Sebastian Faulks, whose Devil May Care was published to mark Ian Fleming's centenary in 2008.
Horowitz has written over 40 books including the teen spy series Alex Rider, which is estimated to have sold 19m copies worldwide and was adapted into the movie "Stormbreaker" in 2006. He is also a writer for adults and was commissioned by the Conan Doyle Estate and Orion Books to write a new Sherlock Holmes novel. The House of Silk was published in November 2011, selling more than 35 countries around the world. He is also behind television series including "Midsomer Murders" and "Foyle's War".
Corinne Turner, m.d. of Ian Fleming Publications Ltd, said: "We are absolutely thrilled that Anthony Horowitz is going to write a second James Bond novel with inspiration again from original Fleming material, and of course delighted that Bond will be back home at Jonathan Cape. Trigger Mortis was a superb book, full of energy, wit, twists and turns, and we can't wait to see what Anthony comes up with next."
Read more about Trigger Mortis