Ordering Church's shoes online
05 March, 2014
Before shopping at Crockett & Jones for a pair of Tetbury shoes, I was in the process of ordering two pair of Church's shoes online, the Enmore and Diplomat models. For people that don't have easy access to actual stores that carry brand like Crockett & Jones or Church's, your only option to acquire a pair of Bond shoes might be to order a pair online, so I thought it would be helpful to share my online experiences here. Shopping online at trusted stores is usually very easy and secure, and online shops are growing as fast as their service. The downside of ordering online is that you can't try on the product to determine the best size for you. But many stores now offer a free return policy, a service that was promoted by Zappos as one of their unique selling points (an interesting read on the subject is Delivering Happiness, by Zappos founder Tony Hsieh) and one of the reasons for Zappos' massive success.
Mr Porter
When I started looking online, I came across the Enmore model on Mr Porter. Technically these aren't exactly Bond's shoes, but the Church's Enmore semi-brogues are very similar to the Church's Diplomat semi-brogues worn in GoldenEye (Pierce Brosnan wears brown Chetwynd brogues and black Diplomat semi-brogues). The brand Church's is definitely a Bond brand: not only does Brosnan wear several models in his movies, but Daniel Craig wears the Ryder III in Philip in Quantum of Solace. It so happened that I had a Mr Porter gift card, which gave me a nice £50 discount. This would be a good time to get them, as Church's shoes are hardly ever on sale.
Since it was my first pair of Church's, I didn't know exactly yet which size would fit (size and fit can depend on the brand or last of the shoe), but decided to go for a size 11. These Enmores are dark brown, a color that I wear more often than black.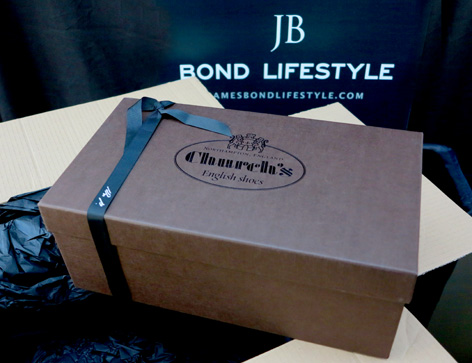 When the shoes arrived in Amsterdam, The Netherlands after only a few days, I took them out of the box to try them on. It was clear that they were too large. That's when I could experience the easy return policy of Mr Porter. The shoes came with printed instructions and a DHL form that was already completely filled in. In my online account, I clicked on a button to let Mr Porter know that the shoes would be returned, and which size I would like to receive instead. Then I called DHL, after which they came by (the same day!), checked the contents of the box and went on their way to deliver the shoes back to Mr Porter in the UK.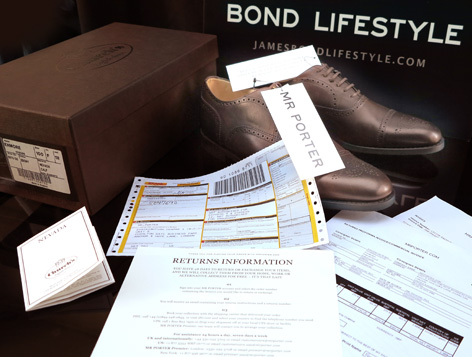 Only two days later, the new pair of Enmore shoes arrived, this time they fit perfectly. Before walking them in, they were put in the Bond Lifestyle photo studio for a nice portrait. After using these shoes for a while now I can say that they are very comfortable and feel very strong and solid at the same time. The rubber soles of the Enmores will be more durable than leather soles so a bit more practical when wearing them a lot.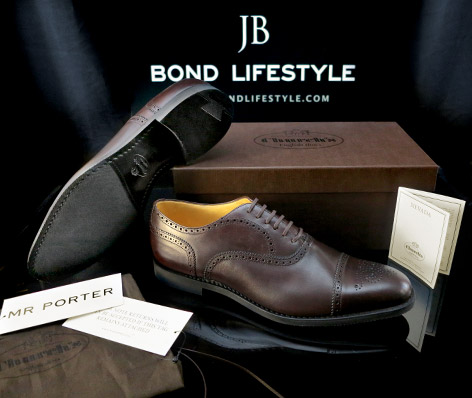 How to tie dress shoe laces?
When the shoes arrive, the laces are not tied, which is a good opportunity to look deeper into "How to tie dress shoe laces?". There is no straight answer, and on this website you can even find 41 ways to lace shoes, but for a clean, traditional look, the end goal is to have the laces like straight lines. This is how shoes are tied on the Church's website and also, more importantly, how Brosnan wears his Chuch's Chetwynd and Diplomat in GoldenEye and how Daniel Craig wears his Church's Philip in Quantum of Solace. There are several ways to create the straight bar laces look, I decide to go for Straight European Lacing. Take a look at this fantastic website by Ian Fieggen, showing exactly how to get this look (and many other ways of doing it). Select the amount of eyelets and see a step by step visual tutorial. Basically you cross the laces underneath and put them straight on top. This creates a strong pattern, but a bit more messy underneath. Since the uppers of the Church's will close almost completely, this web of laces underneatch will be nearly invisible though.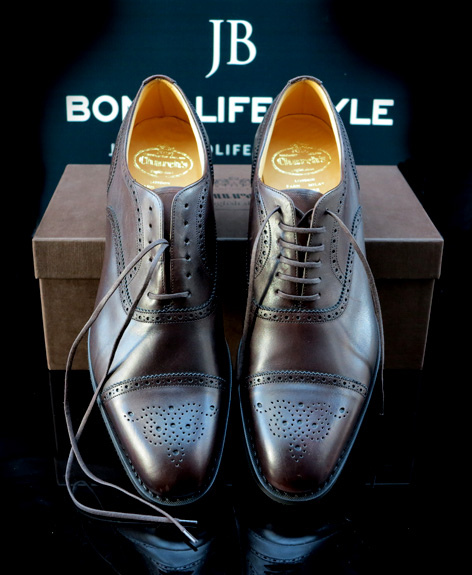 eBay
Later, a while after I received the Enmore's, I was browsing Church's shoes on the eBay, where new and used Church's are widely available. Once you know your size of a certain brand, it becomes easier to order online since you can be more sure the shoes will fit. After an easy bidding battle, I suddenly became the owner of a pair of black Church's Diplomat semi-brogues.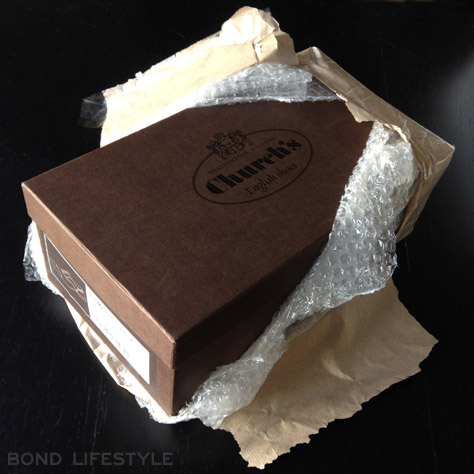 Shipping was £15 and the shoes were sent quickly and sufficiently wrapped. When the shoes arrived I was glad to discover that the photos and description matched the item: the shoes were not new, but in mint condition, hardly showing any signs of wear. And the size was also perfect. So for half the price of a new pair, this was definitely a good deal.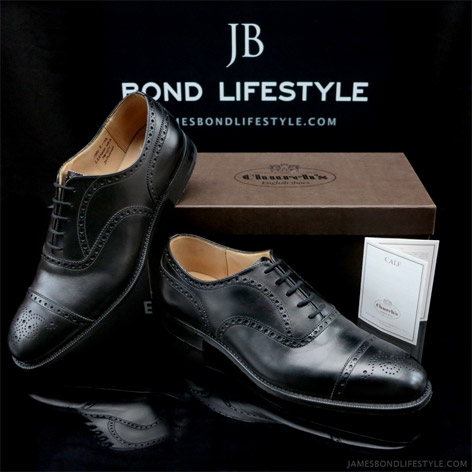 Black Church's Diplomat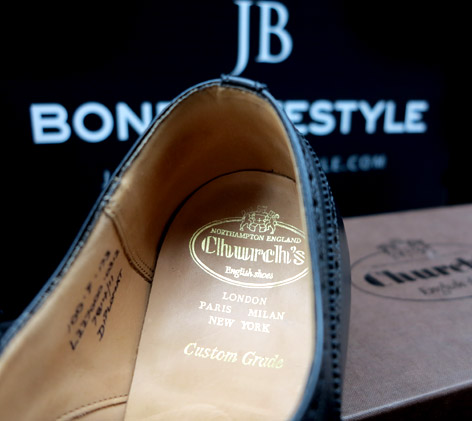 These Diplomats, found on eBay, are in mint condition
Although you can save some money on eBay, or find items that are not produced anymore, shopping on eBay is also much more risky then ordering at a trusted online store. Especially with used items it is hard to see the actual condition of the item and returning is usually a much bigger hassle or not even possible. On eBay you always have to be well aware of who is offering the shoes: does the seller have a lot of recent good feedback? Also check the other listings of the same seller to see what kind of business he or she is in. For more tips on eBay purchases, read the tips at the bottom of this article. Also beware that with any international shipping, import duties or taxes might be charged, which you usually have to pay directly to the delivery person.
Getting the right fit
Although ordering online is easy and on trusted websites like Mr Porter very convenient and a nice experience, I would recommend going to a real shop if you have the chance. The fitting will be best when you can try on different pairs, and Church's offers different widths (medium fit F or the wider fit G) or custom adjustments to make sure the shoes fit perfectly. If a real fit is not posible and your online order also didn't fit after a return, maybe the width of the shoe is the issue. Websites that offer more size options, including different width size for certain models, are the official Church website and Herringshoes, the largest independent stockist of Church's in the UK.
Share your experience
If you have a good or bad experience ordering shoes (or other clothes) online, please post a message below or on this forum thread!
Recommended online stores for Church's shoes
More information and sources:
41 different ways to lace shoes
Brogues - The Suits of James Bond
Church's Chetwynd in GoldenEye
Church's Diplomat in GoldenEye
Church's Presley in The World Is Not Enough
Church's Ryder III in Quantum of Solace
Church's Philip in Quantum of Solace
Text and photos © 2014 Remmert van Braam
All copyrights for products, logos, images etc are held by their respective owners. Bond Lifestyle is not responsible for these articles, please take any queries up with the author.
---