Sunspel Store Opening in London
19 November, 2008
Sunspel, 148-year-old menswear company and supplier to the most recent Bond and Batman movies, opens one-off Xmas store in London's Covent Garden. Together with Bond Lifestyle, Sunspel offers a 30% discount to visitors of the new Sunspel Store in London. Download, print and bring the exclusive voucher to the Sunspel Store to receive the discount!

photo © Sunspel
Sunspel, exclusive purveyor of the finest T-shirts, Polo shirts and underwear can be found in Selfridges, Harrods, and Liberty in London, Bergdorf Goodman in New York and many exclusive menswear stores across Europe and Japan.
Recently in the news for supplying t-shirts and polo shirts to Daniel Craig and Christian Bale in the latest James Bond and Batman instalments Sunspel has, for the first time in its 148-year history, opened its very own retail Store.
This one-off Christmas store will sell the classic garments Sunspel is known for, alongside luxurious Liberty Print Boxer Shorts, outstanding fine gauge merino wool knitwear and exceptional quality cashmere scarves. All Made in England and all the perfect special Christmas gift.

photo © Sunspel
Britpop Collaboration
In celebration of its first opening and in all that is quintessentially British Sunspel will, from November 21st, host the launch of the 'Out of the Blue' exclusive portfolio photograph collection and limited-edition book featuring the Brit band, Oasis, as taken by one of the leading rock photographers in the UK, Michael Spencer Jones. 'Out of the Blue' features all the early Oasis album covers and is curated by Snap Galleries. It will run in the store until Christmas and continue at Snap Galleries' Birmingham site until February 2009.
Sunspel has been creating beautifully made clothing in sophisticated, understated designs since 1860. We use our own exclusive custom fabrications and remain committed to meticulous craftsmanship. Our clothing is loved by anyone who cares about comfort, elegance and style. This is clothing designed to be as durable as it is desirable. It is the opposite of disposable fashion.
The new Sunspel store is based at the Central Arcade, Covent Garden Market, London.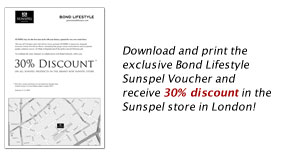 Download and print the discount voucher and bring it to the Sunspel Store in London to receive 30% discount!