Rare SD Studios 'From Russia With Love' Attaché case for sale
19 August, 2016
A very rare SD Studios replica of the 'From Russia With Love' Attaché case has appeared for sale on eBay. The asking price is $30,000, for what some call the holy grail for Bond collectors.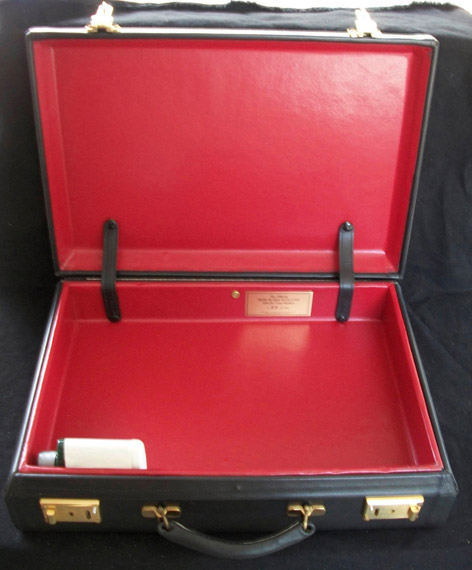 In From Russia With Love, James Bond receives a black attaché case from Q, loaded with gadgets that save his life during his mission. The case includes hidden knives, gold coins and .22 cailber bullets, a talcum powder case that releases a gas if the case is not opened in the proper way.
The original prop case used in the film was based on the design of an attaché case by Swaine Adeney Brigg.
In the 1990s a series of replicas of the Bond case was produced by SD Studios. These replicas includes many of the gadgets seen in the movie From Russia With Love.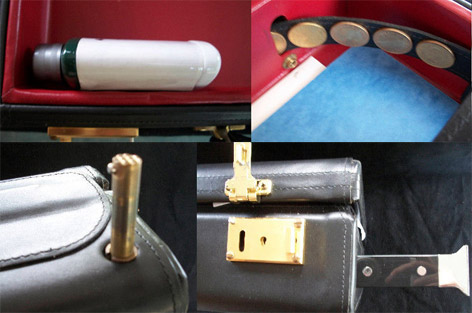 Contents of the replica case:
1 Magnetic Talcum Powder Container
2 Daggers (one on each side)
2 Rounds of Ammunition
20 Gold Sovereigns (10 on each strap)
The SD Studios Limited Edition James Bond 007 attaché case replica is an official EON Productions licensed reproduction.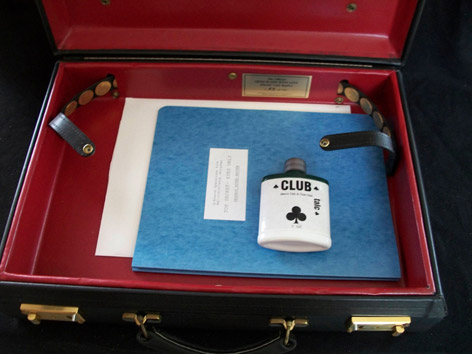 The case on eBay is Limited Edition Number 53/100, but according to the seller only 80 editions of these cases were actually made.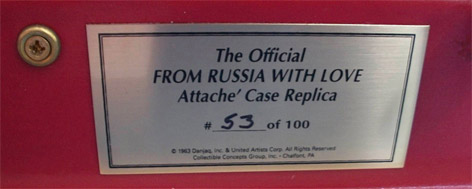 The replica attaché case is in near mint preserved condition, and comes with documentation papers: a message by Steve Dymazo, President of SD Studios, and Top Secret – Eyes Only (Memorandum Folder).
The attaché case replica measures 18½ x 13 x 5 inches (47 x 33 x 12.7cm) and comes in its original shipping box from SD Studios.
In 2011, a similar case, number 008/100 sold for $9,750 on eBay. The 053/100 case is now listed for $30,000 or best offer, see it here.
UPDATE Saturday 20 August: the asking price has been lowered to $25,000.
SD Studios created several high quality replicas of James Bond gadgets, including a detailed model of the Golden Gun.
Thanks to Frank Anderson for the alert