MI6 Confidential #36: Making Magic
29 August, 2016
MI6 Confidential, the full-colour 007 fan magazine celebrating the world of James Bond, returns with its 36th issue.
Order 2016 magazine season and save »
The Bond family is knitted together by a team of hardworking professionals who have committed their lives to filmmaking. EON develops relationships such that it can rely on talent time and time again and has a knack for nurturing young filmmakers to fruition. A perfect example is lifelong special effects professional Chris Corbould, who started on the films aged eighteen. Today he reflects on his life with Bond, from 1977's The Spy Who Loved Me to last year's SPECTRE.
This issue of MI6 Confidential also takes a look at the science behind Moonraker and the logistics behind renovating and shooting at the stunning Piz Gloria.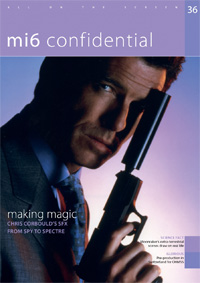 In this issue:
Making Magic - Award-winning special effects supervisor Chris Corbould on Bond
Glorious - Pre-production for OHMSS in Switzerland
The Man With The Midas Touch - The late director Guy Hamilton remembered
A Master Illustrator - Documenting the work of artist Robert McGinnis
Science Fact - The NASA advisor who worked with EON to keep Moonraker grounded
Technically Speaking - Moonraker's extra-terrestrial scenes draw on real life
Programmed For Danger - The history of the 'Find Your Fate' books from 1985
The Bond Connection - Location shooting on the spy thriller Our Kind of Hero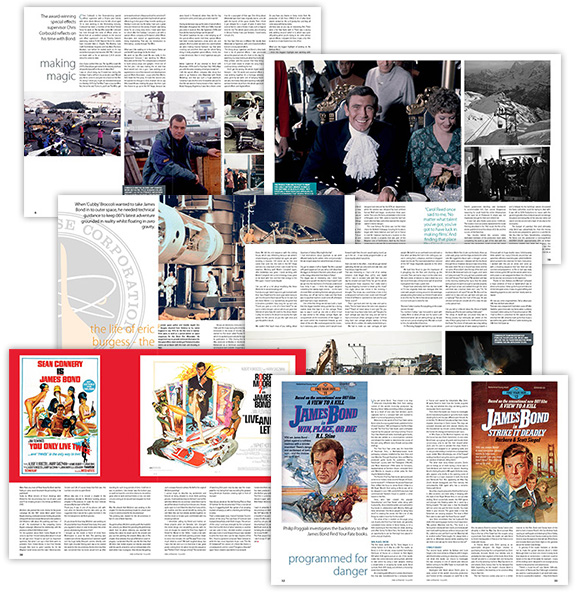 Issue #36 is now shipping around the world.
Special Pre-order package
Receive this issue immediately and save on the rest of the 2016 magazine season. Five magazines from £28 plus shipping.
Order back issues
Want to order previous issues of MI6 Confidential? Click here »