Moneypenny stars in Sony 'Made for Bond' campaign
14 September, 2015
Sony has unveiled its 'Made for Bond' advertising campaign, which stars Naomie Harris as Moneypenny. The commercial introduces a Sony Xperia Z5 'Made for Bond' as Bond's phone, which probably means that James Bond will use this model phone in the movie SPECTRE. Moneypenny also uses a Sony RX100 IV camera. If the phone or camera will be used in SPECTRE is not yet 100% confirmed, but it is very likely.
The 'Made for Bond' campaign officially launches with the TV commercial, which will first air in the UK on 1st October 2015 and will run until 8th November 2015. See the photos and watch the commercial in this article.
Naomie Harris (who plays Eve Moneypenny) in the new ad campaign featuring Sony technology made for Bond
Packing a powerful punch, the short film follows a tense chase across London's South Bank as Moneypenny fights off mysterious villains to deliver Bond's Xperia Z5 phone. Using state-of-the-art tools, including an advanced compact RX100 IV Cyber-shot camera, she captures surveillance in super-slow motion.
The 60-second piece has been produced by the legendary British director Danny Kleinman. Created by ad agency adam&eveDDB with production company Rattling Stick, the majority of the campaign film was shot on Sony's F65 professional 4K cinema camera, interspersed with 'slow motion' surveillance that can be seen through the screen of the RX100 IV camera, and photography shown on the screen of the Xperia Z5.
Kleinman says, "The campaign film truly captures the excitement of the chase, being on a mission and taking the viewer on the journey, all set against an iconic London backdrop."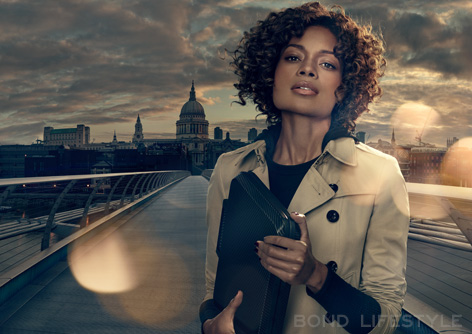 Latest mini-Bond movie stars Naomie Harris (wearing a Burberry jacket) to promote the Xperia Z5 phone and Sony's compact RX100 IV camera
Naomie Harris adds, "London provides the perfect setting for the campaign film. Ultimately, at the centre of Bond is Britishness, so it was really important that the ad was shot here. It is not your traditional commercial; it's an action-packed mini movie in itself."
Kazuo Hirai, President and CEO, Sony Corporation adds, "Sony has been a proud partner of the iconic Bond films since Casino Royale. While both the Xperia Z5 and RX100 IV are action-packed and full of features, they are also real, everyday-life gadgets. Whether being used by Moneypenny on undercover surveillance or a creative photographer who wants to take and share outstanding photography captured on social channels, they're easy to use, pocketable and award-winning products for day-to-day and secret agent use alike."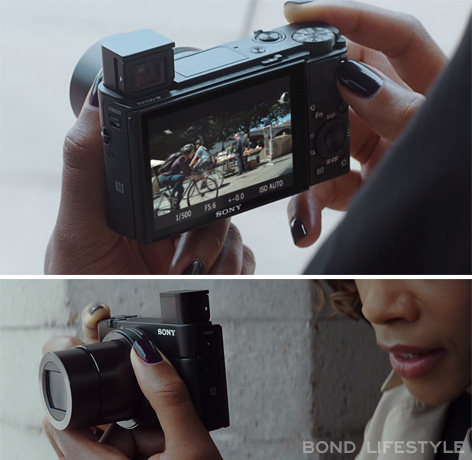 Set against a backdrop of London's South Bank, Moneypenny uses Sony's RX100 IV camera to capture super-slow-motion surveillance as a drama unfolds with an intense chase to deliver Bond's Xperia Z5 smartphone
Sony RX100 IV camera
With its compact size, the power of the premium RX100 IV camera – featuring the a world's first 1.0 inch type stacked Exmor RS CMOS sensor, 40x super-slow-motion video capture at up to 1000fps, and the ability to speedily read data 5x faster than previous models – makes it the perfect accessory for Moneypenny.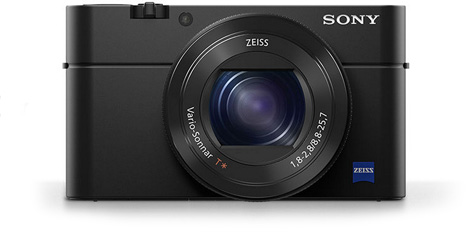 The Sony RX100 IV is available online at Amazon.com, Amazon.co.uk or JohnLewis.com.
Sony Xperia Z5 'Made for Bond' edition
With the fastest autofocus in a leading smartphone delivering a ground-breaking speed of just 0.03 seconds, a fingerprint sensor integrated within the iconic power button, and beautifully sleek waterproof design, the Sony Xperia Z5 is an advanced next-generation smartphone ideal for Bond.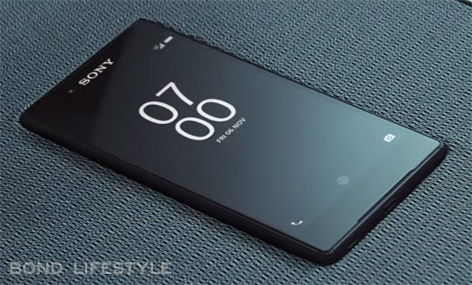 Screenshot from the commercial: Moneypenny finds a black Sony Xperia Z5 in the case
The Xperia Z5 'Made for Bond' edition with exclusive themes and video content will be available exclusively with Vodafone in the UK from 5th October 2015.
SPECTRE, from Albert R. Broccoli's EON Productions, Metro-Goldwyn-Mayer Studios, and Sony Pictures Entertainment, will be released in the UK on October 26 and in the US on November 6.
All photos © Sony