MI6 Confidential #42: George Lazenby and Peter Lamont Live And Let Die Limited Edition
24 October, 2017
MI6 Confidential, the full-colour 007 fan magazine celebrating the world of James Bond, returns with its 42nd issue, focusing on Thunderball but also diving into other depths of the Bond world, plus a limited-run 100-page issue about Peter Lamont: Live And Let Die.
Order 2017 magazine season and save »
MI6 Confidential issue 42, volume 11, october 2017
George Lazenby is nothing if not an independent spirit. He charmed the producers into testing him for Bond, and he shocked everyone when he declined to reappear as the world's most famous spy. Since making the decision to step down after just one Bond film, 007 has cast a shadow over his whole career. In this issue, we find out how Lazenby has dealt with the fame and infamy of being the "one-time" Bond.
MI6 also investigates the relationship between Lazenby and his leading lady, Diana Rigg, asks how Fleming responded to the filmmakers decisions in print, and throws a spotlight on the work of Paul Gulacy, the artist behind the 'Serpent's Tooth' comic books.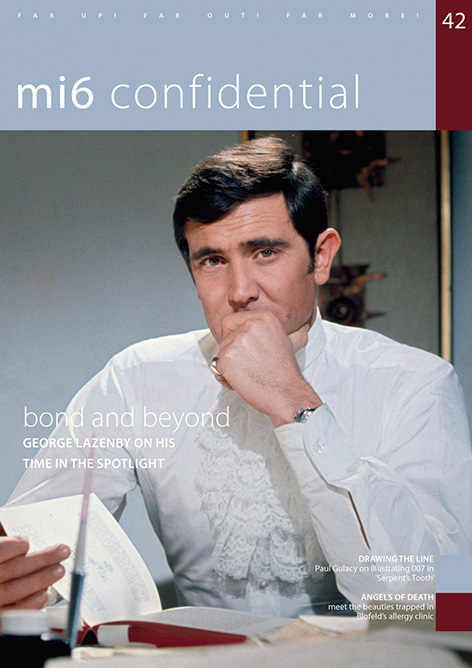 In this issue:
Bond and Beyond - George Lazenby reflects on 007's lifelong shadow
Why Do You Persist On Rescuing Me? - Diana Rigg's time as Mrs Bond
Angels Of Death - Meet the harem of Blofeld's girls in this rare pictorial special
Meeting Of The Minds - What influence did EON have on Fleming's later work?
Drawing The Line - Paul Gulacy and his time illustrating Bond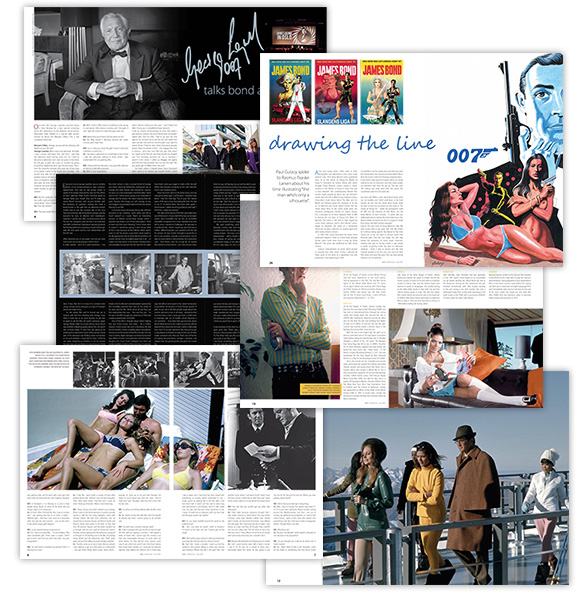 Issue #42 is now shipping around the world.
MI6 Confidential Special Publication #1:
The Peter Lamont Portfolio
In 2017, after ten years of service, MI6 Confidential has introduced a new special format: a limited-run 100-page perfect bound issue of the magazine taking a deep dive into one particular facet of the franchise. This first special issue was contributed by Oscar-winning art department veteran Peter Lamont.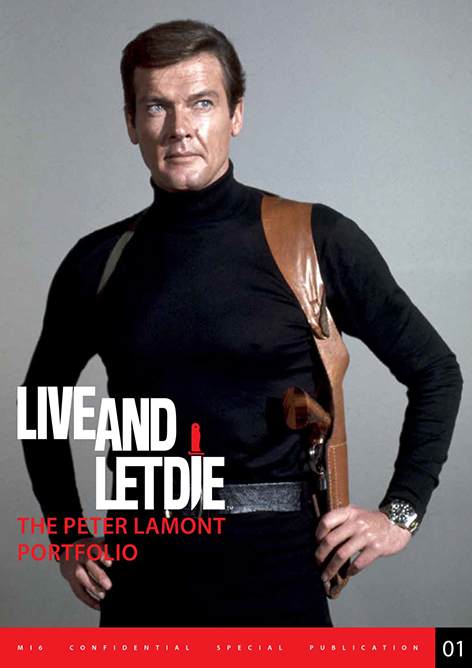 Peter Lamont spent more than 40 years working in art departments of the James Bond films. From draughtsman to production designer; from Goldfinger to Casino Royale, Peter worked on every picture but one. One of the films for which he has collected a great deal of documents and has many fond memories is Roger Moore's debut as 007, Live And Let Die.
A lot of that material could not be squeezed into his recent autobiography, so Peter came to MI6 Confidential with an offer too good to refuse. In this special 100-page perfect bound edition of MI6 Confidential magazine, Peter tells the story of making the film, location by location, as they appear in the film. It is lavishly illustrated with rare stills from the film, behind the scenes photographs never committed to print, and notes and storyboards from Lamont's personal collection. Let our friend and Bond veteran be your guide to the eighth official Bond adventure and Sir Roger Moore's first.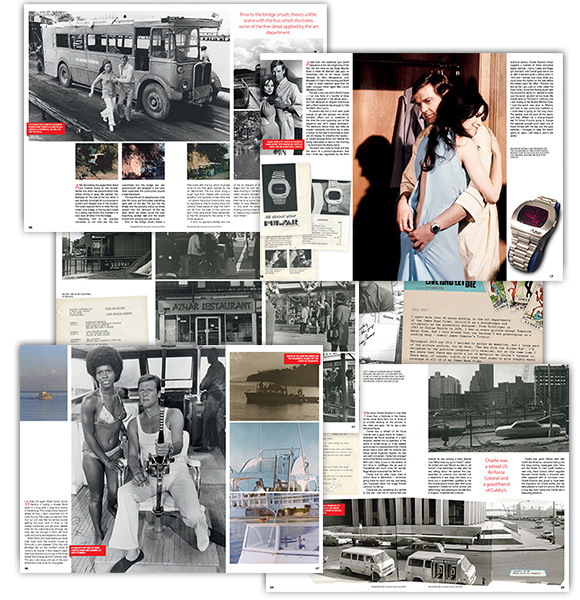 In this special "Peter Lamont: Live And Let Die" issue:
100 page special magazine; professionaly printed; perfect bound
A personal dedication to Sir Roger Moore from Peter Lamont
More than 50 of Lamont's never-before-printed behind the scenes stills
Over 25 documents, storyboards and ephemera from the production
A richly illustrated narrative with stories behind the scenes
Peter's memories of characters like Derek Meddings, Harry Saltzman, Syd Cain and Roger Moore
2017 Special Pre-order package
Receive MI6 Confidential issues immediately and save. Five magazines from for the price of four!
Order back issues
Want to order previous issues of MI6 Confidential? Click here »