First behind the scenes footage of SPECTRE
12 February, 2015
007.com has released the first behind the scenes footage of SPECTRE and it looks amazing! Scroll down to watch the video.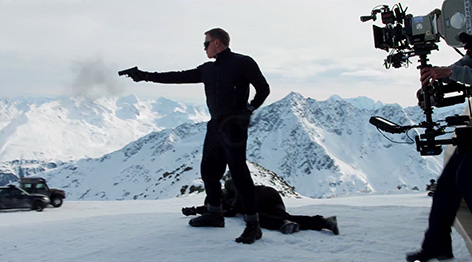 We can see clips of what will be a spectacular car chase in the Alps, and a bit of action of Bond himself outside the ICE Q restaurant in Sölden.
The scenery of the mountains and modern ICE Q restaurant and cable car look stunning and two Land Rover Big Foots and Range Rover speeding along the snow give use the first sense of what the film will look like. Dark colors (Bond's dark outfit, the dark grey vehicles and the black airplane) against the white snow, mixed with a beautiful sky.
A first image was also released at the same time, showing Bond with goggles, ribbed gilet, gloves, pants and gun withe the Land Rover and Defenders and snowmobiles in the background: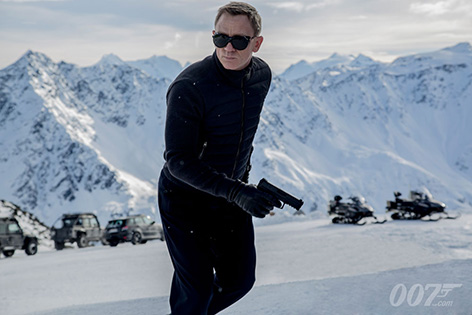 The mountain top location is slightly reminiscent of On Her Majesty's Secret Service Piz Gloria, and the cable car brings back images of the cable car scene in Rio De Janeiro in Moonraker.
"We have to deliver an amazing sequence and this is going to be one of the major action sequences of the movie," explains Associate Producer Gregg Wilson. "It's going to be spectacular and Austria seemed to offer everything that we needed to pull it off."
The behind the scenes footage includes Daniel Craig as James Bond 007, Léa Seydoux, Dave Bautista and director Sam Mendes. "The thing Sam and I talked about was how we are going to top SkyFall", says Production Designer Dennis Gassner. "We are going to continue the history of the Bond films, making things that are exciting for the audience to look at and what could be more exciting than to be on top of the world."
Watch the first SPECTRE footage below:
Read the Ultimate Guide to find out what Bond is wearing in the Austria scenes.
SPECTRE
© 2015 MGM, Danjaq